Dr. Robert Schuller once said, "Tough times never last, but tough people do."  That has to be true as that is a possible reason why Leigh Salters has had the successful career that he has enjoyed. He has proven time and time again that, while offensive flair and finesse are usually a necessity in hockey, sometimes having significant levels of tenacity and pugnacity are just as important. Going through five years of major junior hockey in the OHL, and now into the professional ranks, Salters has become a stalwart of power every season he has played.  He has become a player who is very difficult to contend with, whether he is laying out an opponent with a thunderous hit, using his big body to skate through other teams' defencemen to score a big goal, or holding his own in a fight.  He has done it all and it is definitely working, cementing him as one of minor league hockey's most underrated and toughest players.
Salters' journey began when he was chosen 40th overall in the 2005 OHL Priority Selection by the Guelph Storm out of the London Jr. Knights Minor Midgets.  The then 16-year-old left winger already had incredible size for his youth, already standing at 6'3″ and weighing 215 pounds by then.  He made the team that season and, remarkably, he did not have to use his large frame to his advantage right away.  The Storm employed older players who could veritably stand up for themselves, leaders such as Ryan Callahan, Kelsey Wilson and Ryan Pottruff. Despite that, though, Salters sought to prove himself.  He was not going to be the most offensively gifted rookie on the ice, not like other first-year players such as Drew Doughty, Jamie Arniel or Rafael Rotter.  He was going to make it in other ways.  Nevertheless, he did have some offensive touch, recording an assist on a goal by Mark O'Leary in only his second OHL game, September 23, 2005 against the Sarnia Sting.  (He also got his first OHL penalty in that game, as well.)  On October 13, 2005, Salters got into his first OHL career fight against Blake Parlett of the Barrie Colts.
Going into November 2005, Dave Barr, who was then the head coach and general manager of the Storm, realized that Salters was ready, willing and able to employ his physicality.  He recorded nine penalty minutes in a five-game stretch in that month and, by December, he was more than willing to show that he was going to be a physical force.  He got into three fights in December 2005.  That month, though, was special for another reason.  On December 11, 2005, Salters scored his first OHL career goal against Adam Dennis in a game against the London Knights; to make it even more poignant, the goal came at the John Labatt Centre in London, his hometown, in front of friends and family.
By the time 2006 began, it seemed as though Salters was finding his game quite nicely in the OHL.  There was, however, going to be a setback.  On January 21, 2006, in a game against Sarnia, he suffered a concussion after a fight with the Sting's Brandon Mashinter.  It kept him out of the lineup for nine games and he did not return until February 15th against the Oshawa Generals.  His return, however, was short-lived.  Salters missed almost another month, not returning until March 10th against Windsor.  On March 19, 2006, he enjoyed one of his best games as a rookie, scoring a goal and an assist against the Erie Otters, his first multipoint game in his OHL career.  He finished his first OHL season with eight points (two goals, six assists) and 60 penalty minutes in 43 games.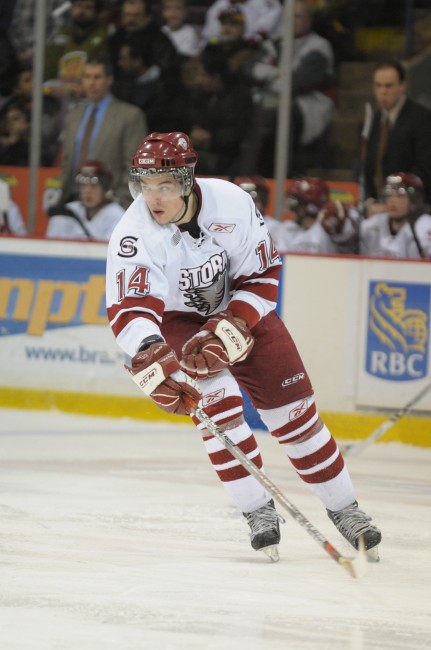 When Salters returned to the Storm for his second season, he was going to join the top enforcers on the Storm.  Callahan and Wilson both graduated while Pottruff remained in Guelph for an overage season.  Yet again, Salters was not going to be the most offensively productive player on the ice but that suited him just fine.  He did, however, enjoy a two-assist game in only the third contest of the season, a 5-0 win against the Windsor Spitfires. Salters also recorded three assists in 12 games in October 2006, giving him five on the year; that would be the only scoring he would accumulate during the campaign.  He decided to focus more on his truculence.  Salters started that off on a great note, recording 58 penalty minutes in the next two months combined, 30 in October and 28 in November.  He had his most pugilistic year in his OHL tenure, recording an incredible ten fighting majors, most on the team.  Salters finished the season with 97 penalty minutes.
2007-08, however, was going to be a defining season for Salters.  With many of their offensive stars on the cusp of graduation, the now 6'4″, 225-pound third-year winger was expected to chip in on the scoresheet more than he had in the last two seasons.  This was also even more intensified by the Storm drafting and signing two highly-touted 2007 draft picks, Peter Holland (11th overall) and Taylor Beck (31st overall).  As well, Guelph acquired Derek Brochu from the Owen Sound Attack and second-year forward Brandon Buck was on pace for a breakout season.  In only the third game of the season, on September 30, 2007, against his hometown team, the London Knights,  Salters scored his first goal of the campaign.  Two games later, on October 6, 2007, against the Owen Sound Attack, he scored his second.  It seemed as if this was going to be his best offensive season yet.  Fifteen days passed and he enjoyed another first, his first two-goal game in the OHL.  He scored two powerplay goals in a 6-5 loss against the Kitchener Rangers.  His physical play, however, did not suffer; he recorded 19 penalty minutes in 11 games in October 2007, including his first fight of the season on the 26th of that month against Brampton Battalion captain John de Gray.
Already with a personal high in goals, Salters was not finished.  He sought to have a personal high in all aspects of his point production.  He scored two goals and three assists in 18 games in the next two months.  Old habits still crept into his play, though; on December 31, 2007, against the Kingston Frontenacs, he recorded eight penalty minutes in that contest.  2008 started out great for Salters, too, as he had one of his best months on the scoresheet and in the penalty-minute totals.  He scored five points (one goal, four assists) and recorded 23 penalty minutes — including three fighting majors — in only 11 games.  Salters then tallied four points (two goals, two assists) in February, as well as eight penalty minutes.  He also scored a goal in the Storm's regular-season finale against Owen Sound on March 14, 2008.  He finished the season with 21 points (ten goals, 11 assists) and 92 penalty minutes in 59 games.  For the third straight season, the Guelph Storm made the playoffs and, once again, Salters went pointless in the postseason. That season, he was recognized as the third-best body checker in the OHL's Western Conference in the league's annual Coaches Poll.
The 2008-09 season, however, did not start the way that Salters anticipated.  He suffered an injury that kept him out of action until December.  In his first game back, on December 4th, he showed that he was healthy enough to fight again, getting into a scrap with Windsor Spitfires enforcer Richard Greenop.  Eight days later, on December 12th, his first home game back from his injury, he scored a goal and an assist in a 7-0 win over the Plymouth Whalers; Salters was named the first star of the game.  Salters' tenure in Guelph, though, was nearing its end.
On January 9, 2009, in exchange for a third-round draft pick in 2010, Salters was traded to his hometown London Knights.  In his first game with his new team, a contest against the Oshawa Generals that same night, he scored a goal.  He had been placed on a line with two smaller forwards, Jared Knight and Daniel Erlich, and it was obvious that they found instant chemistry. Salters, however, was about to get himself into trouble with the league office and commissioner David Branch.  At 10:23 of the first period in a home game on January 31st against Sudbury, Wolves forward Akim Aliu went off on a line change and he allegedly spat at the newest Knights enforcer.  Not taking it lightly, Salters dropped his gloves, grabbed Aliu and, while sitting on the ice, Salters threw punches.  He got a five-game suspension for his actions.
After his return from suspension, Salters went pointless in ten games in February.  In March, however, he picked up the pace, scoring three points (two goals, one assist) in six games.  He finished the regular season with 11 points (four goals, seven assists) and 54 penalty minutes in 36 games.  Again, Salters found himself in the OHL postseason and, this time, they were going to be different.  He was going to find his way onto the scoresheet.  On March 28, 2009, the day after his 20th birthday, Salters scored his first OHL career playoff goal in a game the Knights won 6-2 over the Erie Otters to move on to the second round against the Saginaw Spirit. London swept Saginaw in four games and moved on to the Western Conference final against the Windsor Spitfires.  Each of the five games of the series went to overtime and London only won one of them; the fifth game, however, saw Salters have one of his best games in his career, either regular-season or playoffs.  He scored a goal and an assist but it was not enough; Eric Wellwood scored at 10:14 of the first overtime to win the series for Windsor, who eventually went on to win their second consecutive Memorial Cup.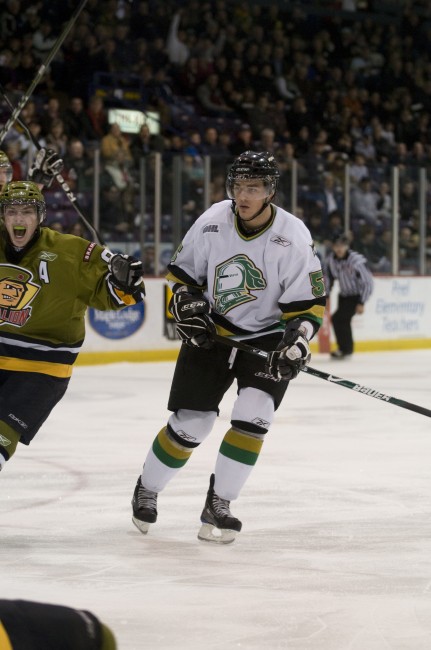 During the 2009 offseason, Salters was invited to the training camp of the St. Louis Blues.  With this professional grooming, he found himself going into his overage season with renewed confidence.  Upon his return to the Knights, then-head coach Dale Hunter rewarded him with naming him an alternate captain.  In his first game of the season, he recorded an assist and a fight.  The offense was about to start coming more and more.  In 12 games in October, Salters tallied nine points (five goals, four assists) and 22 penalty minutes.  His best game, which was his best in terms of point production in his OHL career, came on October 18, 2009 against the Kingston Frontenacs.  He scored four points, one goal and three assists, in a game the Knights won 6-3; he was named first star of the game.
The points just kept coming for Salters.  He tallied seven points (two goals, five assists) in November and eight points (four goals, four goals) in December, giving him 25 points on the season going into 2010.  That was already a personal best for the enforcer turned scorer.  When 2010 came around, things did not slow down for him.  In his first game of the new year, he scored a goal and an assist in a 8-0 thumping of Sarnia.  He finished January with nine points (four goals, five assists) in 14 contests.  February was no different in terms of offensive production.  On February 6, 2010, Salters recorded his first Gordie Howe hat trick against the Brampton Battalion, a game in which he actually tallied a goal and two assists en route to being named the second star of the game.  Injuries, however, reared their ugly heads yet again and Salters was sidelined for the remainder of the 2009-10 regular season with a leg injury.  He returned in time to play in the Knights' first-round playoff series against his former team, the Guelph Storm.  In five games, he recorded two goals and two assists, as well as 12 penalty minutes.  Unfortunately, London's playoffs were going to end early.  They lost in five games in the second round against the Kitchener Rangers.
After his OHL career was done, Salters found himself looking for his next team.  He had some options, including Canadian university.  First, though, he attended the camp of the San Jose Sharks as a free agent.  They decided to assign Salters to the training camp of their AHL affiliate in Worcester.  He was signed by them but, after one game with the AHL Sharks, he was transferred to the Syracuse Crunch.  He found that it was his truculence that was going to get him noticed in the professional ranks even more than they were in junior.
Salters recorded a fighting major in two of his first three games with the Crunch.  He soon became the new favourite enforcer in Syracuse, especially their usual bad boy, Jon Mirasty, split the season between the Crunch and the ECHL's Elmira Jackals.  In only his eleventh game with Syracuse, he recorded 17 penalty minutes, including a ten-minute misconduct for instigating a fight with Rochester Americans forward Eric Selleck.  A couple of weeks later, also against the Americans, he scored his first professional goal against Rochester netminder Jacob Markström. Salters recorded only three points (one goal, two assists) in 53 games in his first pro campaign; most remarkably, he tallied 113 penalty minutes, thanks mostly to 17 fighting majors.
On September 5, 2011, Salters moved to Estero, Florida, after he was signed a one-year contract with the Florida Everblades of the ECHL.  He sought out to be one of the team's bigger enforcers but he actually emerged being a fixture on the scoresheet, as well.  In his first game with his new squad, which was against the Gwinnett Gladiators, he scored a goal and recorded a penalty; he was named first star.  The love affair between the Everblades' fans and Salters was about to begin.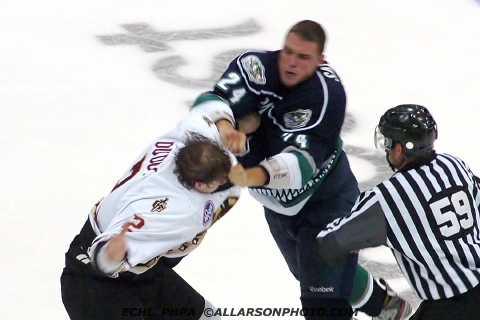 In 13 games in November 2011, Salters recorded nine points, six goals and three assists.  He also recorded 18 penalty minutes during that time period.  While December started a bit slowly, things picked up toward the end of the month.  On December 23rd, he scored two goals in a 6-3 win over the Trenton Titans and he was named second star.  Eight days later, on New Year's Eve, he scored a goal and two assists in a 6-3 victory over the South Carolina Stingrays. His truculence did not suffer either, registering 18 penalty minutes in December alone.  He went into 2012 with 19 points (11 goals, eight assists) and 47 penalty minutes in only 29 games.
Salters started 2012 where he left off.  In only his second game of the new year, a contest against Gwinnett, he registered 15 penalty minutes after getting a major penalty for boarding, coupled with ten minutes assigned for his game misconduct.  He was suspended for five games and fined an undisclosed amount of money for his actions.  In his fourth game back, which was against the Reading Royals on February 1st, he recorded 16 penalty minutes; these minutes included a tripping minor, a double minor for an attempted spear and a ten-minute misconduct for unsportsmanlike conduct.  The spearing penalty and the misconduct came with only 59 seconds left in regulation, a game the Everblades lost 4-2.  Two nights later, Salters faced the Royals yet again and relatively behaved himself, scoring two goals and also getting into a fight with Reading defenceman Zach McKelvie; for his efforts, he was named first star.  The injury bug, however, bit Salters again in early February and he was out of action for nearly two months with a lower-body ailment.  He returned the day after his 23rd birthday, just in time for the last three games of the regular season, recording an incredible 27 penalty minutes in those three contests.  In the last game of the year, he scored a goal and an assist, as well as registering 12 penalty minutes, leading to being named third star.  He finished the year with 25 points (14 goals, 11 assists) and 110 penalty minutes in 44 games.
The Everblades made the Kelly Cup playoffs and they won their first two series against the Greenville Road Warriors and the Elmira Jackals.  In his second ECHL playoff game, on April 4th, Salters scored the game winning goal in a 4-2 victory. Greenville did not stand a chance against Florida and they were swept in three straight games.  Their next series against Elmira was harder, going to five games.  On April 14th, the second game of the series, he recorded a ten-minute misconduct, one of five handed out in the game.  After winning the series against the Jackals in five games, Salters and his teammates will now have to wait for a while until they meet their newest opponent, the Kalamazoo Wings.
*
If there is anything that is overlooked about Salters in all the talk about his physical play, it is something that shows that he, like every hockey player, is just a normal person.  Salters is one of nearly three million Canadians who also happens to be diabetic.  Diagnosed at the age of six, he checks his blood sugar on a regular basis and he gets insulin injections four times daily.  His knowledge of the condition helped in the diagnosis of his former linemate in London, Jared Knight (who is actually American), in November 2009 after Salters realized that Knight was suffering from hypoglycemia during a game; Knight has been paying it forward by helping Max Domi in dealing with his own diabetes.  The condition is not uncommon among hockey players, with the likes of Bobby Clarke, Nick Boynton, Tom Poti, Rick Dudley, Curt Fraser and Brandon (B.J.) Crombeen, among others.  It is good to know that Salters is not alone in that community either.
*
At the end of the 2012 Kelly Cup playoffs, it is not known where Salters will dress for the next season.  Considering how productive he has been with the Florida Everblades this past campaign, there is the possibility that he can be signed to a new contract.  He could also join a different team.  It is certain, though, that whether his hands are clasping a hockey stick or are clenched in fists, they will lead the London-born enforcer to success.  It seems like the tough times have instead been good ones and Leigh Salters, being a tough person himself, has lasted through it all.
Margann Laurissa is based out of Kingston, Ontario. She contributes profiles to MyNHLDraft.com on a regular basis.