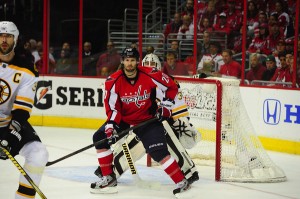 This certainly wasn't the season the Washington Capitals wanted but it was the season they needed. After winning the Southeast Division four consecutive years and the President's Trophy in 2009-10, the Caps struggled early and often. It took the firing of beloved coach Bruce "Gabby" Boudreau to begin to process of righting things. Defensive-minded former team captain Dale Hunter was brought in as bench boss early on to turn around a team that was floundering. Once-hot sticks had completely lost their scoring magic. Hunter suffered through the ignominy of continued failure as the team struggled to adapt to his new scheme. Boudreau had allowed them to play a free-flying style of offense. The new coach would restrain them and force them to protect their own zone before attacking. It was a struggle of philosophies. In the end Hunter won out. The team was tamed. They made a run at the end of the season. Playoffs became a possibility. On the next to last day they made it in.
In the past the Caps had peaked early in the season and glided to an easy division championship. Regular season victories came easy, picking off struggling division rivals. Come playoff time they were ill prepared for the grinding, defensive style demanded of every team. Playoff hockey makes players simplify their game. They found out the hard way that it truly is a second season that requires a new approach. For example, one of defenseman Mike Green's nicknames is "One Man Break Out." In the playoffs, his fluid skating and wizardry at stick handling was no longer an asset. He had to resign himself to chip, chase and check. A stark lack of success after such high expectations left fans, executives and players wanting. Changes were afoot.
After last year's stinging disappointment, GM George McPhee made some moves. He brought in playoff vets Troy Brouwer and Joel Ward. Twenty-goal scorers Eric Fehr and Tomas Fleishman had previously been traded to Winnipeg and Colorado respectively. This made room for the stand outs from the previous year's tournament. Early in the season it appeared that these moves would bite the Caps. Fleishman, after a trade to Florida, led his team in goals and points (27G, 61P) for the season. By the end of the year Brouwer was a true asset in the regular season (18 G, 15A).
Mathieu Perrault (16G, 14A) and Marcus Johansson (14G, 32A) had their best seasons to date this past year. These young men look to shine for the Caps if they can avoid injury. Johansson is reminiscent of Backstrom. His vision and passing skills are tremendous. The only knock on Perrault is his slight build, in relation to his peers. I sometimes fear for his physical health when watching him play. John Carlson and Karl Alzner continue to gel as the top defensive pairing. I look forward to watching them for years to come, hoping they will become the keystones that Calle Johansson and Sylvain Cote were. The trio of Brooks Laich, Jason Chimera and Matt Hendricks continue to be fan favorites and produce important goals as well as stand up for their teammates.
Mike Knuble was a first line forward for Bruce Boudreau. Unfortunately, he and Hunter do not see eye to eye. Mike has been relegated to healthy scratch status for most of the year. I can't imagine a scenario where he will be back next season. Alexander Semin produced the same number of points this past season (54P) in twelve fewer games. He has shown more effort and will to win this year than any in my memory. It should be noted that this is a contract year for the Russian winger. I don't know of any other explanation for an apparent change of heart on his part. It is a shame. The consensus is that he has the most pure talent on the team. Many people (most notably former teammate Matt Bradley) have called his work ethic into question. I doubt he will be a Capital next season either.
Nicklas Backstrom missed forty games this year due to injury and still scored forty-four points. He is the core of the team's offense. Without his perfect saucer passes and timely wrist shots the Caps look lost on the ice. He is the heart and brain of both the power play and the five on five attack. His absence is exactly the reason why flagrant headshots must be punished as stringently as possible. If not for Rene Bourque's intentional elbow, who can say what he would have accomplished this year? He is the kind of player to build a team around.
The team superstar Alex Ovechkin had what is being characterized as a down year. He scored 38 goals and had 27 assists. On the other hand, this was good enough to be ranked fifth overall in goals. When you are a two-time league MVP the bar is set a bit higher. While he did not score sixty goals like he had in the past, his determination has not diminished. The jump in his step and snarl on his lip are just as vibrant. Like everyone else, he must learn different ways to score in order to remain vital.
Now that the Caps are six games into the playoffs I have to say the George McPhee was right. Troy Brouwer and Joel Ward are much better for the post-season than Eric Fehr and Tomas Fleishman. Hamrlik has not been playing up to par. He is slow and turns over the puck. I'd consider giving the rookie Orlov a chance. I was not a fan of the Hunter hire, but I can't argue with his results. The team has battled in every game, protected the net and been patient. Hunter has also kept his composure, something he was not known for as a player. I give a lot of credit to assistant coach Dean Evason as well. I feel he will one day be an excellent head coach in the NHL. He is a carry-over from the Boudreau regime and I am certain he made the transition easier.
The Caps have an even chance in Game 7. Considering they are up against the defending champs, that's not bad. What fans have to remember is that Boston went seven games with Montreal in the first round last year before winning the Cup. Instead of expecting to breeze through the playoffs because of your stellar regular season record, expect to struggle your way to the end. As I said, this wasn't the season they wanted. This was the season they needed.
Joe Wilson is a published writer and an avid Capitals fan. He has been following the team since 1993. When not writing and working he is studying to complete his history degree.