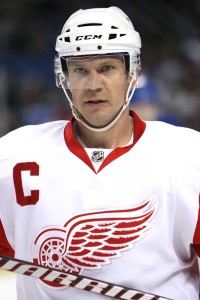 Will Nicklas Lidstrom return for another season? That's the most frequently asked question in Hockeytown (and perhaps the hockey universe) since the Detroit Red Wings were unceremoniously ejected from playoff competition on Friday. The 1st round loss marks the team's earliest playoff exit since a 2006 upset at the hands of the Edmonton Oilers. With the disheartening defeat have come untold amounts of speculation and opinion (with varying amounts of validity)as to what changes the team will, or must, make in order to become a series Cup contender once again. Lidstrom's future has been at the center of nearly all of this commotion.
Such fuss is understandable given it concerns arguably the best defenseman in NHL history. In his illustrious 20 season NHL career, all spent with the Red Wings, the soon-to-be 42 year-old Swede has won 4 Stanley Cups, 7 Norris Trophies, a Conn Smythe Trophy, represented Detroit in 12 All-Star games, and managed to set several NHL and team records. He's a hero of Hockeytown, sure to see his number hang from the rafters just as soon as he calls it quits, but when will that time come?
Lidstrom hasn't handed out any clues to the answer himself, simply informing the media that he'll "take a few weeks" to make the decision. It's a song and dance Red Wings faithful heard last season as well. He'll make the decision when he's ready to, and not a second before, but that fact hasn't put a damper on the speculation that's begun to swirl around him.
Some of those closest to the team have begun to weigh in on the conversation, providing their own insight into the situation. One of those people is the Windsor Star's Bob Duff, who writes:
"This year, there are subtle signs that this might be it for the Detroit leader.

According to sources close to Lidstrom and Holland, there have been mild suggestions that Lidstrom is plotting a course away from Hockeytown. His son has told friends that he hasn't registered for minor hockey next fall. Holland has allowed quietly to insiders that perhaps this might be Lidstrom's swan song."
The article is a real downer for fans hoping The Perfect Human will return, and he's not the only one offering up reasons for Red Wings fans to enter depression. MLive's Ansar Khan happens to feel quite similarly:
"My hunch is he will retire. It is the first time I have had that feeling, after expecting him to return for the past several seasons. He has played 20 seasons, a milestone that was important to him. He turns 42 on Saturday and has accomplished everything from a team (four Stanley Cups) and an individual standpoint (seven Norris Trophies). Is he motivated to train long and hard over the summer for another season?"
Even the Detroit Free Press' Helene St. James offered a glimpse of her opinion in a post concerning Lidstrom being overlooked in regards to a Lady Byng Nomination:
"It's a shame that his career likely will end without his ever having been recognized with it. He plays a ton of minutes — always against opposing superstars — and almost never takes a penalty."
Yet for all the doomsday talk from the media surrounding the team, someone even closer appears confident that Lidstrom will return. That someone is Coach Mike Babcock, who told reporters before Friday's loss:
"I think Nick Lidstrom retires when he thinks he's not a good player anymore, but I think he's been a pretty darn good player. I don't know what could possible be more fun than playing hockey at a high level on a great team. And I know his wife (Annika). She doesn't want him at home for sure, so why wouldn't you keep playing?"
USATODAY's self proclaimed "Lidstromologist" Kevin Allen also seems to think Lidstrom might have more gas left in the tank:
"At 41, he is still playing at a remarkably high level. He's still among the league's top five defensemen. I believe he's still the NHL's best one-on-one defender.

It seems to me, Lidstrom is still enjoying the game."
With so many mixed signals coming from each and every direction, what is a fan to do?
Not get unnecessarily worked up, according to Kuklas' Korner's George Malik:
"We'll have to wait and see. While we do so, there's no point in making ourselves any more scared s***less of an eventual inevitability than we already felt a year ago."
And he's right, the worry is as unproductive as can be. But more than that, I feel reading into the speculation is absurdly pointless.
For all the talk and "reliable source" quoting, the media "insiders" largely know nothing more than you or I. Until Lidstrom gives the world a straight answer, their speculation is no more valid than anyone else's. Even Mike Babcock's word is nothing more than an opinion. Even if he would be "shocked" at Lidstrom's retirement, he's been shocked before.
On Tuesday the players will return to Joe Louis Arena for one final time this season in order to clean out their lockers and give final quips to the media. Lidstrom will offer the tried and true, "You'll know as soon as I do." And be on his merry way. We'll know nothing more than the day before, and yet piles more self-righteous prediction pieces will hit the web proclaiming knowledge of what no one but Lidstrom can know, none of them worth your time reading.
The only person with the knowledge of his future is the man himself, and as Detroit Free Press columnist Michael Rosenberg suggests, Lidstrom himself probably doesn't have an answer yet:
"I don't know what Lidstrom will do, and I won't guess. He doesn't seem to know himself."
Perhaps we could all take a lesson from Michael and cease the mindless speculation while waiting patiently for the only opinion on the subject that matters, Lidstrom's.
There are valid reasons why he might retire (recent ankle injury, age) and equally valid reasons why he wont (Winter Classic, level of play), but in the end none of us are looking at the decision through the same eyes as Lidstrom (and trust me, if you were you'd have a lot more lady friends). We don't share his mind, the knowledge of his personal wants, or the realities of his day-to-day life. No one has a direct line to his thoughts but him. As such, the only statements you should give any real meaning to are his own. Otherwise consider what you hear no better than your own gut feeling.
Andrew is a passionate hockey fan at heart, and has been since a very young age. Residing in Michigan, he grew up with the team he currently covers at THW, the Detroit Red Wings.