It's been a long wait for Josh Leivo. He looked to be one of a handful of players that would compete for bottom-line spots coming into the season for the Toronto Maple Leafs. But those plans were put on hold by an injury that has left him sidelined for three months. That was until Monday night's game against the Anaheim Ducks.
Gardiner is sick, Bozak has lower body injury, Smith has upper body injury. Both day to day. Gauthier, Leivo playing tonight.

— Kristen Shilton (@kristen_shilton) December 19, 2016
Leivo is one of four other Leafs forwards that made the jump from the AHL to the NHL this season. But with only a few open spots on the team and coach Mike Babcock expecting constant competition for those spots, that means Leivo has very little time to prove his worth.
Back in Blue
Last season Leivo and a couple of other Toronto Marlies players were called up after the trade deadline. They all came into the lineup after the Leafs had traded away a couple of veterans and other key veterans were injured. Out of the entire 82-game season, the most exciting part was when William Nylander and other Marlies teammates were called up.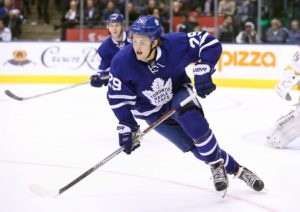 They gave the team a jolt of energy, enthusiasm and youth. But all eyes were on Nylander. He was the Leafs' eighth overall pick in the 2014 NHL entry draft and was expected to lead the Marlies into a deep playoff run. In the midst of all that, Leivo quietly scored five goals in his 12 games with the Leafs.
Leivo showed that he had a strong wrist shot and could contribute offensively to a team that finished the season with Nazem Kadri leading the team with just 45 points. Leivo's last Leafs game of the season came against, coincidentally, the Ducks on March 24. He was then sent back down to the Marlies, where he finished the season with 48 points in 51 games and 12 points in 15 playoff games.
Leivo didn't come away with much in his return against the Ducks on Monday as he wasn't able to get on the score sheet. On the surface that might be enough for some to write off Leivo already, but delving into his play shows that he is on the right path to getting back to where he left off last season. He hasn't played this season for any long extent besides his short five-game conditioning stint with the Marlies at the end of November.
To review: Josh Leivo recalled by Toronto from AHL after five-game conditioning stint. Had 0 points with Marlies. Roster move by #Leafs TBA.

— Kristen Shilton (@kristen_shilton) November 20, 2016
In his first game back in the NHL, Leivo had 12:37 of ice time and was also given 2:11 on the power play. He spent most of the game playing right wing on the fourth line with Matt Martin and Frederik Gauthier, which didn't result in anything notable. Leivo's time on the power play was a different story, with a shot hitting the post and another just going wide.
That might not look like much, but it's a good sign from a player that hasn't played for three months and just made his season debut.
What's Next for Leivo?
What happens next for Leivo is dependent on injuries. The only reason he was able to slot into the lineup was because both Tyler Bozak and Ben Smith are injured. Since they are both centers, it forced Babcock to move Nylander, who has only played on the wing this season, over to center. This then opened up a winger spot for Leivo to take.
At the moment the Leafs are at their roster limit of 23 players, this means that the Leafs can have Bozak and Smith back in the lineup and have Leivo and Gauthier with the team. This is only made possible because of the Leafs trading Peter Holland and Martin Marincin being on the injured reserve for the next few weeks, which means he doesn't count towards the roster limit.
Bozak and Smith's injuries are listed as just being day-to-day, so once they come back into the lineup the Leafs will probably send Gauthier back down to the AHL. This will also mean Nylander will go back to being a winger, which will push Leivo out of the lineup. So the next, possibly, few games for Leivo are important.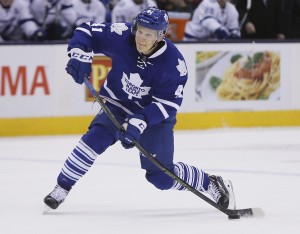 He is essentially competing with Nikita Soshnikov for the right-wing spot on the fourth line, as every other player has cemented his spot on the Leafs. Leivo will either be rotated in and out of the lineup or he will take over the wing on the fourth line and Soshnikov will be sent down to the AHL.
By trading Holland, the Leafs have shown that they have certain expectations at the NHL level. Leivo being 23 years old and requiring waivers to be sent down may force management's hand if he can't compete for a spot.
The Leafs have an excessive amount of wingers in their organization and will begin to clear away players that have no future with the team. Leivo needs to show that he deserves to play every night or else he'll quickly be on the chopping block.