Newsflash: The Edmonton Oilers are good. Their 33-point upgrade over the 2015-16 season in 2016-17 was no fluke. They finished second in the Pacific Division and dispatched the San Jose Sharks in six games in the first round of the playoffs before losing to the Anaheim Ducks in seven games.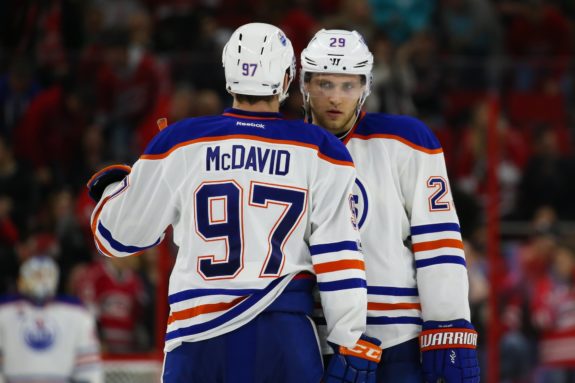 With Connor McDavid, the best player in the league, locked up for almost a decade, it's only a matter of time before they hoist a Stanley Cup. Now is the perfect time for any number of teams, especially in the Western Conference (ahem… San Jose) to extend restricted free agent center Leon Draisaitl an offer sheet.
The Perfect Opportunity
It Makes Your Team Better
Draisaitl had a great year with the Oilers, putting up 29 goals and 48 assists in 2016-17, then adding six goals and ten assists in 13 playoff games. He's the real deal. Any team with cap room should jump at the chance to snag him, even for a short-term deal. And he's only 21.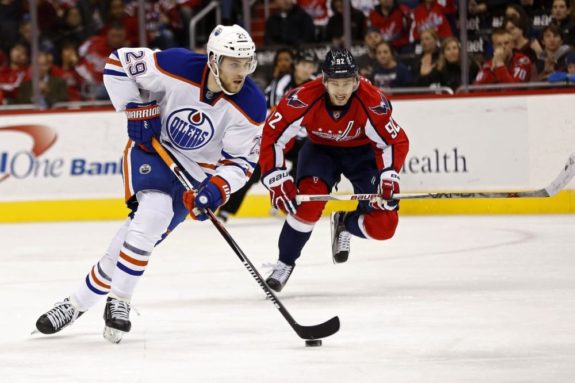 The only significant downside is that as a GM, targeting Draisaitl also puts a target on your back from Oilers GM Peter Chiarelli and any of his "friends." It's a bold move that could have retaliatory consequences down the line. And that stigma will be carried regardless of whether or not Chiarelli matches the offer.
It Hurts the Oilers
The Oilers have the skill, speed and talent. While they're no match for Gretzky's offensively dominant Oilers of the 1980s, they're built for success today. One way to put a dent in their machine is to use the salary cap as a weapon against them.
An offer sheet for Draisaitl would force Chiarelli to make some tough decisions. If he matches an offer as he's said he would, he'll be creating his own salary cap headaches starting next year when McDavid's $100 million deal kicks in for the 2018-19 season.
In the West, the San Jose Sharks, the Minnesota Wild and even the Arizona Coyotes could make a play for Draisaitl. There are several teams in the East that could try to land him, especially the offensively-starved Montreal Canadiens.
The Habs are in desperate need of a first-line center. GM Marc Bergevin is no stranger to making bold moves (see Subban, P.K.) and appears to be in "win now" mode. It makes sense, given the cap will likely continue to grow, Tomas Plekanec only has one more year at $6 million on the balance sheet, and Max Pacioretty is already signed through the 2018-19 season. The window of opportunity is open right now while Shea Weber and Carey Price are still in their prime.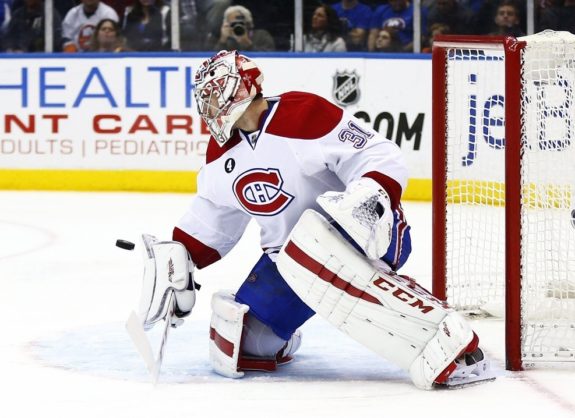 History Says It'll Never Happen
Despite that the NHL is in the business of winning, it seems each team's top brass treats one another with kid gloves when it comes to plucking restricted free agents from other teams. It's as if there's an unwritten rule among general managers not to tender offer sheets. Unmatched offer sheets have become as common as a Halley's Comet sighting.
Only one offer sheet has not been matched in the last twenty years. In 2007, Anaheim Ducks GM Brian Burke chose not to match Oilers' GM Kevin Lowe's five-year, $21.25 million offer for Dustin Penner. As a result, Anaheim received the Oilers' first, second and third round picks in the 2008 draft as compensation.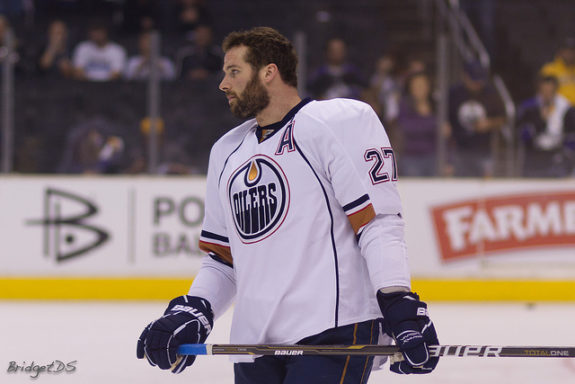 It's hogwash to think tendering offer sheets drive up player salaries. It's just not true. Players get 50 percent of hockey revenues per the collective bargaining agreement. The only reason why offer sheets are not used is because it creates headaches for general managers. Extending offer sheets may not be politically correct, but it can be a useful tool to force a team's hand if they match the offer. If they don't match it, you've just landed the player you really wanted.
What is Draisaitl Worth?
It's tough to put a fair value on the 21-year-old Draisaitl, who is coming off a breakthrough season.
According to TSN's Ryan Rishaug, "It doesn't surprise me that Draisaitl's camp is going to play some hardball here. How hard a ball, I'm not sure.  I suggested the ask was going to be north of $9 million. (TSN's Darren) Dreger speculated it could potentially be double digits, up round $10 million. A $10 million or $9.5 million ask for Leon Draisaitl on an eight-year extension is big, big, big money. And in my opinion, it's a bit of a reach by his camp. But that's what you do when you play hard ball. You play hard ball."
There are only 14 players with a salary cap hit of more than $8 million in 2017-18. The youngest of these are Steven Stamkos and Jakub Voracek at 27 years old. Draisaitl hasn't hit his prime and is only three years into his NHL career. He's good, but it remains to be seen how good.
Ryan Johansen signing for 8 years at $8 million annually, will drive up Driasaitl's price tag. A true number one center is hard to come by and the Habs need one. The Predators didn't have one until they traded for him.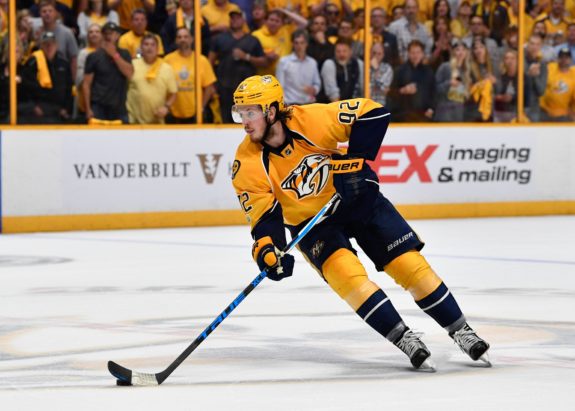 The Cost of An Offer Sheet
For a player of Draisaitl's caliber, he'll likely command anywhere from $7 to $10 million. There's a sliding scale of compensation based on the average annual value of the new contract.
A salary between $5.88 and $7.85 million would entitle the Oilers to a first, second and third round pick.
A salary between $7.85 and $9.81 million would entitle the Oilers to a two first rounders, a second and third round picks. Anything over $9.8 is four first round picks. The sweet spot would be an offer under $7.85 million for the rising star, but with a long term.
With some attractive names on this years Restricted Free Agent list, attached is the 2017 chart for Offer Sheet compensation based on AAV. pic.twitter.com/k3SX5B5dnU

— CapFriendly (@CapFriendly) June 29, 2017
Losing so many high draft picks is a tough pill to swallow. But the value of a known player with a proven ability is like having a bird in hand. A little better than 50% of all first round picks taken in the first 12 draft slots make the league and have a meaningful career.  Also, some clubs have a bare cupboard in their farm system while others are stocked. Some have rosters that imply their Cup contending window is going to be closing soon. All these factors and more determine whether giving up all those draft picks is worth one top guy now.
What to Expect
Chiarelli hurt himself by not signing Draisaitl last year. He probably could've been signed for somewhere in the neighborhood of $5 million for 7 years. Instead, he's left with a conundrum. The winger put up excellent numbers and wants to be paid.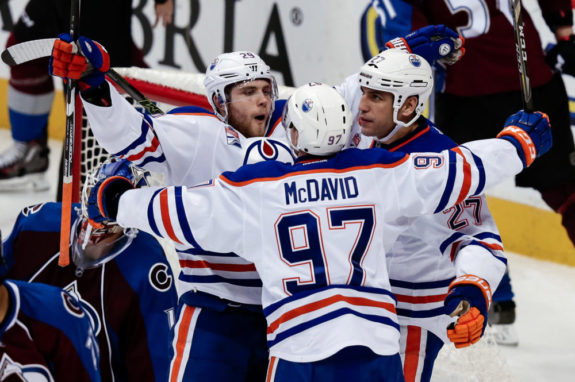 Playing on a first line with McDavid, he'll undoubtedly put up big numbers. The questions to ponder are whether Draisaitl can be a point-per-game scorer away from McDavid as a second line center? And if the Oilers decide to pay him big money over a long-term deal, what are the consequences in a few years?
The longer this plays out, the less leverage Edmonton has. Draisaitl does not have a contract and will need one before he'll report for training camp in September. Any team signing him will improve their roster if the Oilers fail to match an offer. And if it is matched, they'll wind up forcing the Oilers into a cap nightmare.
Jeff has been covering the NHL for over a decade for various sites. He's been with The Hockey Writers as a lead Sabres writer three years, while also writing a satire column called "Off the Crossbar."