When the 2018 Stanley Cup playoffs began, the Tampa Bay Lightning were getting contributions from pretty much everyone. Whether it be the Brayden Point line against the Boston Bruins, or the two big guns to close out the New Jersey Devils in Round 1, there wasn't anything going wrong.
In the Eastern Conference Final, however, that balanced scoring has dried up a bit. That's not to say nobody is scoring big goals, as some unexpected heroes did emerge in Game 5. Grinders Ryan Callahan and Cedric Paquette made a huge impact in the Lightning's victory on Saturday night. Unfortunately, it wouldn't be realistic to expect that line to get on the scoresheet often in a do-or-die Game 7.
The magnitude of this winner-take-all game requires leaders to step up. For the Lightning, there are three guys who have been fairly quiet, if not dead silent, this entire series. If the team has any chance of avoiding a second choke in the past three years with a 3-2 series lead at one point, these players must step up and play like their lives are on the line.
Nikita Kucherov
A huge part of the Lightning's dynamic duo for much of the regular season, Kucherov has been nearly invisible since the first round. In Tampa's five-game series with the Bruins, Kucherov registered a measly two points and a minus-two rating. Not the best performance, but, thankfully, his team pulled through to give him another chance.
This time around, he's been even worse at both ends of the ice. His minus-five rating is atrocious, as it washes out the five points (one goal) he has through six games. In fact, the most noticeable moment he's had so far came in Game 1 when he jumped on the ice too quickly, scoring a breakaway goal on Braden Holtby. That score was negated because of a too many men on the ice penalty, and the Capitals took advantage.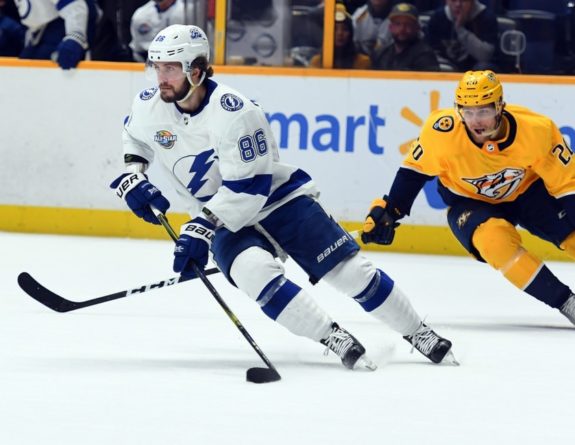 Give the Capitals credit. They've frustrated him beyond belief, something you could see in his body language during Game 6. However, you don't go from a 100-point regular season to 17 points in 16 playoff games. More concerning than that is going from a plus-15 through 80 regular season games to a team-high minus-five through 16 postseason contests.
Regardless, Kucherov must be better in Game 7. His lack of intensity for much of these playoffs has been frustrating to watch, especially when you consider how much he can impact a game if he plays the correct way.
Whether through physical play, scoring a goal, or forcing a turnover that leads to a score, there is no denying Kucherov has more to give.
Will he be remembered as the hero or the goat? It all comes down to which Kucherov shows up. Is it going to be the fairly reliable, near-Art Ross Trophy winner, or the playoff liability? All of these questions will be answered soon.
Victor Hedman
One of the league's elite defenseman, Hedman hasn't been too noticeable during this Eastern Conference Final series. That's never a good sign, especially when a team goes deep into the playoffs. It's made worse by the fact his defensive play has been suspect, to say the least.
Look at it this way. The Devils held Hedman scoreless, but he also did a great job of neutralizing Taylor Hall, Nico Hischier, and company to finish with a plus-two rating.
Next up was the Bruins. Hedman registered six points and a plus-one rating to help the Lightning eliminate their long-time nemesis in five games.
Then we reach the Eastern Conference Final. The Capitals have limited Hedman's time and space, forcing him into bad decisions. His minus-five rating cancels out his five points through six games. If that isn't bad enough, he only has two points to go with a minus-four rating outside of Game 3.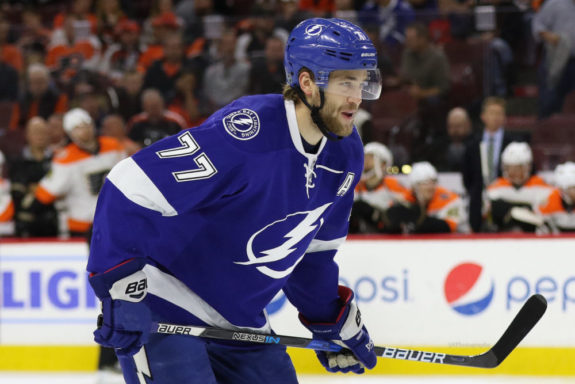 For the Lightning to have a chance at advancing, Hedman needs to play Game 7 as he did Game 3 of this series. Limit the turnovers and prime scoring chances by the Capitals, and then help the power play click as it did early in this series.
In simpler terms, play like the Norris Trophy finalist you are. The team should follow suit.
Steven Stamkos
The captain has had a rocky few years.
After going dead silent in a six-game loss to the Chicago Blackhawks in the 2015 Stanley Cup Final, he's played a grand total of one playoff game until this spring. That one game was his courageous return from surgery to remove a blood clot in April of 2016. His team fell short to the Pittsburgh Penguins that night, but all the talk was about how he was even playing in an NHL playoff game less than three months after enduring such a procedure.
Last season, he got tangled up in an awkward play along the boards in Detroit and tore the lateral meniscus in his right knee. Surgery and a long rehabilitation process followed, ending his and the Lightning's playoff hopes in 2017.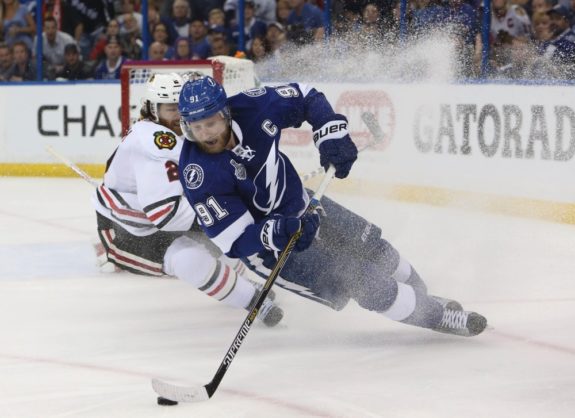 This season, he preached about the importance of a good October and November. The Lightning responded, with few regulation losses in the first couple of months. That helped propel them to an Eastern Conference-high 113 points and an Atlantic Division title.
Set up perfectly with home-ice advantage, Stamkos must now step to the forefront if he wants another opportunity at the Stanley Cup.
After beginning this series well with six points in the first four games, he's been held scoreless since. Unsurprisingly, the Lightning power play has been silent in Games 5 and 6 as well. Neither of these things can afford to be quiet if there's any hope of continuing to play meaningful hockey games into June.
Will the Lightning live to see another day, or is this the end of a journey? While unknown, these three players must step up and play their best hockey for this team to have a chance.