As the New Jersey Devils look to establish offensive chemistry, head coach John Hynes has had the luxury of shuffling players throughout his lineup. Although New Jersey is known for mixing and matching lines, some could argue that in previous seasons the team's depth hindered the process. However, this year the roster is deeper and Hynes can move players without placing guys into roles that they should not be in.
Currently, the Devils rank near the bottom of the league in scoring, which is an area that the improved roster should help in the long run.  The lack of goal scoring does not solely come down to chemistry though. Some of the Devils' top offensive players have had slow starts to the 2016-17 season. Slow starts happen frequently and are not anything that people should be overly concerned about. Nevertheless, until Hynes and assistant coach Geoff Ward see line combinations consistently produce, the shuffling is not likely to end.
The Struggle was Real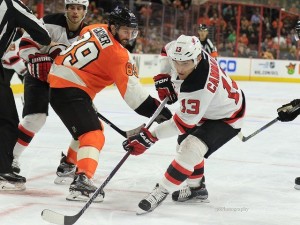 During the 2015-16 season, the Devils' top line of Michael Cammalleri, Adam Henrique and Lee Stempniak surprised the league. While the line had plenty of skill, the trio accumulated points at a torrid pace and carried New Jersey offensively. Cammalleri was playing excellent hockey and on track to potentially be a 30-goal scorer. However, a wrist injury derailed his season and caused him to only play in 42 games.
As one of New Jersey's pure goal scorers, Cammalleri is vital to the team's production. Nevertheless, coming back from an injury is not easy. Regardless of how much a player practices, game action is different. After struggling to score through the first 10 games of the season, Cammalleri broke through in a big way against the Carolina Hurricanes by netting his first hat trick with New Jersey.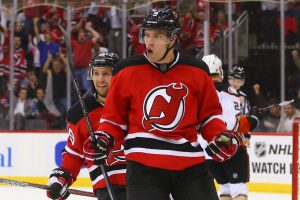 If Cammalleri continues to breakout and find his scoring groove, the lines are almost guaranteed to change. Hynes will not keep him on the third line. Thus far, Cammalleri has played with Henrique, Travis Zajac as well as Jacob Josefson and Beau Bennett. While Zajac is a notably underrated playmaker, and Cammalleri broke through playing on a line with Bennett and Josefson, his chemistry with Henrique last season was too impactful to ignore. If his hat trick was a preview of things to come, it may be interesting to eventually shift Cammalleri to the right side and play him with Henrique and forward Taylor Hall.
That is not to say that Hynes should try this combination overnight. He should let Cammalleri continue with Bennett and Josefson in the meantime and build momentum. However, Hall was one of the only players creating scoring opportunities throughout the month of October. If Hynes could blend Hall, Henrique and Cammalleri into one line and allow them to spark each other offensively, the Devils could wind up having an extremely productive top unit. Possibly even more productive than last season.
The Domino Effect
Another player who the Devils rely heavily on is forward Kyle Palmieri. Although Palmieri has two goals and three assists this season (2-3-5), he has not yet had his breakout moment. The New Jersey native has not played poorly and has been visible in all areas of the ice, but since adding 30-goal scorer to his resume, the expectations surrounding Palmieri have increased.
Palmieri, like the rest of the team, has played with a carousel of linemates. Nonetheless, New Jersey needs its top six to heat up sooner rather than later. Production from the team's top two lines could create a domino effect and boost the bottom six by adding important secondary scoring.
For much of the 2015-16 season, Palmieri played on a line with Zajac and forward Reid Boucher. This season though, he has often times played with Henrique as his center. While Henrique and Palmieri can undoubtedly develop more chemistry, the Devils still have the ability to reunite the line of Boucher, Zajac and Palmieri, which has previously provided positive results.
Boucher has had a somewhat surprisingly difficult time establishing a nightly role with the team to start the season. Hynes ideally may not want to inject him into a top-six role until he finds more consistency. However the cliché, why fix something that it is not broken, is applicable in this scenario. That line combination delivered last year. It  does not mean that Boucher would remain in a top-six role all season or that the line of Boucher, Zajac and Palmieri would be a staple moving forward. It could certainly be a reunion worth exploring though, especially if the offense sputters.
While it is easy to become frustrated, these players are proven scorers and although the production is not fully visible yet, the Devils' offense is eventually going to breakout. Hynes has options, which is something that the team previously lacked. Sometimes the solution is obvious but one thing is certain, Devils hockey is rarely ever predictable and this season is no different.
Amanda Rosko is an avid hockey fan. This is her second year covering the New Jersey Devils for The Hockey Writers. She graduated with honors from Rutgers University in 2014 with a B.A. in Journalism and Media Studies.