A third season in a row without a playoff birth—so close, three points behind Ottawa, finishing ninth in the East with 89 points. A disappointing end to 2011-2012.
In a shortened schedule, left with no Derek Roy, the real question is: can the Sabres move up from last year?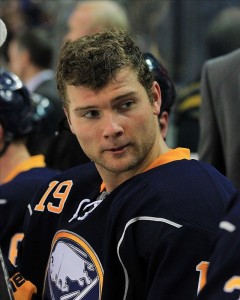 There are many factors to consider before we can fully answer that question; the largest dependents are the performances of Tyler Ennis and Cody Hodgson at centre. Both have averaged 16-17-ish goal seasons, both have potential, but neither have really proven themselves to be a top center. With a shortened season too, they will have to work extra hard to mesh, as the Sabres are usually slow out of the gate.
He wasn't much of an addition anyway, but Brad Boyes signed with the Islanders in the offseason. The opening could make way for Mikhail Grigorenko, who had no opportunity to get the typical "preseason games in to impress". Or perhaps Ville Leino can get back the magic he had in Philly two seasons ago—last season, he finished with a mediocre 25 points, less than double from the year before.
The lockout has given time for certain players to nurse their injuries or hone their games—a blessing in disguise. Jochen Hecht had been playing overseas and recovering from his concussion that ended his campaign around this time last year. Getting his numbers back up as well would take some of the weight off of Ennis and Hodgson.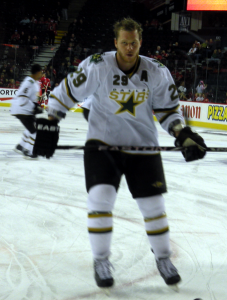 In some off-season moves, the Sabres acquired 6'8 John Scott, and pest of the pests Steve Ott. Adding a little grit and size to their speedy forwards will change up their game.
Luckily, in their own end of the ice, Ryan Miller rarely disappoints. The Sabres faced a lot of shots last year (finishing 26th in the league in shots against), but Miller still came out on top, with a 2.55 G.A.A. Pretty good considering his injury with Milan Lucic. Don't remember? Lucic Hit On Miller
On a hopeful note, the team's affiliate in the AHL, with Sabres youngsters Marcus Foligno, Brayden McNabb, and T.J. Brennan, have secured a playoff spot. So even if the Sabres make it four in a row without, fans can at least enjoy some Rochester Amerks hockey.
Here's a potential lineup outline for the upcoming season…
FORWARDS
Vanek-Hodgson-Pominville
Foligno-Ennis-Stafford
Ott-Grigorenko-Leino
Ellis-Hecht-Kaleta
DEFENSEMEN
Reghr-Myers
Sulzer-Erhoff
Leopold-Sekera
GOALTENDERS
Miller-Enroth
What a beautiful day in Buffalo! Excited to start training camp tomorrow

— Jhonas Enroth (@JEnroth125) January 12, 2013
.