Logan Couture marches to his own beat when he steps on the ice for a shift. Unlike vocal leader Joe Pavelski, captain of the San Jose Sharks, Couture opts to let his play do the talking. After a slow start to the 2016-17 campaign, the alternate captain is beginning to find his scoring touch again. San Jose will hope goals come in bunches from Couture as the team is still looking for consistent offense.
For Couture and his teammates returning from last season, playing hungry was important to start the season off on the right foot. The sting of losing in the Stanley Cup Final last season left a bitter taste. Players were ready to move on at the start of the season and prove their success was no fluke.
Couture quickly moved on registering a goal and an assist in San Jose's opener against Los Angeles. His early production pleased head coach Peter DeBoer as early on he was concerned about offense from veteran players. With a short summer and San Jose sending the most players to participate in the World Cup of Hockey, fear of a slow start and the toll of World Cup games could affect their play at the outset.
A Consistent Player Despite a Drought
Fear became a reality as Couture went into an offensive slump. Through the first 17 games, Couture had four goals and five assists. Although alarming, the winger was still getting good looks around the net. The back of the net was the problem as solid goaltending prevented Couture from getting on the scoresheet.
Droughts have been standard for Couture during his tenure with San Jose. However, the Ontario-native has never been deterred by his slumps. He puts the time in during practices and knows he has the support from teammates to get back on track. When Couture breaks out of scoring slumps, he becomes San Jose's lethal weapon on the attack.
The drought appears to be over as Couture has been on a tear recently. In the last 16 games, Couture has scored eight goals and four assists. The hope is that Couture can stay healthy and is not still ailing from the effects of a nasty hit from Ottawa's Mike Hoffmann. He recorded an assist before suffering the injury but has been held off the scoresheet the last two games.

Worth the Gamble to Move Up
Drafted by San Jose in the first round in 2007, Couture was a prospect Sharks scouts had targeted. With Patrick Kane and James Van Riemsdyk the top choices selected by Chicago and Philadelphia respectively, Couture was a player who could develop into a top scorer. Not having a high first round pick, the Sharks made a trade with the Capitals to select Couture ninth overall.
Since his time in Junior, Couture has been an elite scorer registering 78 points with the Ottawa 67's of the OHL before being drafted by San Jose. After being drafted, Couture remained with the 67's where he tallied 87 points.
Success in Junior carried over to the AHL where Couture made his presence known with 53 points and led the league with nine game-winning goals. His debut with San Jose came in October 2009 against Philadelphia. He did not have to wait long to score his first NHL goal which came in Detroit against Chris Osgood.
Couture's consistent offensive production since Junior has made the gamble pay off for San Jose, making him a popular player among teammates and fans.
San Jose's X-Factor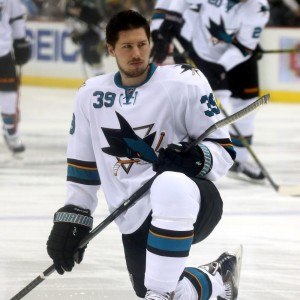 Joe Thornton, Patrick Marleau, and Pavelski were relied on heavily to carry San Jose during the playoffs but teams overlooking Couture became their biggest weapon.
Injuries have hurt Couture during his career and he has missed significant playing time. Last season, he missed 30 games from an arterial bleed that required surgery. Before the bleeding, Couture suffered a broken fibula that resulted in the arterial bleed on his return to action. Perhaps not finding his legs after missing significant time made teams feel Couture would be a non-factor.
The injury turned out to be a blessing for the Sharks as Couture caught fire during the playoffs. He led the team with ten goals and 20 assists, pushing San Jose to the franchise's first trip to the Stanley Cup Final. Without his contributions, San Jose would have fallen short.
As important core players age and prospects eagerly wait to get the call, Couture will remain a major player in the continuing success of the team. At age 27, he is entering his prime where hopefully he can stay healthy. The captaincy may be in his future, but for now, he will serve as San Jose's x-factor if they hope to lift the Stanley Cup.