Finally.
As recently as a few months ago, it was uncertain whether the heavily hyped "kids" on the Minnesota Wild roster would ever begin contributing in the way they were expected to. Through 30 games under a new coaching staff, the under-25s have not only guided the Wild to second place in the Western Conference, but they are also producing the lion's share of the scoring.
A Long Time Coming
Mikael Granlund
Granlund has always possessed the ability to flash throughout his short career, but his lack of consistency left many wondering if he had reached his peak. So far this season, the Finn has been an offensive catalyst and is beginning to live up to his status as the ninth-overall pick in the 2010 draft.
What's most assuring is that he no longer looks physically overmatched by larger opponents. In past seasons, he was effortlessly knocked off the puck by bigger players. Whether he has grown stronger or smarter at utilizing his small stature, he's on pace for the first 50-point campaign of his career.
Charlie Coyle
Similar to Granlund, Coyle's struggles have boiled down to consistency. Despite potting 21 goals last season, he failed to score in the last 18 games of the season.
Paired with Eric Staal on the Wild's top line, Coyle has been a force on the offensive side of the puck to the tune of 22 points. There is concern from last year that he will be unable to continue his breakout pace, but he has been a juggernaut early on.
Nino Niederreiter
Versatility and possession are Nino's two strengths that show on a nightly basis. Since his arrival in Minnesota, he has shown that he can play seamlessly with anyone on any line in any situation. Much of his success can be attributed to gaudy possession numbers and an ability to protect the puck, specifically in the corners.
Nino Niederreiter Corsi
Corsi is more simply defined as valuable possession (shots on goal and attempted for versus shots on goal and attempted against) when a certain player is on the ice.
In the past two years, Nino's possession metrics have skyrocketed. The table shows that over the last two seasons, he alone generates roughly nine shot attempts per 60 minutes played, which is the best on the team during that period.
Simply put, when Nino is on the ice, Minnesota is attacking far more than defending.
Jason Zucker
Looking for a potential candidate to be nabbed in the expansion draft?
Look no further than the Las Vegas-native. Not only would the speedy winger be an excellent marketing ploy in his hometown, but he's in the midst of his best statistical season with 17 points in 30 games. With the excessive number of no-move clauses and other players his age being deemed more valuable, Zucker is likely on the list of candidates to be left exposed despite scoring some explosive goals this season.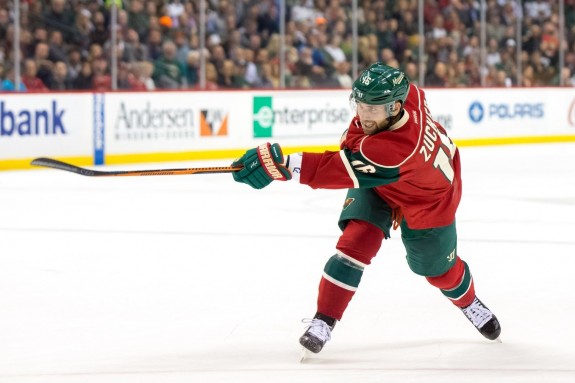 Some Surprises
Tyler Graovac
After losing the heavy majority of the 2015-16 season to various injuries, Graovac was expected to find a consistent spot in the lineup this year. But a rough training camp and preseason left much to be desired from the 6'5″ centerman.
Whether it was nerves or complacency, Graovac has put it behind him and has proven to be more reliable. He's expected to be promoted to the third line due to Erik Haula's injury, a role that will see his ice time increase as he has earned the trust of head coach Bruce Boudreau.
Kurtis Gabriel
Entering this season, Chris Stewart was expected to be the Wild's designated thumper when necessary. That role has essentially been transferred to Kurtis Gabriel, who has made a name for himself by dropping the gloves in four of the seven contests he has played. It's a role he clearly relishes and looks at as an opportunity to provide fire to a team that traditionally has avoided such altercations.
"I'm not here for personal glory in fighting. I'm here to help the team," Gabriel said last week. "We're always going to take care of each other, and hopefully that starts to percolate the rest of the team. We don't take any trash from anyone."
Expansion Concerns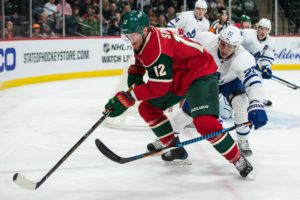 Seemingly everything that happens this season will need to be looked at through the lens of the pending expansion draft this summer. It's no secret that Minnesota is likely to have an integral asset poached from its roster, especially with so many players excelling in key roles.
Assuming Minnesota opts to protect players using the seven forwards – three defensemen – one goalie method, my list would look like this:
Forwards
Mikko Koivu (No Move Clause – NMC)
Jason Pominville (NMC)
Zach Parise (NMC)
Eric Staal
Mikael Granlund
Charlie Coyle
Nino Niederreiter
Defense
Ryan Suter (NMC)
Jared Spurgeon
Jonas Brodin
Goalie
Devan Dubnyk
Unprotected
Erik Haula
Jason Zucker
Matt Dumba
Marco Scandella
Losing any of the four players on my unprotected list would be a huge blow to a core group that has been building chemistry over the past few years. But the reality is that someone is going to get plucked from this roster if Chuck Fletcher can't pull a few strings to keep it intact. The whole league will be on edge come expansion draft time and many will suffer key losses, but the Wild are in as tough a spot as any team.