The Los Angeles Kings are set to begin the 2014-15 season with virtually the same squad that won the Stanley Cup last season (the only notable departure being veteran defenseman Willie Mitchell in free agency). Known for their physicality and defense, the Kings were actually quite prolific offensively throughout the 2013-14 playoffs, en route to winning the Cup. All of these elements, along with Jonathan Quick in net, make it hard to really find a true weakness going into the upcoming season.
Nevertheless, the 82-game regular season is a long grind that is invariably filled with ups and downs for every team. While it feels pretty safe to say the Kings will be a strong contender once again, there is certainly a handful of less certain storylines to watch for this season. Here are five things to keep an eye on:
Mike Richards' Scoring Totals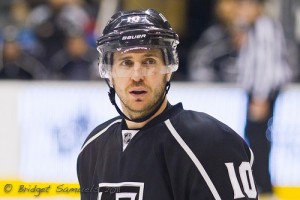 Mike Richards is a fourth-line center making almost $6 million per year. This would be bad news for most teams, but for the Kings, Richards' place in the lineup is a byproduct of their great depth at center. Still, though, Richards is a former 80-point player from his days with the Philadelphia Flyers, and has seen a drastic decrease in his scoring totals since joining LA in 2011. He hasn't cracked 50 points in any of his three seasons with the Kings (though we'll give him a pass on the lockout-shortened 2012-13 season), and last year, he scored just 11 goals while playing in all 82 games.
Clearly, Richards' drastic decline in offensive production has not hurt the Kings, as they have won two Stanley Cups in his three seasons with the club. One might also argue that perhaps if Richards was getting top-line minutes or at least playing in a top line scoring role, he would be putting up more points. However, he still played around 17 minutes per game last season — the fourth-most among Kings forwards — so he's getting plenty of ice time.
Despite the Kings' team success, general manager Dean Lombardi had to seriously consider buying out Richards' contract for salary cap relief. Ultimately he decided to keep Richards, with the two sharing an understanding that Richards needs to step his game up going forward (as reported by the LA Times):
"He was very candid. The most important thing is he realized he wasn't anywhere near where he is capable of being. If he's telling you, 'Well, I was good.' Then you've got a big problem. If he's not able to critique himself, then we're wasting our time. But he freely admitted that it was nowhere near where he was capable, and the root is not age or injury."

-Kings GM Dean Lombardi
If Richards, still only 29 years of age, can raise his scoring and overall game and keep it there consistently, then the Kings' depth will become even more of a strength than it already is. Now that he narrowly avoided a buyout, look for Richards to start this season with renewed purpose.
Dustin Brown's Scoring Totals
Like Richards, team captain Dustin Brown is another player who struggled to score last season. A consistent 50-point player for the majority of his career, Brown dipped all the way down to 27 points (15 goals) in 79 games last season. Of course, Brown elevated his level of play in the playoffs — that double overtime goal in Game 2 of the Stanley Cup Finals stands out — but the Kings will need more consistent scoring from him in the regular season.
With Marian Gaborik now in the fold for a full season, one would expect Brown's scoring totals to go back up, assuming he still plays on the top line with Gaborik and Anze Kopitar. Brown's strength has always been that he plays an all-around game: he's physical, gritty, defensively responsible, and an intangible leader. He also has shown the ability to contribute offensively in a major way, but that was not the case last season. Brown, again like Richards, is also 29, so he is still in the prime of his career. As such, it will be interesting to see if he can bounce back offensively.
Whether Tyler Toffoli and Tanner Pearson Can Build Off Last Year's Playoff Success
As prolific as the Kings were in last year's postseason, they struggled to score for much of the regular season, ranking 26th in the league at just 2.42 goals per game. The acquisition of Gaborik helped immensely, as he caught fire in the playoffs. That said, the emergence of youngsters Tanner Pearson and Tyler Toffoli was arguably just as important. Pearson and Toffoli formed "That 70s Line" with center Jeff Carter. While Pearson and Toffoli contributed on the score sheet, they more importantly provided Los Angeles with much more offensive balance throughout its lineup, allowing others to thrive as well. The Kings always had strong center depth, but Pearson and Toffoli strengthened the team's depth on the wings.
The question going into next season is whether these players can keep up their high level of play over the course of the entire schedule. Last season was Toffoli's first near-full season, as he played in 62 games and put up 29 points. He'll have to build on that and last year's playoffs, as he'll be counted on to shoulder more of the load offensively. He certainly has the talent to do so, as shown by the goal scorer's goal (shown below) he had against Chicago in the Western Conference Final. The biggest thing for Toffoli will be playing at this level consistently.
Pearson, meanwhile, played in just 25 regular season games last year — his only experience in the NHL besides the subsequent playoff run. While he turned some heads in helping bring another Cup to the Kings, he has yet to prove himself over a full regular season. Like Toffoli, his ability to contribute regularly will be key to LA's continued success.
The Defensemen: Will Brayden McNabb Get An Opportunity?
Despite the departure of Willie Mitchell to the Florida Panthers, the Kings appear to have their lineup of six defensemen set, with Drew Doughty, Jake Muzzin, Slava Voynov, Robyn Regehr, Matt Greene, and Alec Martinez. On the cusp of regular NHL playing time, however, is 6'4″ defenseman Brayden McNabb. The Kings acquired McNabb from the Buffalo Sabres at last season's trade deadline, and the 23-year old blue-liner already has some — albeit limited — NHL experience with the Sabres.
McNabb is a defensive defenseman who plays with a somewhat physical edge, so it's no surprise that Los Angeles targeted him for a trade back in March. At age 23, McNabb is pretty much at a make-it-or-break-it point in his career. The question for the Kings is whether Jeff Schultz will be the regular seventh defenseman to be ready in a pinch, or if that spot will go to McNabb. Schultz is a veteran so a seventh d-man spot probably makes more sense for him than it does for McNabb, but McNabb is likely at a point where extra seasoning in the minors won't benefit him that much.
It's an interesting conundrum that the Kings have. It's also more important than some may realize, given that Regehr, 34, is slowing down (he also missed significant time in the 2014 playoffs with a knee injury), and Martinez — despite his playoff heroics — has never played more than 61 games in an NHL regular season. On top of that, the newly re-signed  Greene has battled injuries recently, appearing in only 43 combined regular season games over the past two years. As such, defensive depth is key for the Kings, and McNabb could very well have a good opportunity to step in and play significant minutes for the club.
Injuries
Another major thing to watch for this season with the Kings — and frankly, any team for that matter — is injuries. In addition to Greene, Gaborik, Carter, and Quick have also battled through recent injuries and missed some time last season. The Kings have a great team on paper, but that can all change with injuries to one or more key players. Greene, as mentioned, has been largely out of the lineup over the past couple of years. Gaborik, meanwhile, has a well-documented injury history, which did not slow down during his brief stint in Columbus, prior to his trade to the Kings. The Slovakian winger was instrumental in turning around LA's scoring woes — particularly in the playoffs — so any injury to him would be a major blow.
Carter and Quick also each missed some time last season, so it will be important for them to stay healthy. These injuries and the Kings' offensive struggles — two intertwined issues — likely kept the club from finishing higher in the regular season standings, so the impact was palpable. Much of the Kings' success will depend on these players' ability to stay in the lineup.