How much is too much of a good thing? For the Flyers, having an abundance of stability in net seems like sitting a malnourished child at the table for a lavish Thanksgiving Day feast. After suffering through goaltending woes since the days of Ron Hextall, Steve Mason has nailed down the starting job. But could 20-year-old Anthony Stolarz become the next franchise goalie sooner, rather than later?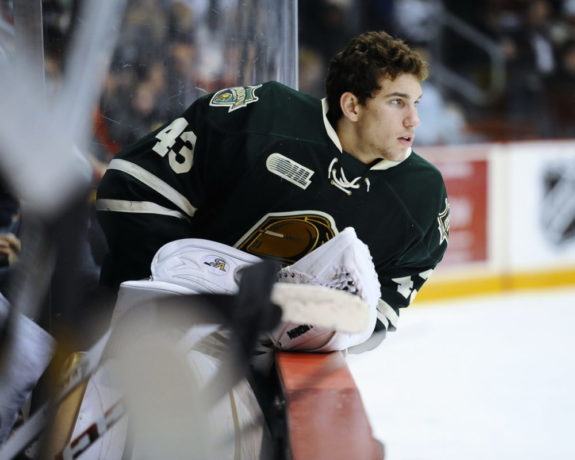 Rising Above Adversity
Anthony Stolarz has had quite the ride in his last 365 days. The Jackson, New Jersey native capped off his mastery of the OHL with a 25-5-2 record in just his second season with the London Knights. That's not to say, though, that Philly's top goalie prospect didn't encounter certain spells of adversity. In January, he was the victim of an unfortunate mishap that resulted in Stolarz taking a skate to the back of his calf. An injury that was both an aberration, and inauspicious.
"Unfortunately, Stolarz's development hit a pretty concerning snag last month; he was forced to leave a game after suffering a skate cut to the back of his leg. On Friday, January 17th, 2014, Saginaw Spirit's captain Eric Locke's skate blade slammed into the back of Stolarz's calf while Locke was engaged with London defenceman Dakota Mermis. Ugh. Not what you want to see. The Toronto Star called it a "sickening mishap," which is pretty on-point." — Collin Mehalick, Broad Street Hockey
After the incident, Stolarz was left with 55 stitches, while missing close to two months of action. But that wasn't the only injury the 6-6, 220 pounder endured. After returning from his bloody injury in January, Stolarz came back, despite experiencing soreness in his left hip. A condition that resulted in offseason surgery. A procedure that seems to have been re-packaged as good news.
"The surgery was done, so no further complications or no greater pathology would occur in the hip," said Flyers Trainer, Jim McCrossin. "We caught it in plenty of time. With hips, people have a tendency to let it go. Like I always say, we took care of business before business became business."
Whether it was a standard procedure, or cause for actual concern, Stolarz will enter Training Camp in positive spirits.
"I'll be 100 percent, probably better than 100 percent," said Stolarz, as he sat out of development camp. "Looking at it, it is a thing of the past. Like Ron Hextall said, he wishes he had the surgery when he was playing. Moving forward, it is not going to hinder me or affect me. It is going to be good."
But before Stolarz went under the knife, his yo-yo-like season took another turn four games into the OHL playoffs. It was there when Stolarz channeled his inner Ray Emery, slashing Windsor Spitfires forward, Josh Ho-Sang, in the back of the head. Stolarz's inability to keep his cool culminated into an eight-game suspension.
"Windsor head coach Bob Boughner called it 'a vicious, one-arm roundabout swing' and compared it to Marty McSorley's beaning of fellow enforcer Donald Brashear in the NHL 14 years ago." — Ryan Pyette, Toronto Sun
Stolarz later apologized for his actions and was back in time to man the pipes in the Memorial Cup after having his suspension lifted early. London's progress throughout the OHL playoffs led to Stolarz missing only six games.
"He got an eight-game suspension, but we built in and stated that if it was not able to be fulfilled in its entirety, due to London's progression in the playoffs, we would revisit it," said OHL vice-president Ted Baker.
Although Stolarz found favor in leniency, he did not find such mercy on the ice afterward, going 0-3 with a 3.49 goals against average. Stolarz was yanked in the second period of London's elimination game against the Guelph Storm for the second time in the tournament, after kicking a puck into his own net. Despite the winless Memorial Cup record, it was the first action he saw in seven weeks. Even if he hadn't been suspended, Stolarz would've sat idly for five weeks, as the entire London team did.
"London's goaltending felt unsettled as well. Because of an eight-game playoff suspension in March, Stolarz's hiatus prior to the Cup was even longer. In his first game in seven weeks, he made 27 saves in the loss to Val-d'Or.

"But the Philadelphia Flyers prospect was replaced by Patterson both Wednesday and after two periods of Sunday's 5-2 loss to Edmonton." — The Canadian Press
That doesn't sound like a franchise goalie in the making, does it? Perhaps not. But using such a small sample size in unusual circumstances shouldn't be the measuring stick either. But what makes Stolarz worthy of asking the question in the first place?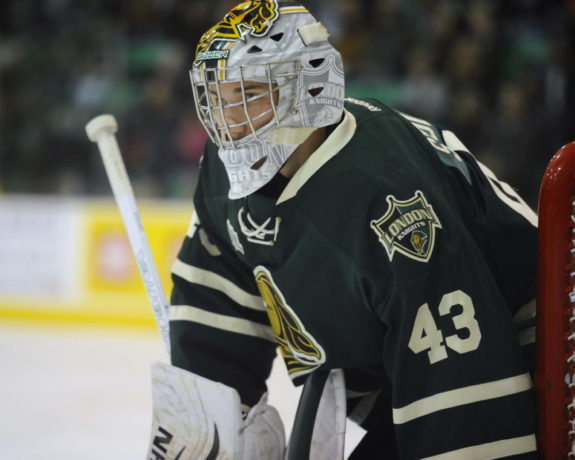 Rising Stock
Much like fellow prospect, Scott Laughton, Stolarz will be entering his first full season of professional hockey. Unlike Laughton, who has six AHL games under his belt, Stolarz will join the Lehigh Valley Phantoms this season without a single professional game to his credentials.
"This is gonna be his first step into pro hockey," said Phantoms coach Terry Murray. "Everybody is coming in on a level playing field now. It doesn't matter if you're a first-round pick or seventh-round pick. You're coming out and you have to earn your right to play the game and Stolarz is a young guy with talent, a big man – which seems to be the way to go in the goaltending position today. He's got that covered. Now you take it from there and make your game happen."
My guess is Rob Zepp, a 32 y/o coming from Germany, will be Anthony Stolarz's backup in AHL. But Flyers could have bigger plans for him.

— Frank Seravalli (@frank_seravalli) July 1, 2014
While some anticipate Laughton to crack the Flyers roster this year, no one is bold enough to declare that for Stolarz – and for good reason. For starters, the Flyers are committed to Steve Mason in the fashion of three-years, $12.3 million. Behind him, sits veteran backup, Ray Emery. And despite Emery's deteriorating mobility, Stolarz is continuing to work on his own blemishes. Ironically, one of them happens to be his post-to-post movement. The same flaw that Emery has been criticized for.
"Stolarz is by far Philadelphia's best goalkeeping prospect, and he might the best goalkeeper the organization has had in a while. But for a team like the Flyers, that does not mean much for Stolarz. He has the potential to be a good netminder, especially because of his size, but he is not as talented as some other goaltending prospects. He moves well, can take up space and can take space away – but he still has to work on some technical aspects of his game. Development has not gone as planned for Stolarz, who missed a significant portion of last season after being cut by a skate." — Jashvina Shah, Hockey's Future
Hockey's Future may have Stolarz ranked as the team's overall 10th best prospect, but he's clearly the team's top goalie prospect. And after a 13-3-2 performance for London in 2012-13, Stolarz worked with Flyers goalie coach Jeff Reese to refine his game.
"He worked with Jeff Reese at the end of the year about his technique and not fighting the puck so much," said Flyers assistant coach Ian Laperriere last year. "He's so big that he realized he should use his size rather than try to be over-aggressive. That comes with experience."
That experience will come this season in Lehigh Valley, as Stolarz will likely receive the starting job for the Phantoms. But if the organization refuses to rush other prospects such as, Shayne Gostisbehere, Robert Hagg, and Sam Morin, don't expect Hextall to make Stolarz the exception. After all, as mentioned, there's no need.
Jeff Reese: "There is no rush for Stolarz. He needs to polish his game. That takes time. Again, no rush. Let him develop."

— Bill Meltzer (@billmeltzer) July 1, 2014
If Stolarz can continue the upswing trend, however, he could find himself in the NHL sooner than expected. Especially if Mason finds himself struggling again like he did in Columbus.
"If Mason does falter, the team might be counting the minutes until promising goaltending prospect Anthony Stolarz is ready for the NHL. The 6-foot-6 monster between the pipes has put together a really strong junior career with the London Knights of the OHL." — Chris Peters, CBS Sports
With a strong showing in his first year in the AHL, Stolarz could be breathing down Mason's back as soon as the 2015-16 season. A surprising thought considering how raw he was when he was drafted 45th overall in the 2012 NHL Entry Draft. With veteran minor league journeyman Rob Zepp slated to compliment and mentor Stolarz in Lehigh, the organization is clearly doing all they can to set Stolarz up for success.
"If all goes well this season, Philadelphia won't need to secure Mason's backup via free agency next summer. Instead, they'll simply promote Stolarz." — Distinct Athlete
If Stolarz is able to make the jump after just a single season in the AHL, he certainly shouldn't be deemed too young. He'll be 21 next year, while Pittsburgh Penguins goalie Marc-Andre Fleury hit the NHL at age 18. Nobody is, nor should, compare Fleury to Stolarz. But if the massive butterfly goalie can maintain his promise, while continuing to develop, there's no reason to believe he couldn't become the Flyers' next franchise goalie.