Without its fans, the NHL would be nothing, I think we can all agree on that; its the fans who buy the tickets, watch the games, buy the merchandise, click the articles, etc. To a man all of the NHL players are all aware of this and whenever they get the opportunity to, they try to give back a little to their fans. Teams will hold open practices, autograph sessions and casino nights among other things where season ticket holders are able to interact with their favorite athletes.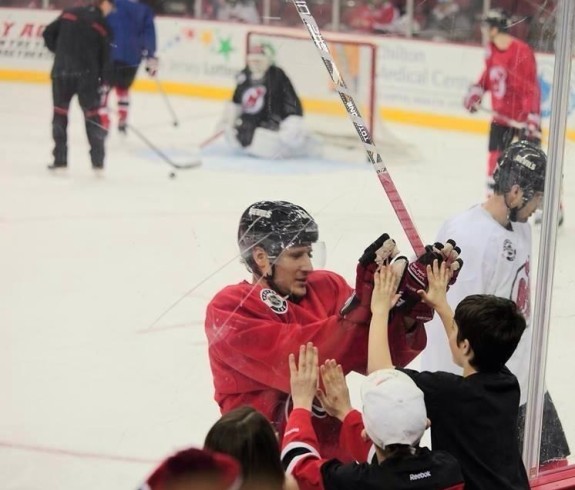 When I showed Damien Brunner the above picture of him high-fiving a young fan through the glass, the 28-year-old smiled ear-to-ear and said, "That was from the open practice when the fans were there; I remember that day. It's (really) fun to see the kids down there, so we can give them something back – put a smile on their face. That's actually a really nice picture."
I asked the Swiss-born Brunner that maybe he became that kid's favorite player that day, or maybe even his hero, and how does he feel about that. He smiled again, kind of turned his head down like a teenage boy would when approaching a girl he likes. "Like I said, it's a pretty cool moment for me too," he said while chuckling. "It was a lot of fun having the fans over that day. I did that a couple of times (with the kids), threw some pucks over to them, tried to get the kids to smile and laugh. I think that's what its all about, for us to give something back."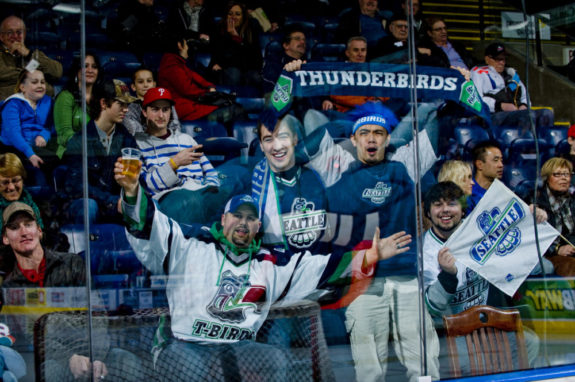 Obviously this is just one story of thousands out there, among the thousands of you out there reading this I'm sure you all have some great stories about encounters with some of your favorite NHL players. The Hockey Writers collected a few other stories to share with you also, and feel free to share yours in the comments below if you like.
Joe Stinson is a season ticket holder with the New Jersey Devils and 28-year-old daughter Jennifer is profoundly deaf and autistic and has become a huge fan of Jaromir Jagr. After missing an event earlier in the season, Jennifer was able to meet Jagr at the end of season autograph session that the Devils held. Jennifer communicates with a computer that she types and it speaks; all morning she just kept typing: "picture with Jagr 68".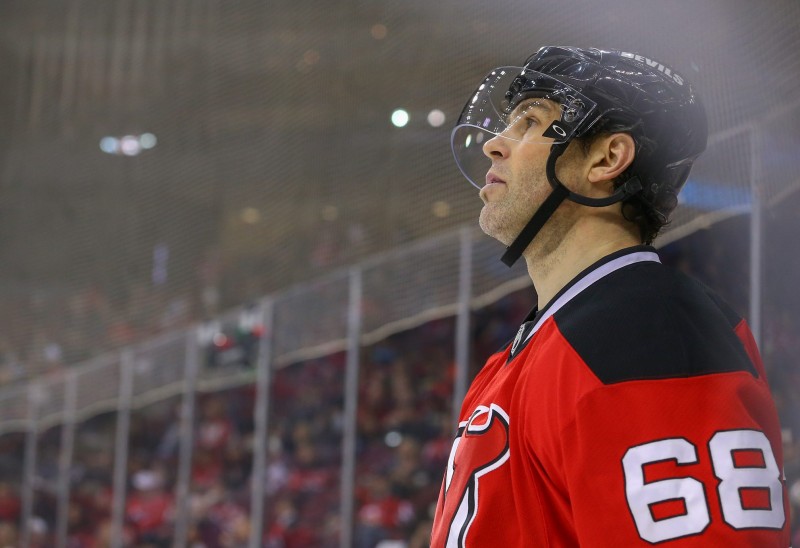 Jennifer's autism does not allow her to wait for anything for long periods of time. As Joe explained to them when the February event was missed that waiting in a line long is problematic. So they could never wait for Jagr, then Martin Brodeur or Cory Schneider and Patrik Elias… its not happening. "They made provisions for her not to wait in line for Jagr and when she got to meet Jagr AND get his autograph the smile on her face for me, as her Dad was priceless," Joe said. "It was worth every penny I have ever spent and will spend on the Devils."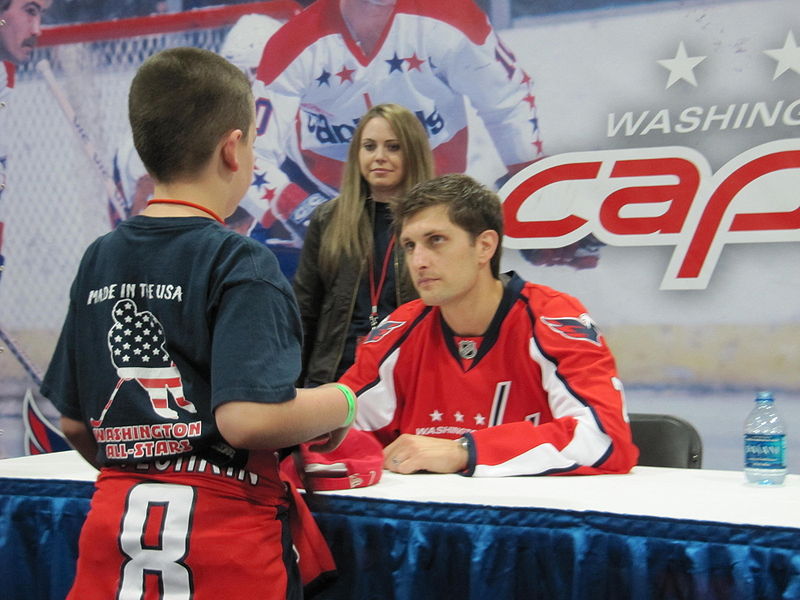 "We have to be role models, we have to act the right way around the kids, especially around the kids," said Brunner before laughing a bit and adding, "around the adults too. I love to see the kids happy, to have them around; it gives you positive energy, it's such a big impact on us too."
The final story is from my friend Alison Kavchok, as told by her to THW.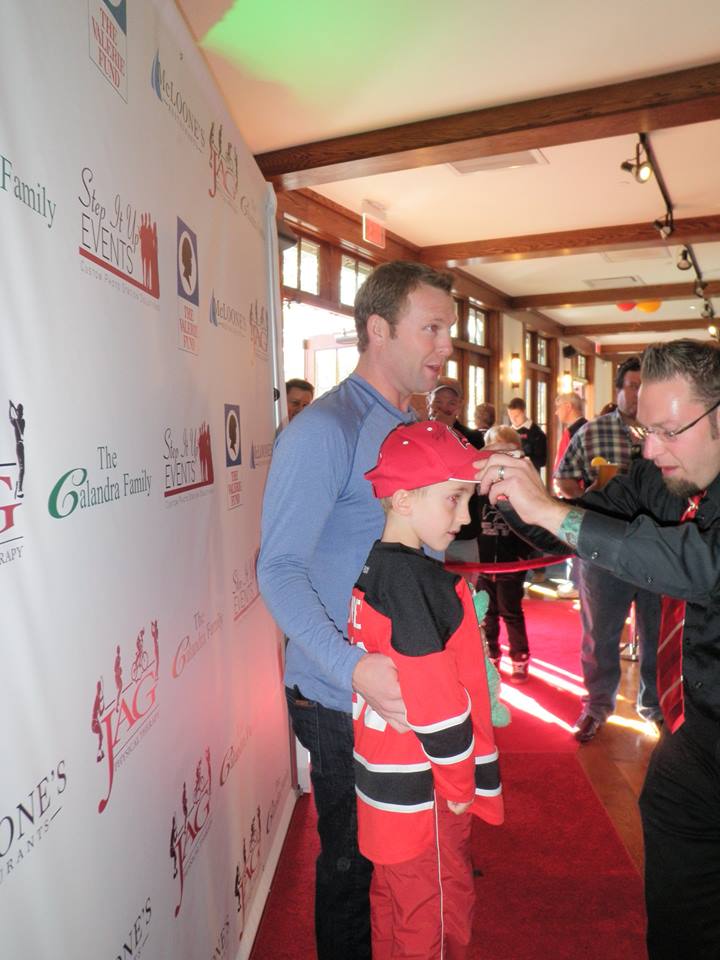 Earlier this season an opportunity arose for my six-year-old son Mat and I to attend a benefit where Marty (Brodeur) was going to be at. When he saw him, he was confused because Marty wasn't in his gear. It was a chance to remind him that these people are humans, too. I think little kids see the players as these little transformers toys on ice; but then Mat saw Marty and said: "is he a Daddy, too?" It was fascinating watching him piece it together because suddenly the sport didn't seem so out of touch to him anymore; even a Daddy can play hockey if he loves the game enough!
I took Mat to a game back in December. We were in section 12 behind Marty and when the Devils won, Mat bolted down to the glass without me. I followed because it looked like he was going to be mobbed. We ended up on the background of an awesome press picture of Marty and Jagr congratulating each other. I eventually had it printed out and Jagr was kind enough to sign it at the recent Team Awards Ceremony, and I plan on framing it. It's nice to have something tangible that we can look back on; just Mat and Mom casually enjoying a Devils win, eating M&Ms and watching two legends, in the twilight of their careers showing the kids how it's done.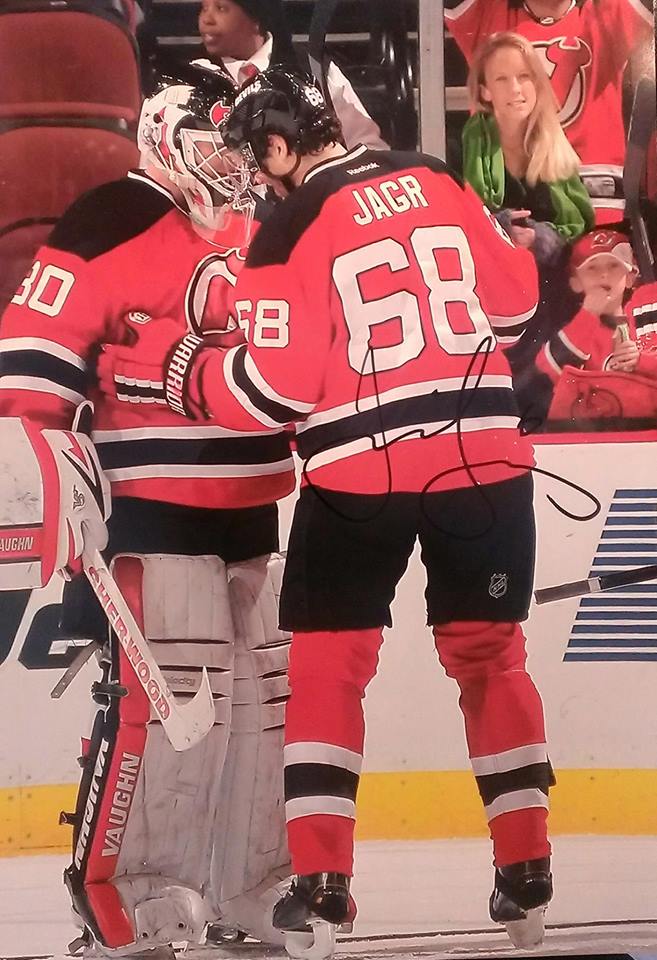 "They are really kind, all of the Devils fans, those hours they fly by real quick," said Brunner when we asked him about the autograph sessions at the end of the season for STHs. "It was great meeting them all and it really is nothing for us to do those one-hour signings; it was fun for us too and we really appreciate everyone that came out and everyone that comes to see our games."
Current and former NHL players (at least in the Tri-State area) also do individual signings, most which are free, unless you want to purchase, for a small fee, a photo or puck to be signed.
As mentioned earlier, if you have a story about meeting an NHL  player feel free to leave it in the comments section below, we'd love to hear from you and are planning to do another article like this in the future.
Dan Rice can be reached via Twitter: @DRdiabloTHW or via Email: drdiablo321@yahoo.com