Entering his third training camp, Philadelphia Flyers prospect Scott Laughton should feel as close to a veteran as a player with 11 combined games between the NHL and AHL can. And in comparison to other NHL mainstays for the Flyers who broke into the league at a younger age than Laughton's 20 years, many are wondering if this is the year Philadelphia's 2012 first-round pick makes the roster. But is that what's best for Scott Laughton? More importantly, is it best for the Flyers?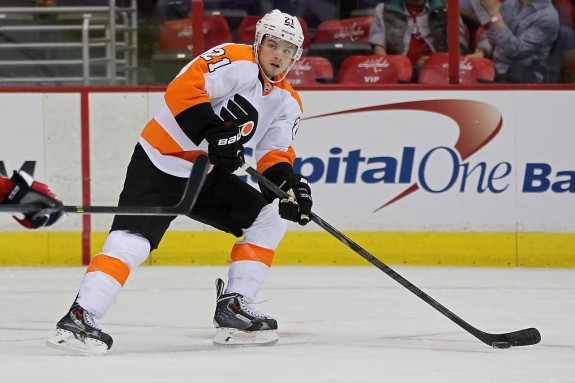 OHL Dominance
At 6-1, 177 pounds, Laughton demonstrated his excellence in the OHL over the course of four seasons. Encouraging enough, Laughton increased his goals and points totals in consecutive years with the Oshawa Generals, with last season serving as the benchmark.
In 54 games last season for the Generals, Laughton dominated the competition, scoring 40 goals and 47 assists. The Ontario native went on to tally 11 points in nine playoff games, capping a monster-like OHL career with 110 goals and 140 assists in 262 total games played. That's 250 points in 262 games.
Laughton's 2013-14 campaign was only outdone by Toronto Maple Leafs prospect, and Erie Otters captain Connor Brown, who wrapped up an impressive season by totaling 128 points in 68 games. Laughton finished second behind Brown for the Red Tilson Trophy, which is awarded to the MVP of the OHL.
"It's my first year pro, I just want to be a reliable player," said Laughton. "I want to play well in all three zones and make an impact wherever I am. I think I'm a leader wherever I go and I'm going to try and do that wherever I go next year. Either it's the Phantoms or the Flyers and I'm just going to keep my head down and go to work."
At 20-years of age and a presidential term of experience in the OHL, it's safe to declare Laughton's time in the league as finished. The question now stands: Philadelphia or Lehigh Valley?
Is The NHL Best For Scott Laughton This Year?
Despite Laughton's past exhibition of brilliance at the Junior Hockey level, the former Canadian captain of last year's World Junior team is bidding for an NHL roster spot with 11 professional games under his belt; none of which were played last season.
In the 2012-13 season, Laughton spent a scoreless stint of five games with the Flyers, and six games with the Phantoms, where he notched a goal and two assists. Calling Laughton's small sample size between the NHL and AHL a failure is premature, though. After all, how can one derive a verdict on such a small sample size? But it's the small sample size that should concern anyone about handing Laughton a roster spot. Especially with the influx of Flyers' centers as is.
"His entry-level contract begins next season, and at absolute worst he'll be in the AHL with the Phantoms. You'd like to think that his dominance this season could be a good sign of things to come there, but after spending a year playing guys well below his talent level, it could end up being a bit of an adjustment facing guys who are fringe NHLers every night." — Broad Street Hockey
https://twitter.com/JohnBorukCSN/status/488681734582439936
Sheldon Keefe's cautionary tale can certainly be applicable in Scott Laughton's case. #AHL seasoning is never a bad thing. #Flyers #Phantoms

— Anthony Mingioni (@AnthonyMingioni) July 23, 2014
According to Bill Meltzer of Hockey Buzz, however, the former first-round draft pick is highly touted still, as he added muscle to his already large frame. Laughton demonstrates the type of player that would mesh well with the current forwards unit, possessing excellent two-way skills, while dishing out the type of physicality that will earn the respect of his teammates right off the bat. But the bottom line remains: is he really ready for the NHL this year?
"At the end of the 2013-14 season, Laughton dominated the Annual OHL Coaches' Poll. He was voted the top player in his conference for in faceoffs and penalty killing, finished second in the smartest player, most dangerous in goal area, best shot and best defensive forward categories, and was selected third in the hardest-shot category.

"There is little doubt that Laughton can develop into a pro player who plays a defensively sound game and plays with some physicality. As he graduates to the pro level, the main question mark about Laughton is how much offensive upside he has. Impressive junior hockey point totals often do not translate to big scoring numbers in the pros, but there is also no question his offensive game improved as he added muscle and gained confidence." — Bill Meltzer, Hockey Buzz
With Pittsburgh's Olli Maatta experiencing instant NHL success last season, it's understandable for many to believe Laughton is ready to skate with the big boys next season. Especially since Maatta was surpassed by the Flyers in the 2012 draft when former GM Paul Holmgren nabbed Laughton with the 20th overall selection. But what's lost in this comparison of apples and oranges is that Maatta was thrusted into NHL action due to an onslaught of injuries to Pittsburgh's blue line. It just so happens that Maatta's baptism by fire was a blessing in disguise for Philadelphia's cross-state rival.
"Maatta wasn't getting overmatched in the corners and he wasn't getting star struck when he had to make a play up to Evgeni Malkin or any of the Penguins' other stars. What most impressed (Tom) Fitzgerald is how Maatta came into his first NHL camp, since last year's edition was wiped out by the lockout." — Ryan Kennedy, The Hockey News
This isn't to say the same couldn't apply for Laughton had or if the same scenario called for; nor does it indicate that Maatta was never on Pittsburgh's radar going into last season. But after Flyers GM Ron Hextall emphasized his vision of not rushing prospects, using Maatta as the standard alone is not only doing just that, it's also taking the makeup of the roster in Philadelphia out of consideration.
I'm making a trade or two this offseason, that's for sure. Akeson proved he can play NHL regularly. Give him and Laughton a spot.

— D.Leed (@D_LEED) May 1, 2014
Pending any drastic changes moving forward, the Flyers will enter the 2014-15 season with five centers. The trade that sent Scott Hartnell to Columbus for R.J. Umberger leaves a void on the Flyers' top line that will more than likely be awarded to Brayden Schenn, one of the five centers on the roster right now. With the possibility of Pierre-Edouard Bellemare, or even Zac Rinaldo (who is a natural center) centering the fourth line, Laughton's chances at cracking the lineup will likely hinge on him moving out of position. That is if the Flyers don't want to cheat Laughton out of valuable minutes he would be receiving in the AHL.
Haven't we seen this before, though? Even with the likelihood of Schenn holding down the left wing position on the top line, the Flyers were hindered by playing lineup Tetris with their surplus of centers last season. Still, it's a circumstance that leaves Laughton unfazed.
"Whatever it takes to get to the next level," Laughton declared. "I've never played it before, but that's what I'm looking for is to play at the next level. I've said it before. Anything that's possible for me to be in a roster position, I'm willing to do."
If moving Laughton to the wing turns out to be the case, not only would the Flyers be asking their prized prospect to jump to the NHL with extremely limited professional experience, they'd be doing so while asking him to play out of position. It's a scenario no organization would ideally make, especially one that predicates their philosophy on ripening their pups below.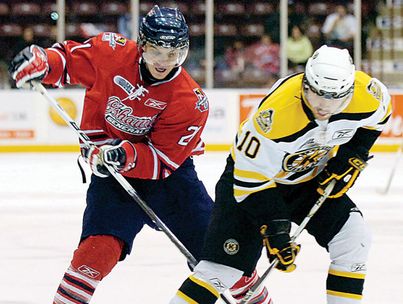 The Case For Lehigh Valley
At the slight risk of declaring absolutes, Scott Laughton will not be scoring 80-some points should he find his way into the Flyers lineup next season. Not only would he lack the necessary minutes to accomplish such a feat, he'd also be up against opposition that is far more superior than what he's accustomed to.
That being the case, the win-win scenario for both Laughton and the Flyers is to insert him into the Phantoms' top line down in Lehigh Valley. As Hextall quietly added to the cache of talent for his AHL affiliate, embedding Laughton to a core that boasts potential such as, Robert Hagg, Shayne Gostisbehere, Samuel Morin, Mark Alt, and Nick Cousins would give the future of the franchise to create chemistry as they develop together.
"Let's look at the projected forwards. Nick Cousins (68th overall, 2011) and Petr Straka (55th overall, 2010) were both rookies last season. Although they put up relatively disappointing numbers, they both turned it on at the end of the season. I've expressed my confidence in Cousins before, and I fully expected him to have a great season.

"Joining those two forwards will be Scott Laughton (20th overall, 2012) and Taylor Leier (117th overall, 2012). Both players played for Team Canada at this years World Junior Championships and they both put up huge numbers during their final junior season. Laughton had 40 goals and 47 assists through 54  games this past season while also earning 11 points (4G, 7A) in nine playoff games. Leier scored 37 goals and added 42 assists through 62 regular season games while earning 26 points (6G, 20A) in 21 playoff games." — David Quackenbos, Frozen Futures
As the Holmgren era continues to transition into the Hextall era, staying patient with prospects is ultimately the most responsible route to take. And even if Laughton is delegated to the AHL, it's not a life sentence, or even an instant "career minor leaguer" label. It's merely giving a kid who has a total of six games in the AHL more time to get his feet wet at the professional level.
https://www.youtube.com/watch?v=rMS2twLf28Q
Even with Zac Rinaldo's past history of undisciplined play, Laughton could still be an option. Should Laughton start the season in Lehigh Valley, only to be called up later, the time he'll spend in the AHL will only be an added bonus in experience.
It's simply an option between Laughton learning on the job, or optimizing his preparation for success. Given the low total of homegrown talent in the recent past, keeping Laughton down as long as possible this year will pay dividends long-term. Mark my words.