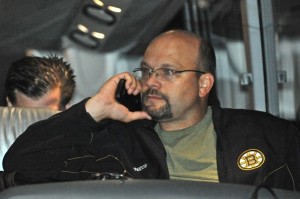 It's been an oddly quiet offseason in Boston. Jarome Iginla, Shawn Thornton, Andrej Meszaros, and Chad Johnson are all gone while replacements on the team's depth chart are still largely penciled-in as TBA.
Peter Chiarelli has been active signing his restricted free-agents–a scattered group of minor-leaguers and fringe NHLers secured on mostly one or two-year, two-way deals with Matt Bartkowski, Jordan Caron, and Niklas Svedberg being the exceptions. Then there was the signing of goaltender Jeremy Smith, who will likely spend his time serving as Malcolm Subban's back-up on the team's AHL-affiliate Providence Bruins, now with Svedberg getting the nod to back-up Tuukka Rask.
And that's pretty much it.
Reilly Smith, Torey Krug, and Matt Fraser are the three restricted free agents who remain unsigned yet but are basically guaranteed a spot in Boston's lineup next year. There are still holes in the lineup, cap issues to work out, and likely a few transactions to be made. So, what's Chiarelli waiting for?
Here's what we know first, almost automatically: Smith, Krug, and Fraser should all get re-signed before training camp. Rightfully so, this should be the next, nay, only most important priority for Chiarelli for the remainder of the offseason. The signings seems like a pretty sure thing based on Chiarelli's record in investing in his RFAs thus far this offseason. On top of that, all three should make the NHL roster for the 2014-15 season. Krug and Smith are guarantees and based on his playoff success, Fraser should be too. The three should fill some gaps in the lineup.
Next, there's a good possibility that the lineup on opening night features one of Ryan Spooner or Alexander Khokhlachev, if not both. Chiarelli made note of wanting the Merlot line fourth line to get quicker for next season. While Spooner and Khokhlachev's skill-sets don't necessarily fit the conventional wisdom of a fourth line, gaining speed and skill in the bottom-six forwards can't hurt the Bruins. These two prospects seem to have the best chance to crack Boston's lineup and see significant playing time on the NHL level.
And if Spooner and Khokhlachev aren't starting the season with Boston, then Justin Florek is. Florek is another winger who could be an ideal fit playing on the third or fourth line for the Bruins. After seeing some time this past season skating with both Carl Soderberg and Gregory Campbell as his centers, experience could give him the bump to fill a gap in the lineup.
As far as defense is concerned, the Bruins may have to unload a player or two. Bartkowski and David Warsofsky (another RFA signing this offseason) are probably the two most likely to be shipped off in what's becoming an incredibly crowded blue-line in Boston.
The trend this offseason is that many teams have offered up low-risk, one-year deals to veteran free agents such as Lee Stempniak, David Booth, and Derek Roy, all prime candidates who could have fit in Boston's bottom-six forwards, their biggest glaring need. In fact, some of those guys are still out there (hello, Devin Setoguchi and Peter Mueller). While there are some players on the Bruins payroll that should probably shouldn't be there, it looks like Chiarelli is finally committed to focusing on prospects and players in the system to fill the needs of the team. If anything, Chiarelli's biggest fault isn't that he hasn't made any moves, but that he hasn't secured the final remaining restricted free agents. Once that happens, things will start to fall in place for the Bruins but this year looks to be a big one for development of prospects in the team's pipeline.
Another thing that Chiarelli would be wise to do is invite veterans to the Bruins training camp. In the past, players like Jay Pandolfo and Chris Clark have gotten invites to help develop young talent, but also create competition. With more spots in the lineup in question than in seasons past, there's no doubt that this should be something Chiarelli acts upon.
The players and answers for next season are present in the Bruins organization. The pieces just haven't fallen into place yet.
Follow Mike on Twitter for more Bruins updates, news, and commentary