I thought it would be interesting, especially with the lack of trade action so far this summer, to rank the Toronto Maple Leafs' top-five trades of all-time. "All-time" in this case meaning since 1990 and post-Doug Gilmour since this is the only era I am qualified to comment on. As well, removing the Gilmour trade, which is not only the most lopsided favorable trade the Leafs have made, but it's also one of the most lopsided and largest trades in NHL history, allows me to avoid writing about something that I can't possibly hope to contribute anything new to, as it's been written about a ton and is a pretty open and shut heisting. As to the list, Keep in mind, this is just one guy's opinion.
Honorable mention to the Bernier trade of last summer that just missed the cut and which, should he continue his upward path to stardom, may end up ranking higher in the future.
#5 – The Leafs trade Alyn McCauly, Brad Boyes and a first round pick to the San Jose Sharks for Owen Nolan.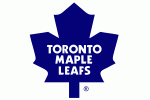 At the trade deadline in 2003, the Leafs traded a significant portion of their future for a player they hoped could put them over the top.  This trade did not work out very well as the Leafs went out in the second round of the playoffs and Nolan played only one other injury-riddled season for the Leafs in which he scored only 19 goals.
Alyn McCauly went on to be a decent second/third  line centre for the Sharks for two more years, but then concussions forced him to abruptly retire at the age of 30.  Brad Boyes scored an outlier 46 goal season and had another where he scored 30, but was otherwise generally not very good.  The first round pick turned out to be Mark Stuart and he was probably the best player the Leafs gave up in the deal, but it's not like he was Scott Niedermyer.
If you look at this trade in just the sense of how Nolan did for the Leafs and how the players they gave up fared, then it probably wouldn't make this list.  The thing is though, I believe that if you contextualize the trade properly, you can see that it was a brilliant move that just happened to not work out.
In the 2003-2004 season the Leafs posted a franchise record 103 points and had 45 wins. They were Cup contenders after having went to the Final four two seasons previous and being a solid contender for most of the early aughts. It made sense to add a star player to the roster for players who would, sadly, all be retired or severely declined by the time the team made the playoffs again in 2012-13.
While the trade didn't work out great, the Leafs made a bold move while they were contenders and it's hard to fault them for that. The fact is, this is the last time the Leafs have been in a position to make such a trade and as such, I think it's worth recognizing that it was a great trade, at least in theory, if not practice.
# 4 The Leafs acquire Dion Phaneuf, Keith Aulie and Fredrik Sjostrom  from the Calgary Flames for Matt Stajan, Niklas Hagman, Jamal Meyers, and Ian White.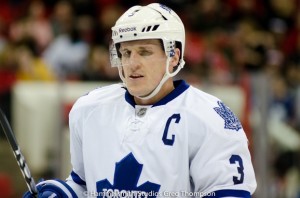 Looking back, this is such a ridiculous trade that it's hard to believe it ever happened. What were the Flames thinking? Twenty years between non-sensical trades with the Leafs was just too long to go?
Some trades seem bad on the surface, but exploring their context (see above) sometimes reveals surprising new perspectives. Not this one. This was a trade so bad that it would have been vetoed in Fantasy Hockey.  It still makes no sense.
The Flames traded the Leafs a 25-year-old star defenseman and in exchange received a package so bad that they went on to pay Matt Stajan $4.5 million, ostensibly just to prove they knew what they were doing.
A look at how hard it has been for the Leafs to acquire a second top-pairing defenseman to play with Phaneuf should tell you all you need to know about why you don't trade elite defenseman for a package of duds. The fact that the Leafs didn't have to include a draft pick or top prospect in this trade is stunning.
Sure, Leafs fans have never really embraced Phaneuf, but that has more to do with the team's overall lack of success than the play of #3, which has been great.  Faced with being the teams go-to offensive, defensive and most physical defenseman, as well as their power play quarterback, their main penalty kill option, their shut-down guy, and some of the most, and toughest minutes in hockey, oh, and to fight, and lead/be the Captain, Dion has perhaps had too much on his plate.
Still, when you consider all the things the Leafs ask him to do (while providing him with Carl Gunnarsson as a partner) the fact that he has been as good as he has, is miraculous. If properly deployed and given a partner worthy of playing with him, there is no reason Phaneuf cannot be a top ten NHL defenseman.  There is no player in the NHL whose reputation from fans and whose scouting report from professionals differs so greatly. He is about as under-appreciated as an NHL player can be.  If you come across any Dion bashers, don't argue with them. There's no point. They made their mind up and if they could be reasoned with, would have already come around.
While the Leafs received Sjostrom and Aullie as well, they never really panned out. Sjostrom is out of the league and Aullie was traded for Carter Ashton, who I'd almost rather have than Stajan today.
Overall, this trade is about as one-sided as a trade can be. Only the sheer brilliance of the trades to follow it prevent it from being ranked higher.  The top 3 to follow later in the week.