Part I: Dark Horse Breakout Candidates
Every year in the NHL, there are a dark horse players that come out of nowhere to post very impressive offensive numbers. Last year, Ondrej Palat and Reilly Smith scored 59 and 51 points respectively. Both had put up some good numbers in juniors and the minor leagues, but that level of production was not predicted by anyone.
Picking top draft picks to break out in the NHL is easy. Picking the right dark horse isn't. They are divided into two categories, the established (or semi-established) NHL players (see Part I above), and the deep sleepers with less than 40 total NHL games, which are highlighted below. In order to be considered a dark horse, a player must not have scored more than 30 points in any NHL season, must not have played more than two seasons in the NHL (playing at least half a team's games), or been a top 25 draft pick.
There is a good chance that some of these players may not even make their NHL teams out of training camp. Even if they don't, their play will likely merit an extended callup at some point in the season. If they do stick in the NHL this year, keep an eye on them.
The True Dark Horses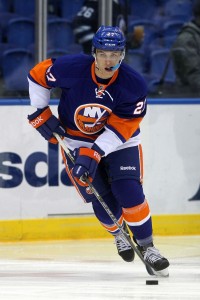 Anders Lee (New York Islanders, drafted 152nd overall in 2009): A three-star athlete in high school (hockey, football, and baseball), Lee was actually passed over in his first year of eligibility for the NHL draft because scouts didn't know what sport he was going to commit to. A pure athlete, Lee was the Metro Football Player of the year in high school where he played quarterback. Once he committed fully to hockey, his talent began to shine.
Lee enjoyed 3 very productive seasons for the UND Fighting Irish before turning pro this year. He impressed in the AHL and adapted to the pro game well, where he scored 41 points in 54 games. His play merited a callup to the Islanders, where he flourished at the end of the season. He had 14 points in 22 games, and played an impressive physical game.
At 6'2″, 225 lbs, Lee is built like a tank for a forward. He's extremely good in the corners, along the boards, and in front of the net where it's nearly impossible to knock him off the puck. In addition, he has a very strong shot and good finishing ability. If his skating improves a bit, he will be a power forward to be reckoned with.
Jeremy Morin (Chicago Blackhawks, drafted 45th overall in 2009): Morin faces an uphill battle to earn significant playing time in Chicago due to their great forward depth. He could provide some added scoring punch to the bottom six, while still playing adequately defensively.
Morin was a bit one-dimensional coming into the AHL. His best asset was by far his scoring ability, due to his great shot and willingness to go into the dirty areas to score. After 205 games in the AHL, Morin has rounded out his game and appears ready for NHL minutes. He was a point-per-game player in the AHL last year, and scored 30 goals the year before, the 4th most in the league.
In his first sustained stretch in the NHL last season, he managed 11 points in 24 games. If he can stick on the Blackhawks' 3rd line and get occasional PP time in 2014-15, he could break out.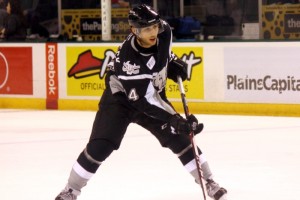 Vincent Trocheck (Florida Panthers, drafted 64th overall in 2011): Trocheck is just one of the many young, talented centers in the Panthers organization. He faces a lot of competition for minutes at center, but with his play, he will get his time. Trocheck is undersized at 5'10", 185 lbs, but he does not let his size hamper his effectiveness. He is a great playmaker and distributor, a solid two-way player, and engages in the physical side of the game.
As the 3rd line center on Team USA's 2013 WJC gold medal winning team, he was a force. He scored 6 points in 7 games, played against the opposition's best forwards, and was a pest to play against. That same year, he led the OHL in points with 109.
In his first season as a pro last year, he scored 42 points in 55 AHL games, and received a callup to the Panthers for 20 games. He played well, producing 8 points in 20 games. Trocheck's well-rounded game means he can play anywhere in the Florida lineup. If he gets the chance to play with quality linemates and get power play minutes, he should deliver.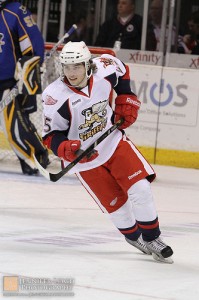 Calle Jarnkrok (Nashville Predators, drafted 51st overall in 2010): In 2011-12 and 2012-13, Jarnkrok was one of the best players in the SEL. He finished 14th and 8th in scoring in those seasons before coming to North America this past season.
Jarnrkok, a smart, cerebral playmaker delivered 45 points in 63 AHL games, and was the centerpiece in the trade that sent David Legwand to Detroit. Once in Nashville, he finished the season on a high note with 9 points in 12 games. Despite Nashville's additions of Olli Jokinen, Derek Roy, and Mike Ribeiro, Jarnkrok is the long term answer at center in Nashville's top six. It may take awhile, but his abilities will shine through and will start to outplay the above veterans.
Linden Vey (Vancouver Canucks, drafted 96th overall in 2009): At every level Vey has played, he has been a dominant offensive player. He was a point-per-game player in the WHL for Medicine Hat his draft year, and the year after. In 2010-11, he exploded offensively and led the league in points with 116.
A one-dimensional player entering the pros, Vey has plied his trade in the AHL for 3 years, rounding out his game and racking up points. After 3 years, he appeared ready to play in Darryl Sutter's demanding pro system. However, the incredible depth of the Kings forwards meant there was no real spot for Vey in the lineup.
Instead, LA shipped him to Vancouver in exchange for the pick used to select Roland McKeown. In Vancouver Vey will have a chance to earn significant minutes, especially with the departure of Ryan Kesler.
Adam Clendening (Chicago Blackhawks, drafted 36th overall in 2011): Clendening is the type of puck-moving defenseman that every NHL teams is clamoring for. He is a phenomenal skater that is great in transition, has a great first pass and good vision, and can quarterback a power play. A product of Boston University, Clendening would surely be an NHL player already for most franchises.
However, the depth in Chicago has kept him in the AHL where he has torn the league apart. He has scored 105 points over the past two seasons, the second highest total among all defenseman. When he finally does make the NHL, he will immediately become a viable power play option, and will be put in a position to rack up points.
Markus Granlund (Calgary Flames, drafted 45th overall in 2011): The younger brother of Mikael Granlund is not nearly as well known, but he may soon become a household name. Markus plays a similar style to his brother. He has great hands and is a great playmaker, but is not strong defensively or very physical.
A veteran of two U20 WJC tournaments, Granlund managed 19 points in just 13 games, and was 2nd in points at the 2013 tournament. After a strong season in Finland in 2012-13, Granlund made the trip to North America this past season. Playing for the Abbotsford Heat, Granlund managed 44 points in 52 games, and had the second highest point-per-game of any rookie in the AHL. In 7 NHL games, he played admirably and added 3 points.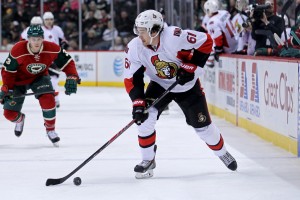 Mark Stone (Ottawa Senators, drafted 178th overall in 2010): In Stone's draft year, he managed just 28 points over 39 games, doing little to catch the attention of scouts. However, he exploded the next two years playing for the Brandon Wheat Kings, scoring 106 and 123 points, respectively. His combined 129 points was the most in the WHL in that two year span. On top of that, he added 10 points in 6 games for the Canadian WJC team.
As a player, Stone is absolutely deadly around the net when he has the puck. He has tremendous hands, hockey sense, and finishing ability that very few prospects can match. The problem is that he is not a great skater, and is not very good defensively. Spending the past 2 years in the AHL has allowed Stone to work on his weaknesses, and it appears that they've been corrected.
He played at a 1.08 PPG pace in the AHL last year over 37 games, and was able to play in 19 games for the Senators where he scored 8 points. With Jason Spezza gone, Ottawa will need an injection of offensive talent to their forward corps, and Stone could be the answer.