After signing Jaroslav Halak and Chad Johnson during the 2014 offseason, the New York Islanders will go into the 2014-2015 NHL season with arguably the strongest goalie tandem that they have had since Chris Osgood and Garth Snow were manning the pipes for the Isles in the early 2000s. While the Isles certainly solidified their roster with a proven number one and a back-up, New York also made sure that they replenished their farm system with enough goaltending depth for the next few years.
Earlier last week, the Islanders and Kevin Poulin avoided arbitration as the goalie signed a two-way deal that will more than likely keep him in the AHL for the '14-'15 hockey season barring any injury to Halak or Johnson. With Poulin back in a familiar spot, the New York Islanders seem to be set within their organizational ranks, but there are definitely a number of other netminders that fans should also get acquainted with as these individuals could be making some headway sooner rather than later.
AHL/ECHL Depth
David Leggio (Bridgeport Sound Tigers – G)
David Leggio might not be a prospect that is new to professional hockey, but he is a prospect nonetheless. Of course, one might look at Leggio's career games played in the AHL (201) and think that there is nothing special to a goalie that spent the majority of his time in the American Hockey League, but Leggio has also been a victim of circumstance – especially in the Capitals' system as Philip Grubauer was ahead of Leggio on the team's depth chart.
Over the last four years, Leggio hasn't had a GAA above 2.80 and a Save Percentage below .911 – both statistics registered in his first full season in the AHL with the Portland Pirates. Given his experience in the AHL, it wouldn't be at all surprising to see Leggio competing neck and neck with Kevin Poulin for starting duties with the Bridgeport Sound Tigers.
For a goalie that has logged a plethora of minutes and games played for his respective teams, Leggio sure has all of the credentials necessary to be successful with the Sound Tigers – and possibly be an injury call-up if anything is to happen to Halak or Johnson. Standing at 6'0″, Leggio doesn't have the typical size that team's covet in a goalie, but he definitely makes up for it with his athleticism, reflexes, and competitiveness, as well as a pretty good impression of Pierre McGuire which fans might take a liking to quite quickly.
Parker Milner (Stockton Thunder – G)
With the Islanders going through injuries to their goaltending front last season, Parker Milner got a taste of AHL action and did relatively well considering that the goalie was playing for Boston College from 2009-2013. Milner played in eight games at the AHL level and recorded a 2.95 GAA and .905 Save Percentage, but his adjustment at the ECHL level illustrated the netminder's potential as he played to the tune of a 2.84 GAA and .907 Save Percentage in 25 games.
Much like Leggio, Milner isn't a towering goalie as he stands at 6'1″, but he certainly makes up for his shorter stature with his play in the crease. Named the "Most Outstanding Player" of the 2012 Frozen Four, Milner definitely has an upside that is plain to see as he received some positive reviews from Scott Pellerin and Rich Kromm last season when he split time between the Bridgeport Sound Tigers and Stockton Thunder.
Since the Sound Tigers will most likely choose to go with AHL experience (Poulin & Leggio) when constructing their goalie tandem, Milner will probably see a good amount of time in the ECHL with the Stockton Thunder. However, seeing as how Milner is 23 years old, it wouldn't be surprising to see him steadily progress through the Isles' system over the next couple of years as he has been refining his craft in a number of settings and adjusting to his given environments with relative ease.
The College Kids
Eamon McAdam (Penn State University – G)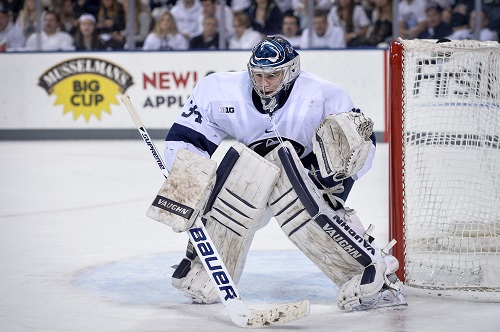 McAdam's statistics from the '13-'14 NCAA season (10 GP, 4.09 GAA, .882 Save Percentage) definitely aren't the best indicators of his ability between the pipes, and one must remember that Penn State's hockey program just made the jump to the Big Ten Conference last season.
Playing on a team that is just getting acclimated to Division-I settings will be a challenge for a Penn State team that finished with a 8-26-2 record last season, but things should start to get better as time goes on. As McAdam gets more games under his belt with Penn State, a more accurate evaluation of the goalie could be made and his place within the Islanders' organizational hierarchy could also be determined.
Despite the fact that McAdam didn't post a victory last season, he definitely had some strong showings where he was forced to make a good amount of saves (42) against teams such as Minnesota. For now, McAdam is a raw talent that Isles fans should check up on as the '14-'15 NCAA season goes along, and there should be no reason whatsoever to write off the goalie as he will likely become Penn State's starter sooner rather than later.
Stephon Williams (Minnesota State University (Mankato) – G)
Stephon Williams definitely took a hit to his statistics during the previous hockey season as his GAA soared to 3.23 and his Save Percentage fell to .862.
Following hip surgery last summer, Williams only appeared in 12 games for the Minnesota State Mavericks, but the goalie made it apparent that he is willing to persevere and work hard to change his fortunes as well as his team's come playoff time. Similar to McAdam, Williams will have ample time to hone his craft while playing for Minnesota State and could be in prime position to appear in more games next season as long as he stays healthy.
After appearing in his first Mini-Camp for the Islanders earlier this month, Williams will undoubtedly continue preparing for the upcoming WCHA season as he seeks to get back into the form that won him a number of honors (Rookie of the Year/Goaltending Champion) in his first year with the Mavericks. Having two more years of college hockey left to play, fans could expect Williams to possibly make the jump up the organizational ladder to the ECHL when he finishes his time at MSU Monkato.
International Intrigue
Ilya Sorokin (Metallurg Novokuznetsk – G)
A flexible goalie with good reaction time and athleticism, Sorokin was chosen 78th overall by the Islanders in this past NHL Entry Draft.
Sorokin was ranked lower overall in CSS's final rankings than the Isles' next selection – Linus Soderstrom – but one must also keep in mind that the Russian goalie does have a fair amount of KHL games under his belt. Sorokin will likely develop in the KHL until he is ready to transition to play in North America, but fans shouldn't expect the goalie to come overseas for at least a few more years.
While it might worry some that Sorokin plays in the KHL, there is no reason to expect that the goalie will simply be too comfortable to make his way through the Isles' system after he gets some more KHL experience. Former first-round pick Andrei Vasilevski will likely be competing with Kristers Gudlevskis for playing time with the AHL's Syracuse Crunch after making his way over from Russia, so there is certainly a good chance that Islanders fans will see much the same opportunity arise for Sorokin down the line.
Linus Soderstrom (Djurgarden – G)
The Islanders' other man of international mystery is Linus Soderstrom – a Swedish netminder that has made his rounds in the Swedish developmental leagues and will be stepping up to play in the SHL for the upcoming hockey season.
Soderstrom is a taller goalie as he stands at nearly 6'4″ and he is no stranger to competition as he has appeared in 17 international games for his country. Continuing to develop in the SHL will afford Soderstrom the opportunity to play with some very skilled and experienced individuals, so the '14-'15 hockey campaign will likely be a big stepping stone for the soon-to-be 18 year old.
Much like Sorokin, Soderstrom will have the opportunity to develop overseas while the Islanders develop their other netminders within the AHL/ECHL ranks. However, if Soderstrom's previous rate of progression within the Swedish developmental system is any indicator of his ability to adapt to his surroundings, then Islanders fans could probably anticipate seeing the Swedish goaltender in action in North America sooner rather than later.
What To Do With All The Depth?
While decisions regarding the Isles' goaltending depth will eventually need to be made, time is sure on New York's side as upper management can afford to sit back and evaluate their netminders as they develop in their respective settings. Since goalies usually take a longer time to develop until they are finished products, it is unlikely that fans will see the likes of Eamon McAdam, Stephon Williams, Ilya Sorokin, or Linus Soderstrom suit up for the Islanders any time soon.
With that being said, there is certainly room for these individuals to showcase their skills within New York's pipeline in the meantime. As Kevin Poulin and David Leggio hold down the fort in Bridgeport, all of the other aforementioned goalies will have a great opportunity to appear in games for their respective teams without being hindered by any sort of logjam in the crease.
If anything, the New York Islanders have set themselves up nicely to evaluate their goaltenders in about three or four years as each class – College, International, AHL/ECHL – could gradually move up the organizational hierarchy as their respective development processes continue.