Before they "Luuu'd" for Roberto Luongo, they "Luuu'd" for Luc Bourdon.
Sadly on May 29, 2008, at only 21 years of age, Luc passed away after a tragic motorcycle accident. Here's a profile of the stellar young defender.
Luc Getting His Feet Wet in Vancouver
The 6'2″, 200-pound defenseman would make his Vancouver debut the winter after he was drafted, playing alongside his Val D'Or defensive partner Kristopher Letang for a Team Canada World Junior squad led by Steve Downie, Blake Comeau and Kyle Chipchura. Bourdon's impact was felt offensively. He led tournament defensemen in scoring and his physical play in the defensive zone helped Canada shut down Evgeni Malkin and win the Gold Medal at the event for the second straight year.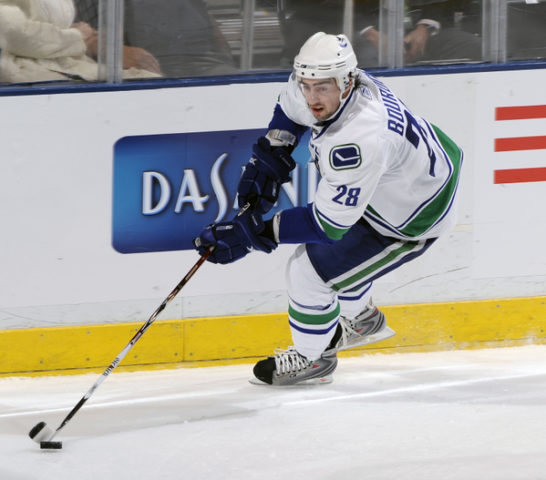 Despite being named to the tournament's All-Star team, Luc slipped and had a weaker camp in 2006 than he had in 2005. He played nine games with the Canucks before being sent down to junior, but not before reminding Canuck fans of his potential when he stopped an Alex Ovechkin chance on a clean break:
Bourdon Makes a Statement at the World Juniors
Back in junior, Luc again got a chance to prove his worth with the national junior squad. While Jordan Eberle's goal against the Russians rings as the most important Canadian junior goal in recent memory, and Sidney Crosby's overtime stunner is the most important against the United States, Luc Bourdon's forgotten tying goal against the Americans would be a nominee for second place in both categories since the turn of the millennium.
In a game upstaged by a dramatic shootout featuring the dominance of Jonathan Toews, lost is a goal scored by Bourdon with 7:41 remaining in the third period. Listening to that game on radio driving to the airport in Calgary, my father and I heard an explosion of truck horns and screams from Canadian fans who had also tuned in.
(The goal can be seen at the 18-second mark of Don Cherry's tribute)
The goal never had the impact of that game's shootout in our collective memory banks, but it was monumental to young Luc, whose injuries and slow development were getting Canucks fans to question whether then-General Manager Dave Nonis had made the right choice in selection Bourdon, while Anze Kopitar, selected one pick later, was already a 20-goal scorer in Los Angeles with the Canucks struggling to score.
That fall, Luc's NHL dream would finally come true with a goal scored in his fifth game of the season after a call-up from Manitoba, a howitzer from the point in a 6-2 win over the Wild. He was sent down, but strengthened his defensive game in the minors and was trusted by the Canucks to be called up in January and became a regular player for the big club, scoring another goal against Tampa that actually got stuck in the net.
***
I was back in Vancouver working for the summer when I heard the news on Rock 101. I had heard the news that stunned the hockey world. The news that reverberated across the league and sent Penguins defenseman Kristopher Letang to Shippagan for Luc Bourdon's funeral during the middle of the Stanley Cup Final. Both the NHL and AHL observed moments of silence for young Luc, born Feb. 16, 1987, and died May 29, 2008 in a motorcycle accident on a New Brunswick freeway.
I can't remember who was on the noon show but I think they played Tom Cochrane's Big League in the following minutes, a song I had never heard before, but lyrics that are still linked in a sinister way to Luc Bourdon's death:
My boy's gonna play in the Big League
My boy's gonna turn some heads
My boy's gonna play in the Big League
My boy's gonna knock 'em dead
The Big League
All the right moves when he turned eighteen
Scholarship and school on a big U.S. team
Out with his girl near Lake McClean
Hit a truck doing seventy in the wrong lane
To the Big League
Cochrane and Red Rider came out and played that song for Bourdon's tribute at the start of the 2008 campaign in an absolutely heart-wrenching ceremony.
My Dad walked out of the room during this ceremony in tears. He has two sons, myself and my brother, who are around Bourdon's age. It's said that losing a child is the worst fear for any parent. With Luc's family present, a Canuck crowd that is usually so rowdy during pre-game presentations (I can still remember some jerks at GM Place yelling loudly during a moment of silence for Dan Snyder in 2003) was still and silent during the ceremony.
Vancouver won that game 6-0. Alexandre Burrows, Luc's closest friend on the Canucks, scored 2 goals in that game, and each time honoured #28 with Bourdon's trademark celebration of firing an invisible arrow into the air. Burrows finished with 28 goals that season, a career-high. Sometimes, sport makes us believe in the divine and melts the heart of the coldest stathead. Burrows would have a career year, and Letang would go on to the win the Stanley Cup with the Penguins in honour of his friend.
New Brunswick Sports Hall of Fame
General Patton told a crowd in Boston on the first anniversary of D-Day that "it is foolish and wrong to mourn the men who died. Rather we should thank God that such men lived."
The New Brunswick Sports Hall of Fame did what they could in celebrating Bourdon's life by announcing his future induction Tuesday afternoon. Bourdon was a gentle giant. He was a big kid, but few pictures show up in your archives where Luc isn't sporting a wide smile. He was the Guitar Hero. He was, depending on who you ask, a future All-Star. He gave a $10,000 donation for minor hockey equipment in his hometown, anonymously, of course.
With Luc, the valuable takeaway, the moral, if you will, is to provide a watchful eye over your young players and how they spend their money. Agent Kent Hughes later admitted that he "had no idea" that client Luc intended to buy a motorcycle, and Trevor Linden would say something along similar lines, that he would have advised Bourdon to be careful. Youth equates invincibility in our minds, and rather than mourn Bourdon, we should celebrate what he offered the New Brunswick minor hockey community and use him as an example in restraint. Young players across all sports leagues are frivolously wasting away their better years: Ben Roethlisberger and Patrick Kane come to mind. More tragic examples include Kenny McKinley, Chris Henry, Pelle Lindbergh, Len Bias and Darrent Williams.
Number 28 will never be worn again by a member of the Vancouver Canucks, a cautionary tale to young players, but more importantly, a lasting monument to celebrate one of New Brunswick's best hockey prodigies, and, in his too-short, two-goal career, the big defenseman, who will be Forever A Canuck.