At first glance, this appears to be another transition to boost a marginal blue line contingent. If Arizona Coyotes' coach Dave Tippett is to be believed, the principal off-season objective of the team was to improve goals allowed, and getting help on defense was critical.
After resigning goalie Louis Domingue to a two-year, reported $2.1 million deal and adding free agent defenseman Alex Goligoski in late June, the Coyotes moved to further strengthen their blue line Saturday. That's when general manager John Chayka signed free-agent defenseman Luke Schenn to a two-year deal worth a reported $2.5 million.
While Schenn brings the reputation for being a physical, defensive, defenseman, the goal of adding players to help cut down on goals allowed seems admirable. In Schenn's case, his potential value may be beyond the usual need for additional help.
A right-handed shot, Schenn is regarded as an insurance policy against a protracted return of defenseman Michael Stone, also a right-handed shot. When Stone tore both his ACL and MCL on March 25 in a game against the Flyers, a lengthy rehab period was established. While a given timetable for recovery is considered six months, it's a given that any athlete heals in different periods. If the six-month recovery period for Stone is adhered to, he would be back around early October. That would then include a training period, and a likely time back in the Coyotes' lineup is targeted for some time in November.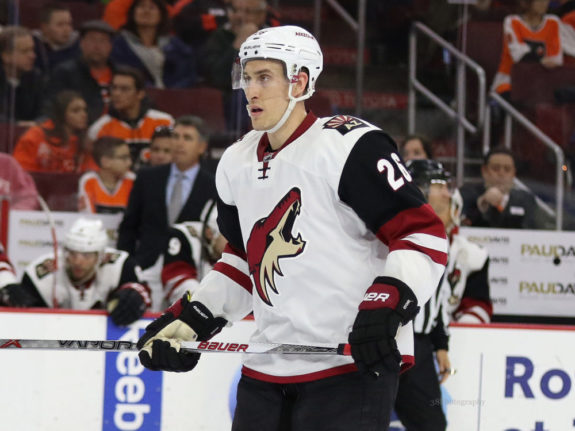 All of which puts a value on Schenn.
"We want to be known as a place where players want to come and grow," Coyotes' general manager John Chayka said. "We see Luke in that area. After talking to Luke, we believe this a good fit for us, and our job to get him back to where he has been."
Drafted as their first pick and fifth overall in the 2008 draft by the Leafs, Schenn felt his game was similar to defensemen Chris Pronger and Rob Blake. After being dealt to the Flyers in June 2012, and subsequently to the Kings midway last season, Schenn's reputation as an aggressor, he says, was challenged. Schenn's argument is that the game changed since he was drafted by the Leafs, and he made the necessary adjustments.
"The game now is speed and skating," he told Arizona reporters Saturday in a conference call. "You have to play smart and pick your spots to be physical. My goal and I think our team goal, is to make it tough for opponents to play against us."
If Schenn can be expected to replace Stone, at least at the early stage of the season, he will have help with Connor Murphy, another right-handed shot. Murphy, aA restricted free agent, and the Coyotes are currently in discussion, and Chayka believes the negotiations will be smooth. Stone is also in talks with the Coyotes, and he has an arbitration hearing in Toronto set for Aug. 4.
Schenn's Game
For now, the Coyotes feel confident that Schenn can bring a steady game to the blue line. Of the skills the 26-year-old native of Saskatoon brings to the table, the Coyotes are looking for Schenn to provide strong puck movement. Above all, Chayka points out, the organization would like Schenn to provide a solid outlet pass from his own end.
On the agenda for Schenn is coaching sessions, especially during training camp with Coyotes assistant coach Jim Playfair, who works with defensemen. The goal here, Chayka indicated, "is to put Schenn and all our defensemen in proper position" to be productive.
While Schenn said he could have signed with other teams, which he did not mention, he felt the talent in the desert and coaching of Tippett made his decision a rational one.
"I look forward to growing with this team," he said. "There is so much to learn and I want to continue to develop as a hockey player. I know I have not come close to my potential."
Going forward, Schenn cited three dimensions of his game which will help the Coyotes.
"We have guys here who can move the puck, and that's my game as well," he pointed out. "Also, I want to play a solid defensive game, and play a physical game."
If Schenn can accomplish these three goals, the Coyotes would have hit the trifecta in their attempt to cut on goals against, the ultimate for the aim for the season ahead.
Mark Brown is a former sports editor for daily newspapers in the Philadelphia and Cincinnati markets. He was named Best Sports Columnist, honorable mention 2004 by the Associated Press Society of Ohio. He is a contributor to major daily newspapers, including the Chicago Sun Times, Philadelphia Inquirer, Honolulu Star-Bulletin, Milwaukee Journal, Arizona Republic, Nashville Tennessean and the Associated Press. He was a Featured Columnist for bleacherreport.com and covered the Arizona Coyotes.