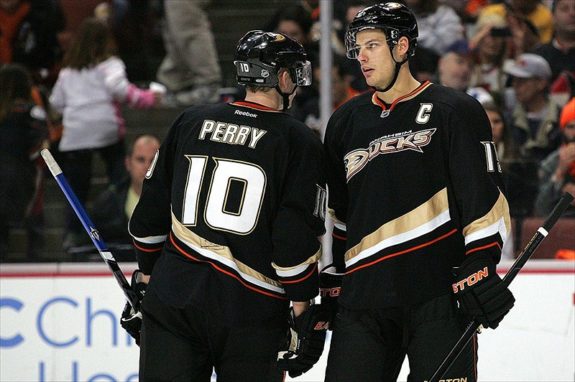 When the winter season arrives, a cliché that surfaces in small talk is 'birds fly south'. Birds can't handle the frozen-over lakes, harsh winds, or growingly infrequent visits from that lady who feeds the gang bread every Thursday. So naturally, birds fly south, to stay hot and…do whatever it is birds do.
The hottest birds in North America are a species of Ducks found in the state of California, known as Bruce Bourdreau's Anaheim Ducks. No types of Ducks are as territorial, going an impressive 20-0-2 in their nest this season before falling to the Winnipeg Jets a couple nights ago. They had the NHL's third-longest home point streak in the past 41 years, only four games away from tying the record-setting '79-80 Philadelphia Flyers (19-0-7).
The Ducks have been unstoppable at home and a juggernaut the majority of the season. They sit first in the NHL in points, and are 17-3-0 in their last 20 games, home and away. The only blip in their otherwise phenomenal year was a 0-3-2 stretch in the middle of November, which is well behind them now.
Besides the good weather in California, how have the Ducks managed to stay this hot virtually all year? It goes without saying a lot of things are going well, with these being the most notable on their current 20 game run:
Consistency from their stars
The golden rule of any sports team is if you want to win games, your stars have to be stars. The superstar duo of Ryan Getzlaf and Corey Perry have been exactly that for the streaking Ducks. Getzlaf sits third in NHL scoring and is an early Hart Trophy contender beside Olympic teammates Sidney Crosby and Jonathan Toews. He's already tied his career-high of 25 goals back in '08-09 with 30 games to go. Adding sniping to his arsenal makes the 6-foot-4, 221-pound center an even greater threat (somehow), as defenders can't just play the pass from the four-time 50+ assist man. If his offensive game wasn't enough, he's also a fixture on the penalty-killing unit with the versatile Daniel Winnik. Simply put, he does it all and is the franchise's most important player.
No doubt Getzlaf should be shooting the puck more, look at him rip it here:
Former Hart winner Perry sits second in the league in goals with 27 and fifth in league scoring. He's been great in all three zones, as his plus-24 attests. During his team's 20-game run, he's scored just over a point a game.
The elite production is typical of the Sochi-bound pair, so it's their consistency and clutch play that separates them as NHL superstars (which is why they were both locked up to eight-year deals last March). Getzlaf hasn't gone more than two games without a point, and the THREE times that he has, he's responded with a multi-point effort. Perry has been just as consistent, also never going more than two games without a point, including a seven-game goal scoring spree at the end of November.
Their game-winning goals are indicative of their importance: Perry and Getzlaf sit one-two in game-winners in the NHL this season with eight and seven goals, respectively. That's five more than the next highest-scoring clutch couples, including Chicago's Patrick Kane-Marian Hossa, Pittsburgh's Matt Niskanen-Sidney Crosby, and Montreal's Max Pacioretty-Tomas Plekanec.
Perry and Getzlaf doing what they do. Getzlaf makes a slick play to feed his wingman, Perry does the rest:
With a league-leading 79 points, 41 percent of Anaheim's 37 wins have come off the sticks of Getzlaf and Perry. Both should be in the Hart Trophy conversation considering the body of work they've put in at this point in the NHL campaign. They've shown no signs of slowing down, and as long as they're going, they'll take Anaheim along for the ride.
Groovin' goalies
Often touted as the most important position in hockey, Jonas Hiller is illustrating the importance of his position between the Ducks' pipes. He's got a ton of competition in Anaheim with last year's rookie sensation Viktor Fasth, this year's in Frederik Andersen, highly-regarded prospect John Gibson, and the steadily improving Igor Bobkov all breathing down his neck. There was even a mid-November stretch that saw Andersen steal three consecutive starts. Since the beginning of December however, no goalie has been hotter than the Swiss international, proving he's the number one guy.
Hiller has stopped 413 of 449 shots for a .920 SV% and 2.11 GAA in his past 17 starts from December, including a personal best 14-game winning streak. Not that he has to be this good playing behind an offense ranked third in the league at 3.36 GPG. Regardless, his peripherals prove he isn't taking any nights off.
Check out his save against Brad Marchand, keeping the game at zeroes:
He's confident, playing big in his net, and is a steady influence behind a relatively unknown defense core (we'll touch on that later). His expiring contract looms on the horizon for the Ducks, further complicated when their goaltending depth is taken into account. GM Bob Murray has no intentions to move him this season, but whichever way the Ducks go in the summer, there's no doubt they're deadlier with the talented backstop than without him.
The re-emergence of Beauchemin, Cogliano and Penner (kind of)
There are a lot of players doing great work for the Ducks this year, like the unheralded play of Nick Bonino and Winnik, but Francois Beauchemin, Andrew Cogliano, and Dustin Penner have stood out.
Beauchemin was reacquired after an unsuccessful stint with the Toronto Maple Leafs, where he signed as a coveted free agent in the summer of '09. Last season's Norris-caliber season and his start this year affirms he's back to the level he was playing at when he won a Cup with Ducks in '07. Though the nine-year vet possesses a booming shot that keeps goalies on guard, it's his excellence in the defensive end that's made the Ducks tough to play against. He plays the most rugged game on the team, and can step up with a momentum-shifting hit. He's a regular on the penalty kill alongside Cam Fowler, and is one of the NHL's top shot blockers. With 93 blocks in 42 games, including a career high 11 vs. the Coyotes on January 11th, he's on pace for just under 200 blocks which easily puts him in the NHL's top-10. His plus-24 is tied for second in the NHL, which is impressive for a guy who shuts down the league's most dangerous players for a living. Beauchemin is a low-maintenance, hard-working guy who is the quintessential leader for an emerging Duck defense corps.
Here's Beauchemin lowering the boom, courtesy Artem Anisimov:
Ex-Oiler Andrew Cogliano was recently resigned to a four-year, $12 million deal three weeks ago, which is justifiable for what 'Cogs' has done for the Ducks. A textbook guy for needing a 'change of scenery', the switch down south has reignited Cogliano's career. After a promising rookie year where he posted 45 points, he never hit that total again with the Oilers; it was also the only year he had a plus-minus above freezing temperature.
Acquired for a second-round pick, the former first rounder has emerged as a dependable top-six forward who's defensively conscience. He's formed a tenacious second line with Saku Koivu and Winnik, providing some nice secondary scoring depth to compliment Getzlaf and Perry. Barring an absolute meltdown, he should hit the 20-goal plateau for the first time in his career as he's already buried a surprising 16 in 52 games this year – with virtually no power play time to boot. Murray made a fine investment in the Toronto, ON., native, who hasn't missed a game in his seven-year NHL career – 510 and counting.
Like Cogs is the 'change of scenery' poster child, Dustin 'Pancakes' Penner is a synonym for 'enigmatic'. The 6-foot-4, 247-pound power forward has oozed potential since breaking in with the Ducks in '05-06, and things haven't changed the second time around. Taking your broken laptop to a volunteer computer repair shop seemed like a better idea than brining Penner back, yet Boudreau gave him a shot on the top line with Getzlaf and Perry. Unexplainably they found chemistry, dominating teams with their unmatchable size and skill. In his first 24 games, he put up 23 points and was looking like the third wheel that could finally play the down-low game with Getzlaf and Perry.
This goal showcases everything Penner is about: goals, strength, and luck.
Of course, in dealing with one of the NHL's biggest teases, his effort and lack of consistency came back in classic Penner fashion, costing him his spot on the top line and even a sentence to the press box. Though he's been a non-factor in the Ducks' since Decemeber, he remains a puzzling piece for Anaheim that had to be mentioned. He's shown when he's motivated he can shoulder the offensive load and can skate with stars, giving the Ducks another option that can break a game open. Getting the big man driven is a greater challenge than keeping their winning streak alive, but if they get him going at the right times, like the post-season, he can relieve a lot of pressure on Getzlaf and Perry.
The Cam Fowler Experience, featuring others
Keith Yandle, Jack Johnson, and Dustin Byfuglien must hate Cam Fowler. The youngster was the surprise selection by David Poile to represent the Americans in Sochi, a bubble guy for practically the entire selection process. Though Yandle, Johnson, and Byfuglien are more seasoned, Fowler has developed into an excellent all-around defenseman. He leads the team in ice time and leads the backend with 29 points, which is incredible considering he sits fourth last on the team in on-ice shooting percentage. In other words, Fowler has been very unlucky offensively with his high-scoring team converting on only 8% of their chances when he's on the ice.
His calling card will always be his puck movement and tremendous offensive instincts, but the 22-year-old has learned to utilize his exceptional skating to improve his defensive game. He's on the first penalty killing unit with Beauchemin, and it's his commitment to rounding out his game – and his skating ability – that vaulted him into that eighth spot on the American defense. He was considered a steal when he fell to the Ducks with the 12th pick in the 2010 Draft (he was ranked in the top-five, even top-three on some boards), but slipped due to questions about his play in his own end. He's come a long way the past four years: he was a combined minus-57 the past three seasons, while he's a solid plus-11 this campaign. He's beginning to realize his potential as a top pairing defender.
This is an older clip, but a short example of Fowler creating with his speed:
Besides Fowler and Beauchemin, the Ducks' defense corps is relatively unknown. They've really come together to form a formidable backend: Hampus Lindholm, Ben Lovejoy, Sami Vatanen, and Bryan Allen seem to be more of a collection of greenhorns and spare parts than a championship defense. With Sheldon Souray still on the shelf from wrist surgery, the foursome has played cohesively and more importantly, are sticking within their limits. They don't try to do too much, or hold onto the puck too long, keeping the game simple.
They're not as horrendous offensively as you'd think, too. During the Ducks' 20-game clinic, the defense has chipped in 13 goals out of the 76 they've buried. Compared to another high-scoring team with the second-best record in the NHL, the Chicago Blackhawks, their defense added nine to the 71 they've scored over the past 20 games. Considering their defense features Norris Trophy favourite Duncan Keith, Brent Seabrook, Niklas Hjalmarsson, and Nick Leddy, the production from the blueline has been a pleasant surprise.
Together, they're playing the best hockey they've ever played as individuals. Hampus Lindholm, a much debated 6th overall selection in 2012, has played beyond his years and has added a much needed transition player to the backline. Sami Vatanen plays a similar game but with more of an offensive bent; he's also a premier possession player, sitting just behind Blues star Alex Pietrangelo in Corsi rating, good for 22nd amongst blueliners. If there was an award for 'Most Improved Player' like the NBA, Ben Lovejoy would be a front-runner, as he isn't the same player that was used sparingly in Pittsburgh. And Bryan Allen has been solid in a lesser role, eating up an effective 18 minutes a night.
Anaheim didn't look real considering how they finished last season, even before meekly bowing out of the playoffs to the seventh-seed Detroit Red Wings. The first half of this campaign have put those doubts to rest, rising as legitimate contenders in the West with other big boys like L.A., Chicago, and St. Louis. If the Ducks stay hot, there's a chance Murray goes all in this year, as he'll have a projected $9 million in cap space at the trade deadline.
Freelance sports writer. Ex-intern at The Hockey News and 680 News.