The NHL Draft is a highly entertaining, annual event, which sees players from all parts of the globe realize their life-long dream of being selected by an NHL franchise. The Draft itself has become increasingly popular in recent years and is one of the most eagerly anticipated events that the League conducts. And, heck, the introduction of incredible talents such as Connor McDavid, Jack Eichel, Aaron Ekblad, Nathan MacKinnon and, most recently, Auston Matthews and Patrik Laine certainly don't hurt.
As such, given the massive popularity of the Draft, it is seemingly never too soon to start looking ahead to next year's class.
In preparation for the 2017 NHL Draft, NHL Central Scouting, one of the most highly respected and widely regarded scouting departments in hockey, released their complete list of players to watch in the 2016-17 season. In its 41st year of operation, NHL Central Scouting's list of notable players features a helpful letter grading system which indicates, ranging from 'A' to 'C', the skill of a select player and where specific individuals are projected to fall in the coming Draft.
Hit the link below to check out the full list:
NHL Central Scouting #PlayersToWatch List available on https://t.co/ONjCiALkyX listing top 2017 #NHLDraft prospects https://t.co/mztWOEKduF

— NHL Central Scouting (@NHLCentralScout) October 4, 2016
Notable 'A' Grade Players
In all, just 29 players received an 'A' grade from NHL Central Scouting, accounting for 13 different Leagues and six countries. Of course, there are a number of players who are well deserving of their grade, while the inclusion, or exclusion, of others, may come as a surprise.
Players to Note:
Eeli Tolvanen
Nolan Patrick
Matthew Strome
Nicolas Hague
Gabriel Vilardi
Maxime Comtois
Timothy Liljegren
Kristian Vesalainen
Cal Foote
Owen Tippett
Klim Kostin
Slated to be the first overall pick in the 2017 NHL Draft, Nolan Patrick highlights a long list of incredibly talented prospects who have received the highest grade available. A center with incredible size, skill, and scoring touch, Patrick projects to become a franchise center-ice man. Fellow star forwards abound following Patrick, as the likes of Kostin, a rugged power forward playing in Russia; Comtois, a solid two-way skater from Victoriaville; Tolvanen, a sniper playing with Sioux City of the USHL; and Vilardi, an offensively gifted center who could also become a number-one center, round out a deceivingly strong class of sure-fire first round picks.
However, outside of the names you would expect to see in the first round and be carrying an 'A' grade are a number of players who, perhaps undeservedly, received a ranking lower than their actual potential.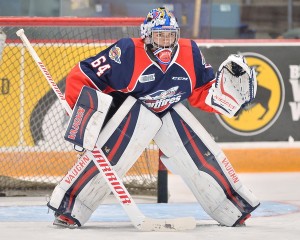 The first of which is goaltender Michael DiPietro, a second-year starter with the Windsor Spitfires of the Ontario Hockey League. In 2015-16, DiPietro stepped into the OHL as a 16-year-old and made an immediate impression, finishing third in the League in save percentage as well as fifth in goals-against-average. He also won 16 of the 29 games he played. Projected to become a future starting goaltender at the NHL level, DiPietro is a rare, star, goaltending prospect, making his 'B' ranking a true head scratcher.
Next up is Nick Suzuki, who also took home a 'B' grade in NHL Central Scouting's ranking.
A native of London, Ontario, Suzuki is an offensive minded center with quick hands, solid vision, and an ability to navigate in close around the net. His stellar on-ice vision also provides him with the ability to quickly and efficiently move the puck to his teammates, further generating offensive opportunities. A 14th overall pick by the Owen Sound Attack in the 2015 OHL Priority Selection, Suzuki netted 20 goals and 38 points in his rookie season – his point total good for 12th best among rookies, while his 20 goals placed him in a tie for fifth best.
Lastly, although there are even more players who likely could have been awarded an 'A' rating, is Sasha Chmelevski, a second-year forward currently skating with the Ottawa 67's of the OHL. Traded to Ottawa in the deal which saw Philadelphia Flyers first round pick Travis Konecny head to the Sarnia Sting, Chmelevski missed the final portion of the 2015-16 campaign due to a broken collarbone, the same injury which caught McDavid earlier in the NHL season. However, fresh off of an appearance at the Ivan Hlinka Memorial Tournament with the United States, Chmelevski is ready to unleash his offensive prowess on the OHL in his first full season.
Notable 'B' Grade Players
In all, 75 players were awarded a 'B' letter grade by NHL Central Scouting, indicating that this group of players is likely to be selected in the second or third round of the coming 2017 NHL Draft.
Players to Note:
Marian Studenic
Sasha Chmelevski
Nick Suzuki
Michael DiPietro
Jake Oettinger
Scott Reedy
Jason Roberston
Markus Phillips
Stelio Mattheos
Jaret Anderson-Dolan
Austin Keating
We have already learned of the talents possessed by DiPietro, Suzuki, and Chmelevski, so let's take a quick moment to learn about a few players assigned with a 'B' grade who could shatter their expectations in the 2016-17 season.
To start, we need to take a look at Austin Keating, a center who, like Chmelevski, plays for the Ottawa 67's of the OHL. A 16th overall selection in the 2015 OHL Draft, Keating burst onto the scene as a rookie in 2015-16, scoring 13 goals and 32 points in just 50 games played. He followed up a sparkling rookie season in the OHL by capturing a gold medal at the U17 World Hockey Championship with Team Canada, scoring twice and adding two helpers over six games played. A natural centerman with solid size, Keating's offensive abilities are off the charts, while his strong two-way game makes him a complete threat.
.@Ottawa67sHockey's Sasha Chmelevski & Austin Keating amoung the 34 OHLers named on @NHLCentralScout's Futures List https://t.co/Bke19d4Ztf

— 67's Report (@67sReport) July 26, 2016
Next, there is Jason Robertson, a left-winger skating for the Kingston Frontenacs of the OHL. At 6'2″, 200 pounds, Roberston is a fantastic combination of both size and skill. In his first year in the League, Robertson netted 18 goals and 32 points in 52 games played, a total which ranked 16th among all OHL rookies. As a fourth round pick, 62nd overall by the Frontenacs in the 2015 OHL Draft, Robertson has battled ceaselessly to earn his ice time, and thus far has made the best of his well-deserved opportunities.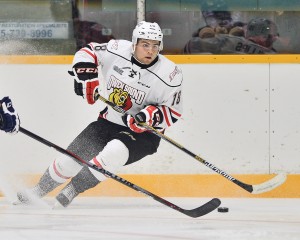 Lastly, let's take a quick look at Markus Phillips of the Owen Sound Attack. A ninth overall selection by the Attack in the 2015 Draft, Phillips, a defenseman, is a solid young man at 6′, 210 pounds, and uses his size to his advantage, successfully limiting the offensive opportunities of opposing forwards by forcing skaters to the boards. In addition to his defensive game, which is his primary focus, Phillips can also contribute offensively, despite scoring just 12 points in his rookie season, and is a fantastic leader who captained Canada at the U17 WHC. A prototypical shutdown defender, Phillips projects to be a sound NHL defender despite his low grade.
Notable 'C' Grade Players
When it comes to players with a 'C" grade, or those projected to be selected in the fourth, fifth, or sixth rounds of the 2017 NHL Draft, there are quite a few more to sort through. In total, 292 players received the final letter grade, with considerable representation from virtually every junior League in the hockey universe. While these players are long shots to make the NHL, simply being drafted provides each and every individual an incredible amount of motivation, especially so considering it is late round draft picks which arguably have the most to prove.
Player to Note:
Due to the incredible quantity of players assigned a 'C' rating by NHL Central Scouting, let's take a look at one player of incredible skill who is facing a make or break season.
Joseph Raaymakers, a goaltender with the Sault Ste. Marie, entered the OHL with sky-high expectations in 2014-15 after he was selected by the club in the second round, 37th overall in the 2014 OHL Draft. However, after an average rookie season, Raaymakers took a step back in his second season with the Greyhounds, a campaign in which all of his individual goaltending statistics regressed significantly.
Yet, come the 2016-17 season, Raaymakers appeared to be moving in the right direction, securing the OHL's Player of the Week award to begin his campaign.
Goalie Joseph Raaymakers, @OHLHoundPower named #OHL Player of the week (3 wins, G.A.A 1.94 and .930 Save percentage)

— Claude Sharma (@ClaudeSharma) October 3, 2016
Despite being eligible for the 2016 NHL Draft, Raaymakers, likely due to his struggles last season, was not selected by an NHL team, however, he did attend the New York Rangers' rookie camp in September, despite ultimately being returned to Sault Ste. Marie. As such, it goes without saying that Raaymakers will have no shortage of motivation this season, as he aims to prove all 30 teams wrong for not drafting him. However, a strong season from the Chatham, Ontario, native could lead to his name being called in June of 2017 in Chicago, Illinois.