TSN Insider Bob McKenzie joined us on Wednesday morning for an exclusive one-on-one interview.
With opening night just seven days away, we wanted to get you ready for the start of the season from an insider's perspective. There is no shortage of storylines to follow.
McKenzie took to Twitter detailing the state of the RFA's. We asked him if there was anything new report on that front.
Just spitballin' here but guessing CGY doesn't want to go much higher than Giordano's team-high $6.75M for a 10.2(c) player, good as JG is.

— Bob McKenzie (@TSNBobMcKenzie) September 28, 2016
McKenzie also wrote about the incredible number of young players that are fighting for opening night jobs. It seems a foregone conclusion that Auston Matthews and Patrik Laine will make their teams, but what about others, like Dylan Strome or Pierre-Luc Dubois? And what about Alexander Fortin? McKenzie shares his take on others that have the best chance to make the big club.
Sage Insight from an Insider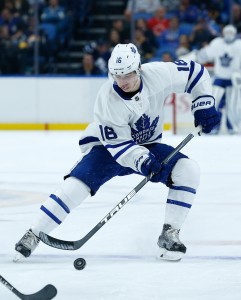 Mitch Marner is in an interesting and difficult situation. Because of the Canadian Hockey League (CHL) transfer agreement with the NHL, 19-year olds can't play in the AHL. If Marner doesn't make the Leaf's opening night roster he has to be sent back to play with the London Knights, where he's already proven himself and will be playing against kids again. We asked Bob two questions: Is the league still considering changing the draft age to 19? And is there any thought of allowing 19-year olds to play in the AHL if they're from the CHL?
Las Vegas is the league's 31st team. Lots of speculation has been made about their impact, but not much has been made about the salary cap and revenue sharing with a new team in the league. We asked McKenzie if he knew anything about the future of the cap — could it go down because of an extra team splitting revenues?
Finally, we all love surprises and sleepers. We asked McKenzie to share his list of teams who could surprise us all in 2016-17.
We thank Bob for spending a few minutes with us. Click on the link below to hear the full interview.