The college hockey season is about to get underway this weekend. 60 teams begin working toward a championship (though the ivies start a little later). It's also the start of play for some of the world's top prospects, from first-round draft picks to players set to become free agents this spring.
With that in mind, here are 10 forwards (and a little extra) to keep an eye on this season.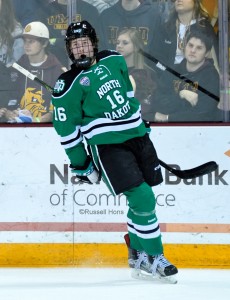 Brock Boeser, University of North Dakota, So.
While his linemates on last season's vaunted "CBS line" have both gone pro, Boeser enters his sophomore year as the highest scoring returning player in the nation. All he did his freshman season was put up points like a bat on fire, posting 27 goals and 60 points in 42 games, helping lead North Dakota to a national championship.
Things have changed around Boeser, but he returns an improved player who should be able to put up some significant point totals and be in the discussion for the Hobey Baker. He's smart, has a nice shot and proved to be a clutch player last season when he put up three points in the opening game of the NCAA Tournament, two assists in the semifinal, and a goal and three assists in the national championship. There's no argument. He's one of the most dynamic players in college hockey (and one of the most likeable).
NHL Rights: Vancouver Canucks
Tim Clifton, Quinnipiac, Sr.
With the departure of Sam Anas and Travis St. Denis, Clifton is Quinnipiac's top returning scorer. The Bobcats entered last season's NCAA Tournament as the nation's top-ranked team and made it all the way to the national championship before falling to North Dakota. But they may be capable of making a return run despite the loss of top scorers and senior goaltender Michael Garteig.
But to do that, Clifton is going to be crucial. Last season he posted 19 goals and 43 points in 39 games. He'll need to do that and some, and he's capable of doing it. Coach Rand Pecknold has built a team that isn't full of top NHL draft picks, but is devoted to a system where everyone contributes. Clifton is an emblem of how that can function and he could be poised to take yet another step forward this season.
NHL Rights: Free Agent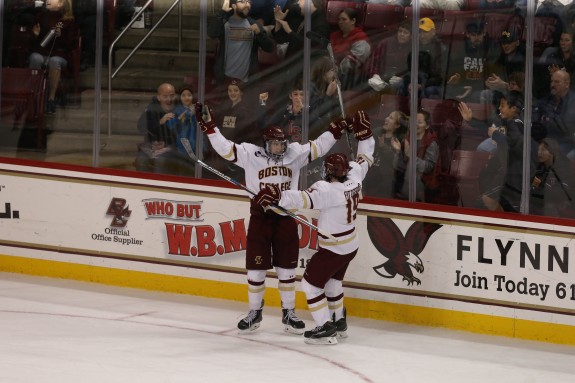 Ryan Fitzgerald, Boston College, Sr.
Though he was tied for 14th in the nation, Fitzgerald starts the season as college hockey's second highest returning scorer (tied with Max French and Dylan Gambrell). As a senior at BC, expect him to have a big year, along with Colin White and Austin Cangelosi.
BC lost a ton of key players after their run to the Frozen Four last season. Zach Sanford, Miles Wood, Alex Tuch, Adam Gilmour, Ian McCoshen and Thatcher Demko all left school early. Throw in Teddy Doherty's graduation and there's a big hole in that roster. Some incoming freshman will help, but expect Fitzgerald to have a big campaign. He's tenacious and battles hard no matter what zone he's in. Despite his small stature, he's a strong player with a formidable two-way game.
NHL Rights: Boston Bruins
Dylan Gambrell, University of Denver, So.
Gambrell had an auspicious debut last season as a part of Denver's "Pacific Rim line". They were one of college hockey's best lines and helped carry Denver to the Final Four for the first time in 11 years. Yes, he was young and had the benefit of playing with some special players, but Gambrell was quietly a force on that line with Danton Heinen and Trevor Moore.
It's the Washington-native's well-rounded play that makes him valuable. As a freshman, he saw time on the power play and penalty kill. He was relied on in almost every situation and has a reputation as a workhorse who never takes a shift off. Away from Heinen and Moore, Gambrell will have something to prove this year. Only eight of his 47 points last season didn't involve either Heinen or Moore.
NHL Rights: San Jose Sharks
Justin Kloos, University of Minnesota, Sr.
Now in his second year of captaining the Gophers, Kloos is the lynchpin of the team. Coach Don Lucia uses Kloos in every situation and despite his small stature, Kloos gets into the dirty areas of the ice to get the job done. He has shown that he's not only a leader but someone willing to put in the work. Last season's results are the proof. He put up 43 points (1.16 points per game) after two straight seasons of putting up 32 (0.82 and 0.78 points per game).
The Gophers forward ranks are deep, but the Big Ten's leading returning scorer will be a significant factor in their fate. He may also be able to turn things up a notch knowing that he has the eye of NHL scouts. He could be the star free agent coming out of the college game this season and has already had an extended look with the Minnesota Wild after joining the Wild's Development Camp over the summer.
NHL Rights: Free agent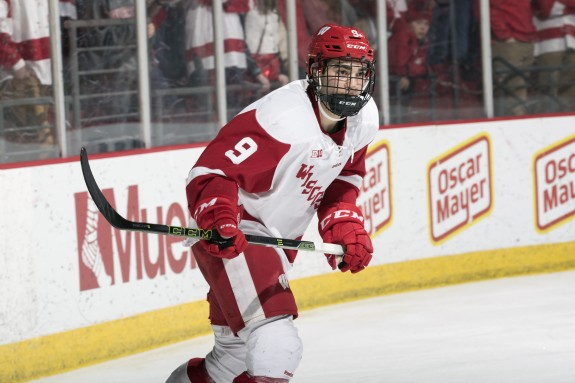 Luke Kunin, University of Wisconsin, So.
The 18-year-old could be in for a big year for many reasons. Not least of which is that he's a very talented player who put up nearly a point per game in his freshman season, scoring 19 goals and 32 points in 34 games. That came in a season where the Badgers struggled mightily.
Between Kunin's continued development and team-wide improvement, expect him to thrive. The sophomore has been named the team's captain and grabbed a hat trick in Wisconsin's first exhibition game last weekend. "He's very, very passionate about having success," says incoming Badger bench boss Tony Granato of Kunin's drive. Granato would know. He coached Kunin previously with the U.S. National Development Team. Changes in Madison could lead to Kunin being a breakout star this season.
NHL Rights: Minnesota Wild
Maxim Letunov, University of Connecticut, So.
The 6-foot-4 center is coming off an impressive rookie campaign where he scored 16 goals and 40 points. He's a big player but only weighs in at 185 pounds. He's not overly physical, but he's going to become increasingly dangerous as the physical element enters his game. He's put on a lot of weight since last summer and it could be the start of him taking things up a level.
Even if his physical game doesn't come the way it's expected to, he has good speed, is a smart playmaker and has a dangerous shot that could see him ascend to be one of Hockey East's most lethal snipers. He was predominantly a playmaker last year, but the Russian forward has the ability to shift that balance toward being one of UConn's top threats.
NHL Rights: San Jose Sharks
Gerald Mayhew, Ferris State, Sr.
Ferris State is expected to take a bit of a step back this season after making it all the way to the NCAA Tournament last year. The newly minted co-captain and Preseason WCHA Player of the Year will need to have a big season to keep Ferris State in the mix. But he's primed to do just that.
"The more we play him, the better he plays," Ferris State Coach Bob Daniels said. Last season, Mayhew was a player Ferris State leaned on in big moments and he responded by almost doubling his point total from the year before with a 16-goal, 41-point pcampaign.
NHL Rights: Free Agent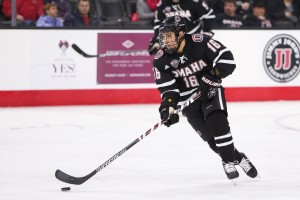 Austin Ortega, University of Nebraska-Omaha, Sr.
The California native slips under the radar far more than should be the case. He's a dynamic goal scorer, even if there are sometimes questions at the other end of the rink. He's twice been a 20-goal scorer and has the potential for an even bigger breakout this season as he's been working hard on rounding out his game in a way that can better translate to the NHL.
He's got speed, a great shot, smooth hands and might be the most clutch player in all of college hockey. He's just three goals away from tying the NCAA record for game-winning goals. When the Mavericks have the game on the line, keep your eye on the 5-foot-8 Ortega. Along with Kloos, Ortega will be one of the most sought after college free agents come the spring.
NHL Rights: Free agent
Colin White, Boston College, So.
White's freshman run was impressive but didn't steal headlines because he was playing for such an offensively dynamic team. However, 19 goals and 43 points in 37 games is a damn fine freshman campaign. This year he's expected to be one of the team's top scorers once again, but also to be a well-rounded player that the Eagles lean on in all situations.
With how well he's developed his two-way play and the impressive way he's able to see the ice, he's an interesting figure because he will be good, there's no doubt about that, but he could also be one of the best players in the nation.
NHL Rights: Ottawa Senators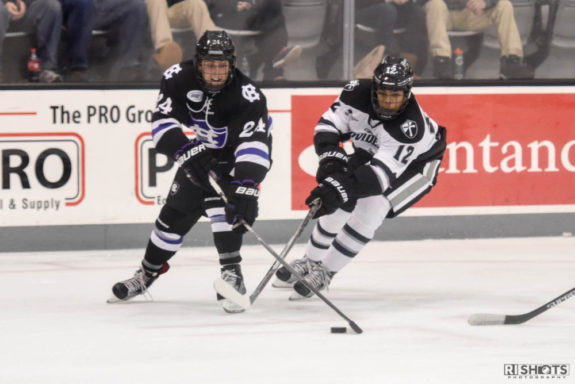 Honorable Mention: Erik Foley, Providence College, So.
Foley isn't the flashiest player on this list, but he's a solid two-way skater who could take many by surprise. At USA Hockey's National Evaluation Camp he might have been one of the biggest surprises. He was quite easily one of Team USA's best players, showing off an ability to be an agitator with enough skill to turn physical play into offensive opportunities, particularly in front of the net. He protected the puck well and showed strength despite not being the biggest player.
End of the 2nd: Finland leading Team USA, 2-1. #NJEC

Erik Foley gets the U.S. on the board at 18:48 of the period. pic.twitter.com/1OdxtG5AaO

— USA Hockey (@USAHockeyScores) August 5, 2016
Losing top players cuts two ways. Providence lost some playmakers with their top four scorers leaving the program, but that also opens up opportunities. If Foley's play over the summer is any indication, he is prepared to improve upon his 19-point performance from last season and take on a larger role with the Friars.
NHL Rights: Winnipeg Jets
Honorable Mention: Tage Thompson, University of Connecticut, So.
The 6-foot-5 fowrard has received mixed reviews from scouts. That was justified after a freshman campaign that was a patchwork of success. But as a sophomore and 2016 first-round draft pick, expectations are elevated. He's big, yes, but he's also capable of being a dangerous offensive weapon and could be a breakout star for Connecticut.
He showed signs of being capable of doing that against top competition over the summer at USA Hockey's National Junior Evaluation Camp. He played out of his mind. Not only was he taking shots in bulk, he opened the tournament with a bang, putting up five goals and six points in two games. The first game he didn't score during the tournament, he put up 11 shots. If that high-level of play is what Thompson brings this season, he could be a Hockey East standout in his second season.
NHL Rights: St. Louis Blues
FINAL: USA Blue defeats Sweden, 6-4. #NJEC

Tage Thompson scored the game-winning goal with 6:17 to play. pic.twitter.com/3I9NQonMeH

— USA Hockey (@USAHockeyScores) August 1, 2016
More Players to Watch: Conor Anderle (Army, Jr.), Zach Aston-Reese (Northeastern, Sr.), Austin Cangelosi (Boston College, Sr.), Joe Gambardella (UMASS Lowell, Sr.), Max French (Bentley, Sr.), Tyler Kelleher (University of New Hampshire, Sr.), Dominik Shine (Northern Michigan, Sr.), Nolan Stevens (Northeastern, Jr.)