Examining the current crop of defenders on the Detroit Red Wings is a sobering task. Niklas Kronwall and Jonathan Ericsson are slowing down and are facing injury-related issues. Brendan Smith will have one last season to 'get it together' in Detroit, Mike Green is going to have to prove he is worth his $6 million contract and all signs point to Xavier Ouellet playing his first full season with the Red Wings. That leaves Alexei Marchenko and Danny DeKeyser as the more-reliable blueliners on the team. The point here is not to paint a bleak picture but to illustrate how imperative it is that Ken Holland addresses the situation.
Simply put, there is no denying that the Wings are in dire need of a stud defenseman. When news broke that Jacob Trouba wanted out of Winnipeg, fans began to hope Holland would make a play for the 22-year-old, with little regard to how much it might cost the team. If the rumors are true, the Red Wings' general manager did about all he could to land Trouba.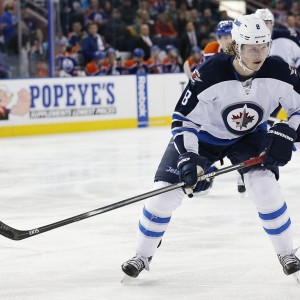 (Perry Nelson-USA TODAY Sports)
Kenny Has Kicked Some Tires
According to Darren Dreger, Holland made an effort to pry Trouba away from Jets' general manager, Kevin Cheveldayoff. Last week, the TSN insider suggested that it would cost Detroit two "higher-level forwards" to get the deal done.
Fellow THW Red Wings writer Jacob Messing touched on Dreger's comments, and wrote a piece about Holland having enough assets to overpay for someone like Trouba. I agree with most of what Messing says, but since then the situation has become a bit clearer.
Tuesday afternoon, Dreger offered further details regarding a potential trade on Vancouver's TSN 1040:
"I mentioned Detroit a couple of weeks ago publicly as being one of the primary suitors for Jacob Trouba. I can tell you that Kenny Holland has worked incredibly hard over the past couple few years at trying to add a defenseman. I know that he's had conversations with Cheveldayoff, and I believe that Holland is willing to make a deal for just about anyone outside of Dylan Larkin. But there's no one really in the Detroit Red Wings organization that seems to be a fit for Cheveldayoff, which tells me that Winnipeg, again, is committed to being patient."
Dreger went on to speculate that, while the Jets are not likely to take back a defenseman, Danny DeKeyser is Holland's best bargaining chip in that department.
"Doesn't sound like it," replied Dreger. "Doesn't sound like it. Danny DeKeyser is a pretty good hockey player. I would have thought him and geez – if you have to throw someone else in, I guess you try and sweeten it."
If all of Dreger's information is correct, then Holland was more than willing to play ball with Cheveldayoff. Outside of offering a package of Larkin + Gustav Nyquist/Tomas Tatar/Anthony Mantha or DeKeyser + Larkin, the Jets' general manager was not willing to budge. If that is the asking price for Trouba then Holland was smart to balk at the return.
Salary Cap Implications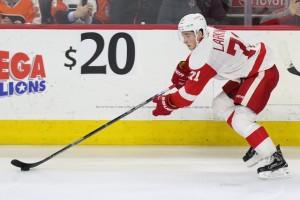 Further complicating the situation, the Red Wings are in tight against the salary cap. Even when placing Johan Franzen, Joe Vitale and Tomas Jurco on LTIR, the team is barely cap-compliant.
If Holland were willing to move two of the Wings' higher-level forwards for Trouba – possibly the combination of Larkin and Nyquist – the most he could shed is somewhere around $5.675 million.
Speculation suggests that Trouba is looking for anywhere from $6-8 million per year. The reality is that if Cheveldayoff is unwilling to take a defenseman in the trade, it would make it nearly impossible for the Wings to pull off the deal. While it is fair to criticize Holland's inactivity on the trade front through the past number of years, it is tough to fault him in this situation.