Evgeni Malkin has been on a point-per-game scoring pace for the past five seasons. If we were to compare those five seasons to the five seasons before those, it wouldn't be remiss to believe that Malkin's production is slipping.
What Once Was…
Once considered perhaps the third or fourth best hockey player in the world, Malkin is now considered in some circles as one of the top 10 or 20 players in the NHL. He's not keeping poor company, as he's still a superb playmaker and top-line talent, but it's still a notch below where he once was. (At one point during his career, some Pittsburgh media members had him ranked above Alexander Ovechkin for the number two spot.)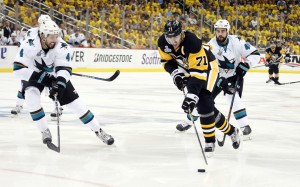 This year, though, Malkin seems a bit different. It's all about the "eye-test" and how he's establishing his on-ice presence. Malkin is often criticized for playing too "East/West" when the Penguins play a more "North/South" game. What's different this year from past seasons is that Malkin's "East/West" game is far more relaxed than usual.
He's not forcing his game. It's more controlled. Yes, "East/West" is still very much a part of who he is, but the moments in which he exercises that "East/West" mentality are chosen with care. He's commanding his game without negative consequences for himself or the Penguins.
Malkin has always been a puck carrier, especially out of his own zone. That much hasn't changed. What has changed is that Malkin is carrying the puck further up the ice, with far greater speed than he has in recent years. He's challenging defenders by entering the offensive zone with the puck, even attempting to split the defense at times. And when he's successful; he creates opportunity.
Perhaps the biggest benefit of Malkin's resurgence is that he's looking to make plays more frequently. Whether he's stick-handling through a pair of defenders or skating the puck up the boards, he senses the presence of his teammates. He's passing to open space, not just a line-mate. Not long ago, it was far too easy for a defender to pick him off at the opposing blueline, or have the puck stripped away and dumped into a corner.
A great example of his recent success is his assist on Bryan Rust's overtime goal against the Boston Bruins:
A Return to Form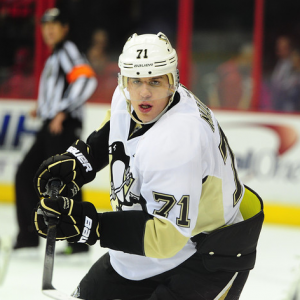 Malkin is playing with the sort of confidence that I haven't seen since he won the Conn Smythe trophy in 2009. It's easy to draw comparisons to that playoff run when he had 36 points in 24 games. With Malkin currently sitting at 33 points in 30 games, he's just under half a point off the pace he set during that 2009 Stanley Cup Championship season.
And while he continues to push towards becoming more than just a point-per-game player, he's elevating the play of his linemates. Jake Guentzel (who has since been returned to the AHL) recently had an opportunity to play with Malkin during his first NHL game. The result was a two-goal night for the youngster.
Malkin Behaving (Sort Of)
Finally, there's one thing that Malkin DOESN'T do quite as much anymore which helps explain why he's beginning to show flashes of his old, dominant self. There was a time, not so long ago, when Malkin was easily shaken by physical play from opposing players. Repeated assaults on him or one of his teammates generally 'got under his skin' which ultimately led to poorly-timed penalties that were considered selfish.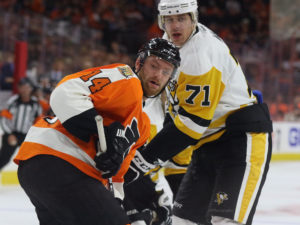 Much like his "East/West" game, Malkin hasn't truly eliminated the ugly penalty from his game. In fact, he's on pace to match (or exceed) his regular season record for penalty minutes, also set in 2008-09. But Malkin's temperament has remained cool as he hasn't appeared rattled when part of a questionable play that may have resulted in an ugly scrum. Simply put: when Malkin behaves, he protects the best interests of his team.
For better, Malkin has re-shaped his game, if only ever so slightly. And those slight adjustments have paid off, helping the Penguins earn the top spot in the Metropolitan Division, for now. He's tied for the team lead in scoring and he's still the harbinger of exciting and entertaining plays.
With any luck, he'll continue to allow his confidence to be his guide while still passing the "eye test."