The Toronto Maple Leafs' rebuild is well under-way, and is already showing considerable promise in terms of what the future will hold.
Primarily, the 2016 NHL Draft saw the Leafs land their long-awaited franchise centre-ice man of the future in Austin Matthews, who will be a major addition to an already highly skilled pool of budding young prospects.
In particular: William Nylander, Mitch Marner, Zach Hyman, Kasperi Kapanen, Kerby Rychel, Nikita Soshnikov, Connor Brown, Brendan Leipsic, Nikita Soshnikov, Travis Dermott and Rinat Valiev, to name a few, are amongst those who, alongside Matthews, will surely see considerable ice-time at the NHL level during the 2016-17 season.
However, despite the forward and defensive positions being flooded with elite young talent, the Leafs are in fact shallow in between the pipes, an area which is essential to not only a successful re-build, but to success in the NHL in general. At the moment, the Leafs' top goaltending prospects are Antoine Bibeau and Kasimir Kaskisuo, while Garrett Sparks, who saw NHL time in 2015-16, is currently an RFA.
Of these three, none are truly ready for the rigours and spontaneity which comes with the role of an NHL backup goaltender, respectively. Although this is an underlying issue of the Leafs' re-build, it is an issue which General Manager Lou Lamoniello plans to address by looking outside of his organization.
Lamoriello indicated the #Leafs will be shopping for a backup goalie. Look to a team like New Jersey.

— Michael Augello (@MikeInBuffalo) July 8, 2016
With that being said, who are the top candidates to fill the Leafs' backup goaltending void? Surely it will come on a short-term basis, but if the Leafs' want to instil a winning atmosphere for their young prospects, they will have to find a winner with plenty of League experience.
As of July 11th, the Leafs hold $5.2 Million in cap space to work with, an important factor to keep in mind.
Options Aplenty
Fortunately for the Leafs, there is a wealth of experienced backup goaltenders available.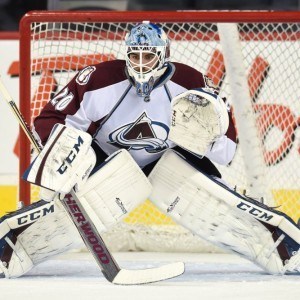 Reto Berra arrived in the NHL for the 2013-14 season after a long career in the Swiss-A League, beginning his time with the Calgary Flames.
After a poor rookie season and back-log in the Flames' crease, Berra was traded to the Colorado Avalanche, playing just 33 NHL games from 2014-16 with additional time spent in the AHL. As such, Berra was again traded, this time to the Florida Panthers in exchange for Rocco Grimaldi.
A goaltender with great size at 6'4″, 210 pounds, Berra is known for his great mobility and plays a classic butterfly style. However, it is his tendency to drop quickly to his butterfly which often leaves him vulnerable to dekes as well as high shots, especially to the blocker side.
With less than a full season of NHL experience, odds are the Leafs won't trade for Berra, who despite once again finding himself in a crowded crease in Florida, carries a $1.5 Million cap hit and would have to be traded for. With Roberto Luongo and James Reimer eating ice-time ahead of him, Berra will likely begin the season with the Panthers' affiliate in Portland.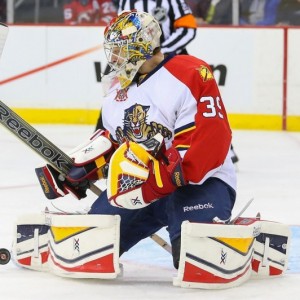 A veteran of over 200 career NHL games, Dan Ellis has spent the vast majority of his career as a backup goaltender. In fact, he has never played greater than 44 games in a given NHL season.
Most recently, the veteran goaltender spent the 2015-16 season in the AHL, playing with the Washington Capitals' affiliate the Hershey Bears. Over 43 games played with Hershey, Ellis recorded a .908% SVP and 2.38 GAA, while totalling a 25-12-5 record.
While he likely won't be the Leafs' first choice, he could be a solid option given his vast experience in the NHL as well as in a backup role. Currently a free agent in search of a new contract, Ellis could certainly be signed to a financially friendly contract.
One of the most highly skilled options available on the open market, Jhonas Enroth is an under-sized yet highly athletic goaltender who could be a perfect fit for the Leafs' backup job.
A long-time Buffalo Sabres backup, Enroth recently ventured out into new hockey markets, spending a year with both the Dallas Stars and Los Angeles Kings. Most recently in 2015-16, Enroth signed a one-year deal with the Kings and posted a 7-5-1 record over 16 games played. His GAA of 2.17 and SVP of .922% were the best individual totals of his career despite their small sample size.
At 5'10", 170 pounds, Enroth is under-sized as far as NHL goaltenders go, and as a result has never truly been able to establish himself as a number-one net minder in the League. However, his quickness and agility alongside lightning quick reflexes and anticipation make him a solid goaltender regardless of size.
His most recent deal, one-year at $1.25 Million, is a fair price considering his skill and it would appear safe to say he is more than deserving of a similar contract with a new club.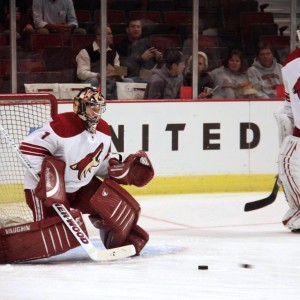 With nearly 200 NHL games played, Jason LaBarbera, like Ellis, is a veteran goaltender who brings excellent experience and knowledge to his game.
A 6'3″, 230 pound native of Burnaby, British Columbia, LaBarbera's size allows him to cover the vast majority of the net, while he is widely regarded for his excellent leadership qualities both on and off of the ice, a characteristic which Lamoriello and the Leafs would surely covet.
In 2015-16, LaBarbera played for the Philadelphia Flyers' AHL affiliate, the Lehigh Valley Phantoms. In 23 games played with the Phantoms, LaBarbera wound up with a 7-14 record, while his GAA of 3.02 and SVP of .899% were both lower than his career averages.
Never able to truly find a sense of consistency at the NHL level, a backup job with the Leafs could be a perfect fit for both LaBarbera and the Leafs.
Michael Leighton – Age 35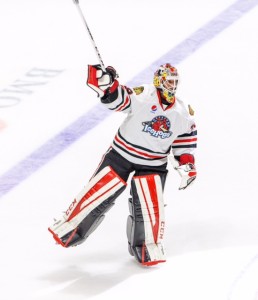 Another veteran goaltender, Michael Leighton is coming off of a 2015-16 season in which he saw a considerable amount of ice-time, albeit at the AHL level. Over 46 games with the Rockford IceHogs who are affiliated with the Chicago Blackhawks, Leighton was solid, posting an incredible 28-8-8 record alongside a 2.44 GAA and .918% SVP.
A 6'3″, 185 pound tower, Leighton's game is characterized by solid fundamentals and an impeccable work ethic – one which allows him to battle for the crease despite his situation. One detractor in Leighton's game is arguably his lateral movement, an aspect of his game which has been accentuated by numerous lower-body injuries.
Coming off of a one-year, $575 Thousand deal in 2015-16, Leighton would surely be content with another one-year deal of similar financial term, especially so if it would guarantee him additional playing time at the NHL level.
One of the youngest and most highly promising goaltenders available in free agency, Anders Lindback, who stands an incredible 6'6″, 215 pounds, could be an interesting option for the Leafs' backup role.
Never truly able to find his game nor consistency at the NHL level, Lindback has already played for five teams in his career despite arriving in North America for the 2010-11 season. His first stop came in Nashville, where many thought he could outplay Pekka Rinne for the starting role. However, after failing to do so, Lindback has since made stops in Tampa Bay, Dallas, Buffalo, and most recently Arizona.
The major knock on Lindback has long been his consistency, as previously mentioned. Given his great size, filling the net has never been an issue for Lindback, who has long been known for his determination when it comes to improving his game. However, a tendency to make himself small in the net and let in the occasional 'bad' goal has led to his inability to stick with a given team.
Yet, given his clear potential, landing in Toronto could be a step in the right direction for Lindback, who only played in 19 games with the Coyotes in 2015-16, recording a 3.11 GAA and .894% SVP.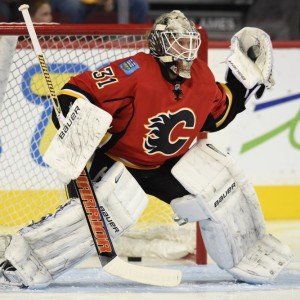 Yet another goaltender available on the free agent market, Karri Ramo is fresh off of three seasons spent with the Calgary Flames, where he recorded the most consistent playing time of his NHL career. From 2013-16, Ramo played in a total of 110 games with the Flames, totalling a 49-42-8 record in that time alongside a cumulative .911 SVP and 2.63 GAA.
Ramo possesses solid size at 6'2″, 205 pounds and is best characterized as a highly talented and mature goaltender who struggles with his consistency at the NHL level. At times, Ramo can be by far the best player on the ice and has the ability to steal wins for his time. However, at other times, Ramo has the ability to be shelled quite easily and looks like an entirely different player.
His 2015-16 contract was a one-year deal and saw him paid a whopping $3.8 Million. In all likelihood, Ramo's next deal will not be of such incredible financial term, especially so if it comes in Toronto, as the Leafs are already fairly close to the salary cap.
Brett Slawson is a four-year veteran of The Hockey Writers who covers the Toronto Maple Leafs, NHL prospects, and the OHL's Mississauga Steelheads.
Contact Brett on Twitter @brettslawson92, or by email at brett_slawson@hotmail.com.