In this edition of Toronto Maple Leafs News & Rumors, I'll take a look at the offseason work that general manager Kyle Dubas did to improve his team's defense. I'll also stay with the defense to consider Morgan Rielly's next contract. Although there's no particular time rush, that question will be one the organization could address within another season.
Related: Maple Leafs Radical Trade Rumors: Nylander, Ekblad, Nurse & Subban
Finally, I'll share some of the reasons goalie Michael Hutchinson was happy – actually eager – to re-sign with the team.
Item One: On Signing T.J. Brodie Instead of Alex Pietrangelo
Perhaps the biggest offseason problem Toronto Maple Leafs general manager Dubas had to figure out was how to improve his team's defense. That singular problem had haunted the team for several seasons and there's no doubt it had cost them games both during the regular season and in the postseason. It was especially clear the team needed a strong right-side defenseman to move to the next step in a long playoff push.
For a few weeks about a month ago, Maple Leafs nation was abuzz with rumors that the team was talking with and seeking to sign perhaps the most prized UFA of the offseason – Alex Pietrangelo. However, the St. Louis Blues free agent captain eventually signed with the Vegas Golden Knights. Many Toronto fans were disappointed because Pietrangelo promised to be the one person who could solve problems that had faced the team for several seasons.
However, instead of selling a chunk of the roster to find salary-cap space to sign Pietrangelo, general manager Kyle Dubas reverted to an old plan he had engaged before the 2019-20 season. He found and signed T.J. Brodie. This time, however, Dubas didn't trade for Brodie (as he attempted to last season when Nazem Kadri used his no-trade clause to nix moving to Calgary); instead, he signed Brodie as a UFA to a four-year contract at $5 million per season.
By doing so, he provided Morgan Rielly with the best right-side defensive partner Rielly has probably ever played with. (Brodie's a lefty who plays on the right side.) There's no doubt that Brodie is a good defenseman in his own right; but, some critics argue that he's only really strong if he plays with a great defenseman like Mark Giordano. Well then, meet Rielly.
Related: Prospects News & Rumors: Neighbours, Weisblatt, Spence & More
Giordano is great, no doubt, and has a Norris Trophy to support that claim. But, in 2018-19, there were arguments Rielly should have been a Norris Trophy candidate himself; so, he's no slouch either. Brodie was perhaps the best right-side defenseman UFA after Pietrangelo, and now he's signed to a fair, long-term deal with the Maple Leafs. If this works, it will help settle the Maple Leafs defense for the near future – at least until Rielly's contract expires.
Item Two: Looking Ahead at Re-Signing Morgan Rielly
Speaking of Rielly, it's not as if the Maple Leafs are rushing to consider Rielly's next contract. His current contract doesn't expire the until the end of the 2022-23 season. However, it might mean that next season will be telling; and, it'll be interesting to see just how well Brodie and Rielly play together. If that partnership is good, that bodes well for Rielly's next contract.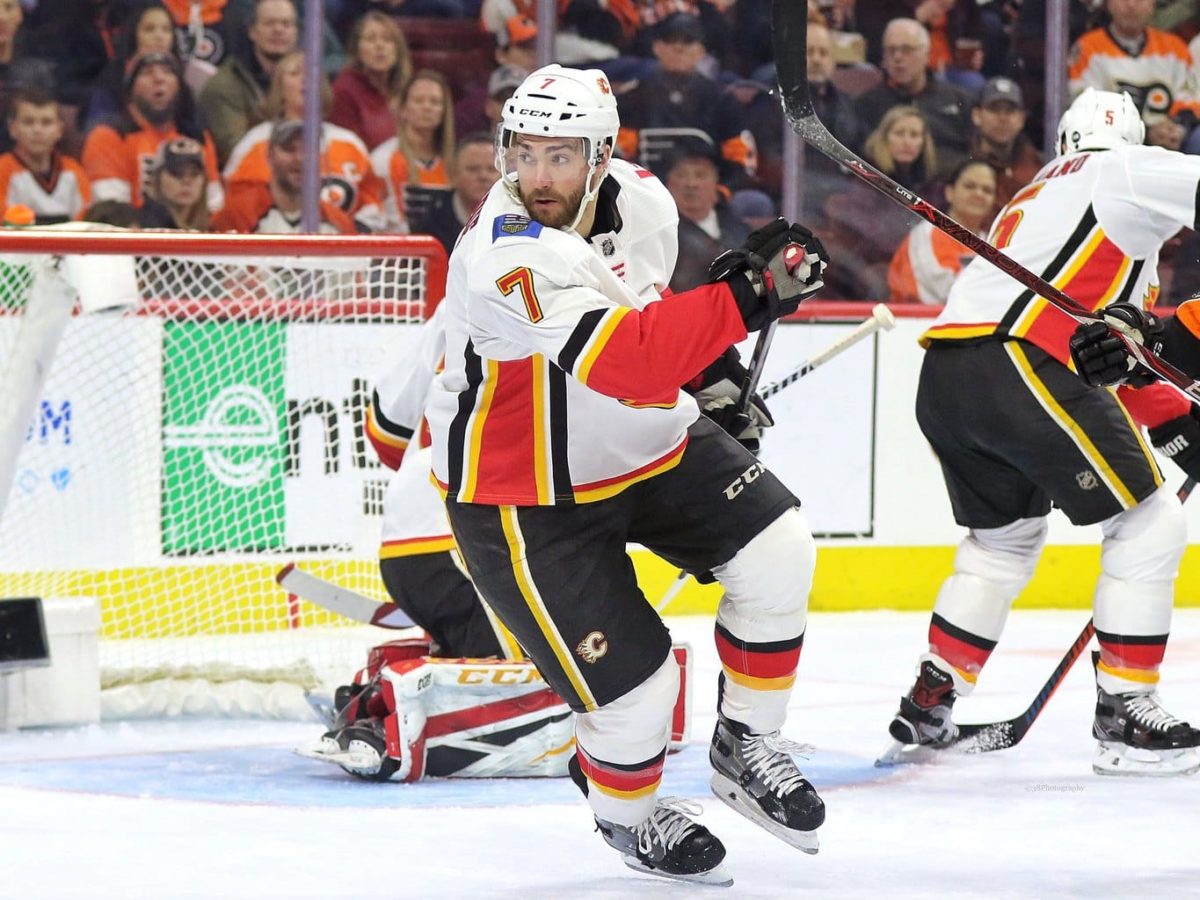 Similar to Brodie, Rielly makes $5 million per season and he's perhaps the team's best defender. Given his level of play as well as the salary-cap situation, he'll certainly be on Dubas' to-do list next offseason. So much depends upon if the COVID-19 pandemic is resolved. Staying below the upper limits of the salary-cap is always tough for the Maple Leafs and the flat-cap makes it even tougher.
Fortunately, the team seems able to attract strong veterans to fill out the team's depth at a discounted rate. However, if Rielly plays to expectations, he'll be able to ask for a nice salary increase. Should the salary cap stay flat and if the NHL is unable to play a full regular season in front of actual fans, where will the money come from to sign Rielly? Given what we know, keeping Reilly in the fold will be a priority.
Item Three: Michael Hutchinson Is Happy to Be Back in Toronto
After his lack of success both on the ice and with the fans, one would wonder why Michael Hutchinson would re-sign with the Maple Leafs organization. It might seem he would move on to another team. That's not the case. Instead, Hutchinson is clear: he's happy to be back in Toronto and was also happy to sign a two-year/two-way contract last week.
Related: Top 10 NHL Backup Goaltenders
Hutchinson feels as if he's home. He grew up an hour north of Toronto (in Barrie) and, regardless of whether he plays for the Maple Leafs or for the Toronto Marlies, he's pleased to be living near his home again. 
In a Zoom call earlier this week, Hutchinson reported that he'd "do whatever the organization needs." (from "Goalie Hutchinson happy to be back with Leafs, despite low spot on depth chart," Lance Hornby, Toronto Sun, 02/11/20).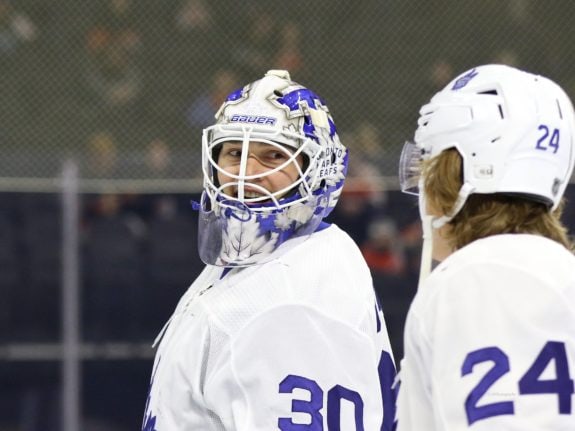 He also spoke about what he learned in the bubble about how important secondary goalies might be to a team, even if he were lower on an organization's depth chart. Hutchinson surprisingly played in the playoffs for Colorado when the Avalanche lost both Philipp Grubauer and Pavel Francouz. Even after struggling during the regular season, Hutchinson actually stole two games. He helped his team take the Dallas Stars to overtime in Game 7 but eventually lost 5-4.
Hutchinson told reporters,
"I've enjoyed my time with the Marlies any time I was sent down, which was a huge factor in signing here. The Leafs were always on my radar, even after I got traded."
Speaking about his family, Hutchinson added: "My wife and I were talking about an ideal situation. Pressure and stress take away from the enjoyment of hockey when you're worried about family. No one knows what the landscape is going to look like this year (delayed by COVID-19) or the year after. Seeing how quickly all the seats at the goalie table were filled up, teams were not taking the patient approach."
Related: Maple Leafs Rumors: Is There Room for Both Spezza and Thornton?
Hutchinson is likely to begin the season with the Marlies. As it stands right now, he's currently the third or fourth goalie in the Maple Leafs organization. But, as he's learned, that doesn't mean he won't play.
What's Next for the Maple Leafs?
Just a thought: what do Jason Spezza, Wayne Simmonds, Joe Thornton, and Brodie have in common? The answer is that none of them have won a Stanley Cup during their careers.
I'm anxious to see the level of drive and will this team plays with, which I think might come in part from these four players. That can't hurt the team's chances to actually win a playoff round. The last time the team did so was 2004.
---
---