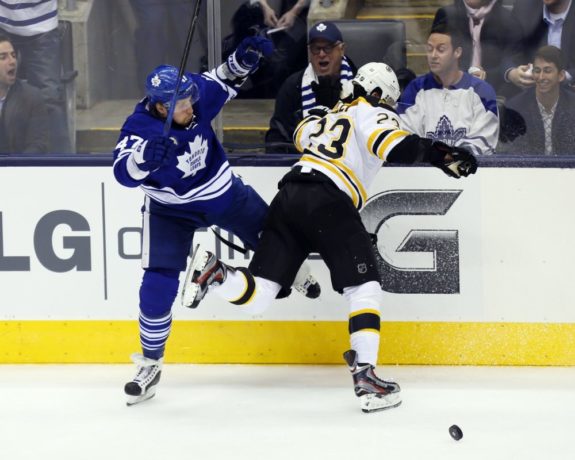 If it doesn't work, don't fix it.
After a second consecutive triumphant collapse to end the season, you might view it as imperative for the Toronto Maple Leafs to do everything in their power to make the playoffs and get past the first round in 2014-2015. Yet with the NHL's two biggest off-season events having come and gone, Leafs brass has pulled the trigger on nothing but minor transactions.
Toronto selected William Nylander eighth overall in the NHL Entry Draft last month. Nylander is an 18-year-old forward who played last season in Sweden, tallying 16 goals and 34 points in 57 games. GM Dave Nonis also brought back forwards Leo Komarov and Matt Frattin through free agency and trade respectively, while signing veteran defenceman Stephane Robidas and trading for 28-year-old blue liner Roman Polak. Mike Santorelli and Petri Kontiola were also signed, inking one-year contracts.
Incoming players won't change the face of the Maple Leafs
Nylander's career is only beginning and we don't know how long it will take him to make it to the NHL or if he will ever get there. Elite Prospects formulated this brief report of Nylander in 2013:
A highly skilled player offensively. Nylander skates very well, has impressive hands and is excellent at handling the puck at high speeds. Hockey sense is very impressive and he likes to shoot the puck a lot, but is also capable of delivering perfect passes. A very agile player that protects the puck well and skates hard in the offensive zone.

On the other hand, his defensive game needs some work. Not a selfish player, but at times he tends to hang onto the puck for too long, instead of making the easier play. Has the tools and skills to lead his team in all
offensive aspects.
The good news with Nylander is that those knocks on his game sound like pretty basic struggles that an 18-year-old would experience coming into the NHL. We should be able to assume they are easy-fixes, but that can depend on the person. As with all prospects, we'll have to play the "wait and see" game.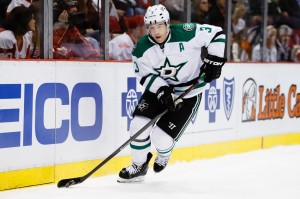 Komarov is an exciting third/fourth line winger who shows up and plays his heart out every night. A team needs character guys like Komarov to succeed but he isn't a make-or-break weapon in the Maple Leafs' arsenal.
Matt Frattin is another bottom-six forward. He was part of the package the Leafs gave up to acquire Jonathan Bernier from Los Angeles a year ago. Frattin has never managed more than 15 points in one season.
Mike Santorelli is a former 20-goal scorer while Petri Kontiola has spent the last five seasons playing in the Kontinental Hockey League; both with slot in on the bottom two lines.
Stephane Robidas will bring a reliability aspect to the Leafs' blue line, something they had been missing, but is aging and likely not too far from retirement. Roman Polak is often compared to Carl Gunnarsson, who the Leafs sent to St. Louis, in a negative way.
None of the above players will make a major impact on the Maple Leafs' performance in the Eastern Conference standings next season. For the most part, they are players the Leafs were able to acquire for a relatively cheap price. They aren't household names and none will strike fear into an opponent.
This leads us to ask one question.
How can we be sure the Maple Leafs won't achieve a three-peat of collapses?
We can't be.
Whether you like it or not, the Leafs have thus far failed to make any moves this summer that prove they are fully committed to getting over the hump and proving themselves as legitimate playoff contenders. The bottom-six forward group has seen big changes since the draft, but will that make-or-break Toronto's chance of making it not just into the playoffs, but past the first round?
There are two problems with relying on so many returning players to void the Maple Leafs' end-of-season wrongdoings in both 2013 and 2014:
Many of them were contributing factors
The word "if."
How can we be confident that the likes of Tyler Bozak, Phil Kessel, Dion Phaneuf, Joffrey Lupul and others will come through this season? They say the third time is a charm, but does that apply in hockey-mad Toronto, where the last 47 years have been anything but?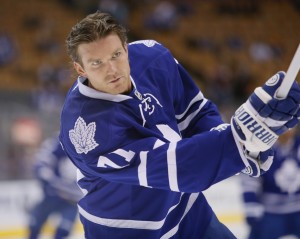 If David Clarkson hadn't sat out the first 10 games last season, maybe he would have gotten off to a strong start and produced. If Dion Phaneuf had help on the back-end by way of depth and stability, maybe he would have played a stronger game himself. If Randy Carlyle's job wasn't the toughest in the city of Toronto, he would've been able to coach the Maple Leafs to success.
The list of ifs goes on.
The word "if" may not be the only thing you have noticed being tossed around a lot. Questions once again surround the Toronto Maple Leafs as a new season approaches, and the team once again appears to be lost for answers.
If not one already then you better become an optimistic person, or the next three months and beyond will be a major struggle.