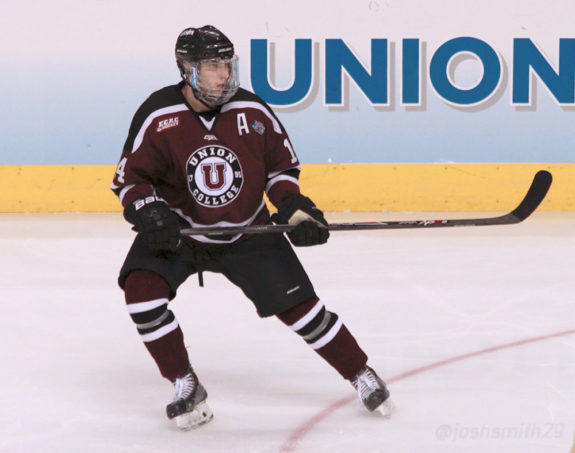 Another day. Another set of drills in development camp for the Philadelphia Flyers prospects. In today's morning exercises, the forwards did a great deal of work on puck protection and possession, while the defensemen focused mainly on how to react to dump ins, forechecking, and outlet passes. Here are some opinions on how the players performed:
Forwards
For the puck protection drills, forwards paired together in every faceoff circle. The object of the drill was to play keep away with the puck from your partner without having to go outside of the circle. It tested how well players could shield and maneuver in tight spaces. The player who stood out most for me was Tyrell Goulbourne. He's physically mature, is tough to knock off the puck, and relentless at trying to retrieve it. Oskar Lindblom and Petr Straka also excelled in this. Brandon Alderson didn't perform well and looked flatfooted against smaller players.
I was knocking Straka the past two days, but today he played much better overall. Wasn't coughing up the puck nearly as much and used his body well.
Scott Laughton, once again, stood out as the best player on the ice. Reads situations very well, has the hockey IQ and defensive skill to be a dependable 3rd line center. He also has heavy wrist shot that he used to score a few goals against Merrick Madsen today.
I've been hoping to see Nick Cousins develop nicely, but he just hasn't done much for me. Reality set in this season when he didn't score nearly as many points as he did in the OHL. He's an fast, shifty center with quick strides and great top speed. He plays the game fast which can put him in bad situations. I'd like to see him slow his game down a bit and be more patient. You can tell Cousins has that fire in him to get better every day, but he's still a few years away and will likely only play bottom-six minutes.
Kevin Goumas was a player I wanted to pay particular attention to. The Flyers brought him in as a free agent after he finished his season in the NCAA with New Hampshire. At UNH last season, Goumas had 52 points in 40 games and got some time in the AHL, as well. As an undersized forward, Goumas has the skating and speed to be effective and he couples that with an impressive release. Another year or two of playing for the Phantoms will be telling, but I don't think there is much hope surrounding him heading into the year.
Taylor Leier may be the most underrated forward in camp. He's showed me that he has very slick stickhandling skills and a deceptive shot. Leier is swift on his skates, but unlike Cousins, he plays more of a calm role and lets plays develop. He netted 37 goals last season for the Portland Winterhawks in the WHL. Better not to rush him and let him either play in the WHL next season as an overager, or allow him to join the Lehigh Valley Phantoms.
Radel Fazleev had a great day at camp today. The young Russian showed his skating, fluidity, and pinpoint turning. What stuck out was his knack for finding players on the ice without seeing where they were. A few drills involved playing with the puck along the boards and finding the open man at center ice. Fazleev feathered pass after pass to open players.
Defensemen:
You can't say it enough, Shayne Gostisbehere is an excellent skater. He doesn't have much muscle which allows him to be quick and elusive. Not entirely certain how much weight he should put on before it starts affecting his skating, but for the time being he's one of the most fun skaters to watch. His first pass is very strong, too.
David Drake did not look great in any aspects of the drills today. He's a 7th round pick, so it's not really THAT big a deal. That being said, Drake's skating wasn't smooth at all, his stickhandling was poor, and looks out of sorts on the ice.
Terrance Amorosa stood out a little today in camp. He skates well and always has his head up to see what his teammates are doing. He made effective plays without being flashy. He still is in the early stages of his development and will have a lot to learn before he can try his luck at the professional level.
Jesper Pettersson is the player who's made me do a few double takes. I'm enjoying the way he plays. He has short, quick, choppy skating that allows him to move the puck well and get out of tight situations. One huge advantage to him being small is his turning ability. He paired up with Robert Hagg in a few drills and showed poise and confidence. He even was vocal during the camp pointing out things to coaches and teammates, which is hard for him because he doesn't have a great command of the English language.
Samuel Morin looked great again today. Excellent skater who shows a will to improve that aspect of his game. After every whistle, Morin would take an extra few seconds in open ice to work on his edges and power. The added weight has bolstered his slapshot, but he might need a lesson or two on accuracy. (see below)
Sam Morin slapper shatters the glass at development camp in Voorhees. Impressive. pic.twitter.com/XhNdipXa3H

— Bob Rotruck (@BobRotruck) July 12, 2014