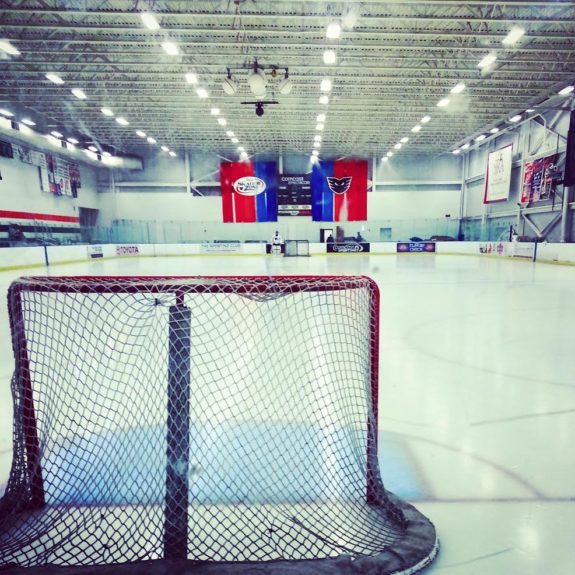 "It's all about speed, quickness, and skating today. Everybody needs help in that area so explosive power, plyometrics, and lunges are the way to go."
That was Terry Murray this afternoon when asked about today's drills after the 2nd day of development camp for the Philadelphia Flyers prospects. While yesterday was built around the fundamentals of stickhandling, the majority of the work today focused around skating, edgework, acceleration, among other things. It was a great way to gauge which players needed to build up their lower bodies and strengthen their speed and agility.
Unlike yesterday, the prospects were split up by position. Forwards were part of the early 9am block while defensemen hit the ice around 10:45am. Here are my thoughts on the players from today:
Forwards:
Many knew of Nicolas Aube-Kubel's speed prior to camp. He flew around the ice with the Foreurs in Val d'Or, but seeing him in person just made him look that much quicker. His legs aren't that big, which make it easy for him to quickly move his feet. His first few steps are lightning fast and at top speed he just flies around the rink. He has an extra gear that I didn't see from any other forward. In an exercise that tested agility and shot release, Aube-Kubel excelled in both. His shot is deceptively and was able to beat the goalie a few times. His main knock is not playing a defensive game, so in the coming days I hope to see him get tested on his defensive skills and awareness.
In one test, the coaches tested acceleration using timing devices. The purpose was to see just how fast players could move from a stand still position. The first few strides are very important to maximize speed and there were a few forwards that stood out. Aube-Kubel was an obvious one, but Taylor Leier (who doesn't get talked about as much as players like Laughton) did very well. The two most underrated forwards that showed great acceleration were Tyrell Goulbourne and Kevin Goumas. The worst at this event were Brandon Alderson and Petr Straka.
Goulbourne is a very interesting prospect. Saw him walking around after practice and he's built like a train. He's only 5'11", but he weighs 195. In the drills today he caught my eye because of just how quickly he moved for his stocky frame. He also has one helluva shot that most people haven't been able to see. He's in a weird situation right now since Hextall offered him an AHL-only deal. As Bill Meltzer reiterates in his article, although Goulbourne can likely play in the AHL next season, it's probably not a bad option to go back to the WHL as an overage player and work further at his game. Still has some edges to work out, but I project him to be a solid 3rd/4th line energy player.
Scott Laughton had a great set of drills today. Didn't seem out of place in any of them and continues to shine during camp. During the Town Hall Meeting, Hextall made it known that he doesn't intend for Laughton to start the season with the Flyers. Instead he'll likely be playing top line minutes with the Phantoms with the possibility of an injury callup during the season. Hextall also mentioned that no prospect is going to be anointed a spot on the team just because they carry a name with them that has high expectations. He wants players from the Phantoms to force him into calling them up to the NHL. Scott Laughton will be one of those players.
Oskar Lindblom was the forward that really showed his great all-around attributes today. While his acceleration was average, he showed a nice top speed, and agility. He has a strong wrist shot and picked a few corners today. As you see with many Swedes, coaches teach them the proper way to skate at a young age. I spoke with Lindblom after practice about his plans on coming to North America. He is going back next season to play for Brynas of the SHL. He mentioned that he'd like to come and play in North America in one or two years. While he's shown a complete game so far, I'd expect him to be 2-3 years away from North America. No reason to rush him.
The player with the most booming shot was Brandon Alderson. Sometimes was afraid he might break the glass behind the goalie. Unfortunately, that's about all he has going for him with the exception of his size. He's not a strong skater by any stretch and even takes too long to release the puck. Didn't see many Phantoms games last year, but he had a decent stat line. I doubt they'd consider bringing him into the NHL though.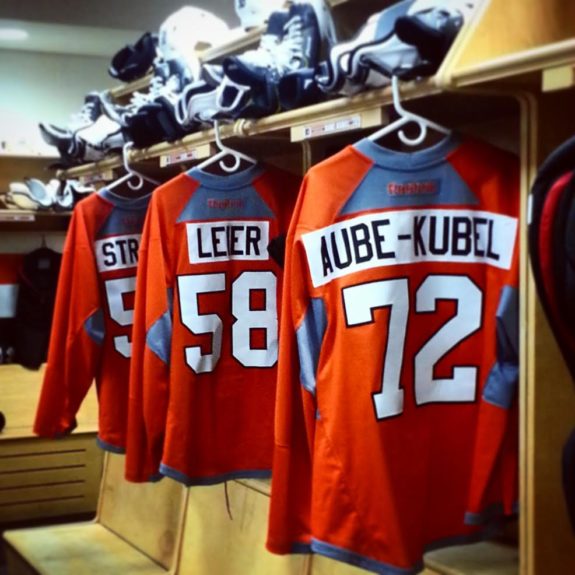 Defensemen:
The defensmen went through the same acceleration drill as the forwards did. As expected, Gostisbehere looked like he was shot out of a cannon. Has tremendous foot speed and edgework as was shown throughout the season this year for Union College. Another player that doesn't get focused on much is Jesper Pettersson. The widely-unknown 7th round pick from this years draft is short, but wicked fast. He was toe-to-toe with Gostisbehere in the acceleration test. The defensemen who were the worst at the speed burst test were Reece Willcox and Steven Delisle.
I knocked Samuel Morin on his skating yesterday, but was blown away by the effort he showed on the ice today. His skating today was effortless. He skates as fast backwards as some of the defenseman skate going forwards. His big, heavy strides are going to be a huge asset to his play moving forward, but his stickhandling is suspect. He'll be the first one to talk about how much his offensive game has improved, but from what I could tell, it's still a work in progress.
I wasn't able to see Robert Hagg as much yesterday, so I made it a point to watch him at length today. Of the big name defensive prospects (Morin, Gostisbehere, Sanheim, Hagg), Hagg is far and away the closest to seeing regular NHL time. A smooth skater with an NHL frame, Hagg has above average speed and agility. His lateral movement was perfect and he did all this while looking like he wasn't giving a full 100% effort all the time. When he goes to capacity, he will be that much better.
Looked at Sanheim more today. For whatever reason, he didn't impress me all that much like he did yesterday. He's a great skater, but nothing stood out for me in terms of speed and shot. Same for Mark Friedman. He does have sound agility and quality speed, but overall he was average today.
Although not the fleetest of foot, Reece Willcox does show promise for the future as a two-way defenseman. He stands 6'4″ 193. Could gain to add some size, but his skating is already noticeable. He didn't have issue with puckhandling like Sam Morin and angles himself well defensively.