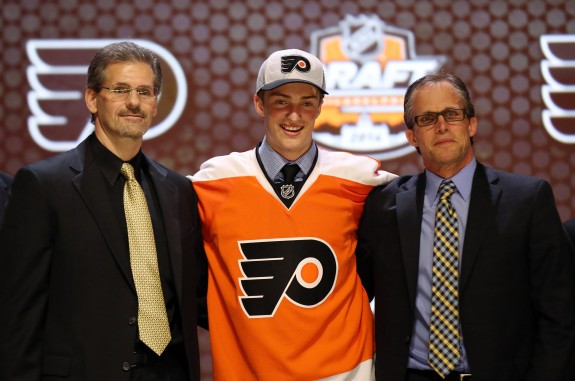 We aren't even two weeks removed from the NHL Entry Draft and already prospect camps are in full swing. The Philadelphia Flyers invited 29 players to their development camp, which started today. The goalies were supposed to start their part of their training at 9am, but the team ended up canceling that portion. However, the forwards and defensemen stepped onto the ice at 2pm to get going with their drills. Here are a few of my thoughts on who impressed, who didn't, who shows promise, yadda yadda yadda:
Coaches did a smart exercise where they laid sticks end to end and players had to simply skate from each end of the ice with the puck on the forehand one way and backhand the other way. They did the same thing by staggering the sticks and forcing players to add in stickhandling back and forth. It's a simple drill that showed which players knew the basic fundamentals of handling a puck. The players that did best were Oskar Lindblom, Scott Laughton, Mark Friedman, and Travis Sanheim. Players that didn't do so hot: Petr Straka, Steven Delisle, and Samuel Morin.
Samuel Morin has been the focus of many fans this week. A few days ago, Morin had an interview where he mentioned he gained 20 pounds and is doing everything to make the team out of training camp. It's great news for people hoping to see Morin sooner rather than later. Be that as it may, other than size and strength, Morin looks very much the same player from last year's development camp. He's still incredibly raw with shaky stickhandling and choppy skating. There were plenty of instances on the ice today where Morin just didn't seem comfortable in his abilities. A reason for that may be because he really hasn't been on the ice in two months since injuring his Achilles. It's still early in development camp so I'll be keeping an eye on him as it progresses. But Morin is still likely 2-3 years away from making an impact at the NHL level. One thing is certain though, the kid has ups.
I was most impressed with Scott Laughton. This is his 3rd development camp and he seems to be leading the way. He's very determined to make the team this season and looks to have the skills to do so. He's very patient with the puck and has a strong lower body which allows him to have great balance. I'm eager to see what he can do in the coming days, but I'd expect Laughton to be a frontrunner to make it on the 4th line when the season starts.
Shayne Gostisbehere came in with a ton of hype and that was to be expected. Over an hour and a half of drills later, Gostisbehere didn't really jump out to me at all. I saw him wow the crowds at the Frozen for this year, but today he was par for the course. He will have more opportunities to show something tomorrow when the Flyers split up forwards, defense, and goalies into three separate blocks.
I knew Travis Sanheim was pretty decent coming into the draft, but the more and more I see and read about him, the more and more I like this pick for the Philadelphia Flyers. After watching him closely today, you can see why Sanheim is projected to be such a great player. Sanheim has immense confidence in his puckhandling and excelled in every drill. He never got too fancy, didn't let nerves get to him, and was probably the best defenseman in the group today. He's not a player that should be rushed by any stretch of the imagination and will likely be a few years from making the NHL. But there is a great deal of hope for this young d-man.
Oskar Lindblom had a fine showing today, as well. Chris Pryor, the Director of Scouting, said had the draft been at the beginning of last season as opposed to a few weeks ago, Lindblom would've likely been gone by the first or second round. For whatever reason he dropped, but it ended up great for Philadelphia. Lindblom was very strong on the puck during the drills and showed his strength and determination. Will keep a closer eye on him as he still has a ways to go.
I was truly hoping Petr Straka would impress more than he actually did. I've followed him since his draft year and I know the kid has skill to play in the NHL, but today he just seemed off. He coughed up the puck a few times and just didn't seem to work as hard as other guys. He's a player I still hold out hope for, but I'd like to see a more consistent effort than what I saw today.
The last player I felt had a decent first day was Radel Fazleev (pronounced fazz-LAY-yev). I'll be honest in saying I had no prior viewings of him and knew nothing about the type of player he was, but there were a few glimmers of brilliance that I saw. It's beneficial that Fazleev came in with teammate Travis Sanheim as the two already have a bond and looked to be great friends on the ice. He has solid stickwork and makes strong passes as easily as he receives them. Seemed to have solid mobility, but I'm more interested in seeing how his shot is since he suffered a broken wrist this season that kept him out of the lineup for a considerable amount of time.
These are only a handful of reviews, but I'll be posting another article like this after each day of training camp with other players reviews.