The Columbus Blue Jackets have been awfully quiet this offseason since swapping RJ Umberger for Scott Hartnell. While hockey fans across Ohio hold their collective breath in anticipation for the re-signing of budding superstar RFA Ryan Johansen, Jarmo Kekalainen and company made a series of relatively small transactions. At first glance, these moves don't appear terribly significant, but a closer look at the Blue Jackets offseason proves that minor moves can have a major impact.
Last offseason was perhaps the most exciting in Blue Jackets history. Columbus made a splash signing Nathan Horton on the first day of free agency then went on to exercise a franchise record three first round draft picks. Horton should be a factor out of the gate in 2014-15 as opposed to last season when he missed much of the season recovering from major shoulder surgery. The prospect of a healthy Horton is exciting, but as a result of the club's 2014 offseason moves, fans will have to wait at least one more season to see results from the 2013 Entry Draft contribute in the NHL.
VETERAN COMPETITION
The Jackets let frequent fourth line contributors Derek MacKenzie, Blake Comeau, and Jack Skille walk this summer. The loss of these veterans initially sparked speculation that the Jackets were expecting a prospect or two to step up and make the big club. The transactions made since, however, have cooled those beliefs and resulted in a crowded competition to make the fourth line.
Regarding forwards, the make-up of the top three lines is set.
CENTER
Johansen, Ryan
Dubinsky, Brandon
Anisimov, Artem
WING
Horton, Nathan
Atkinson, Cam
Hartnell, Scott
Calvert, Matt
Foligno, Nick
Jenner, Boone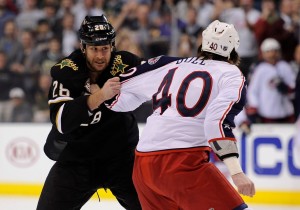 Columbus recently re-upped Corey Tropp for two years on a one-way deal. You can pencil him in at wing next to center Mark Letestu. Jared Boll, the longest tenured Jacket and resident mercenary, would be a candidate for a trade if not for an unappealing contract. Boll's experience at the NHL level gives him a leg up on newcomers Brian Gibbons, Jerry D'Amigo, and Swedish standout Simon Hjalmarsson, but that doesn't mean he'll avoid the occasional (or frequent) healthy scratch.
Letestu, Tropp, and Boll are virtual locks for the 23-man roster. The reserve forward position will come down to Gibbons, Hjalmarsson, and D'Amigo…assuming he signs.
Columbus is in no rush to force prized prospects onto the roster prematurely, especially if the only available positions are essentially alternates.
DEVELOPING PATIENCE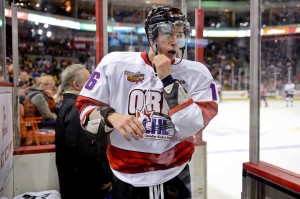 Columbus has not always had the luxury of waiting for young talent to grow into their roles naturally. (Remember Nikita Filatov?) Front offices of the past would have rushed Wennberg, Rychel, and Dano into the big league out of necessity. Now, a year after being drafted in the first round, they'll have to overachieve just to earn a roster spot.
Nothing will be handed to Blue Jackets prospects with Jarmo and John Davidson running the show. The team plays a tough game and utilizes the whole roster. The third and fourth lines were instrumental in the team's success the last two seasons. That said, the Jackets won't use Wennberg on the fourth line. They'd prefer to get him top line reps in the AHL.
TALENT ON THE HORIZON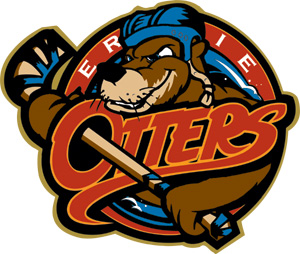 Fans may be disappointed they'll have no horse in the Calder Trophy race next season, but their loss is Springfield's gain. The Falcons will add exciting up-and-coming talent led by Wennberg and former Erie Otters netminder Oscar Dansk.
There are plenty of future Jackets to keep an eye on in the CHL. Dillon Heatherington of Swift Current will likely make the jump into the NHL in 2014-15 at a position of need. Oliver Bjorkstrand will attempt to top his 109-point 2013-14 season (plus 33 points in 21 playoff games) with WHL Portland.
Several key prospects will lace up for major college programs in 2014-14 as well including 2014 top selections Sonny Milano (Boston College) and Ryan Collins. (Minnesota)
The Blue Jackets have one of the most enviable developmental rosters in the NHL. They boast some of the best players in the Canadian Juniors, NCAA, and AHL. Soon enough, these young prospects will develop into professionals, but as far as the coming season is concerned, they'll remain just that: prospects.