After one of their hottest streaks in nearly a decade, the Toronto Maple Leafs once again look to have fans shaking their heads in wonder. The team has now lost three straight and finger-pointing and what is to blame continues. As is always a target of criticism is the Maple Leafs defense.
Over the last week and a half, even before the team began losing, it became clear that the Leafs were not impressed with the way they had been playing. As with seasons past and stints this season the team's back-end has been in shambles.
The dismay begun with the team's loss to the league's basement dwellers, the Carolina Hurricanes, where following the game Randy Carlyle decided to sit young defenseman Jake Gardiner after he played a game in which the coach referred to his play as "erratic."
However, the move failed to pay-off in any way during the team's sloppy 7-4 loss to the Philadelphia Flyers. A game in which the Maple Leafs saw both 2-0 and 3-2 leads only to squander them away. Following the game Stephane Robidas was seen with ice taped to his shoulder after taking a thunderous hit into the boards during the game. Subsequently Robidas sat out the team's second game in two nights against the Chicago Blackhawks, a 4-0 shutout defeat to the league's hottest team.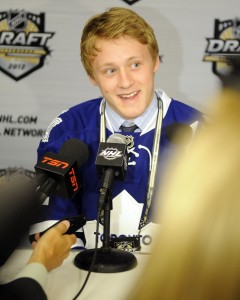 The Leafs Young D-Men Taking Blame
So with three different looking lineups on defense the results have not been any different. So what is the deal with the Maple Leafs blueline?
The Maple Leafs are the highest scoring team in the league, averaging 3.29 goals per game and a large part of that is in part to their defense core who have a combined 74 points this season. However, what the blueliners do in the opposition's  end of the ice isn't where the criticism has been, it's been in their own zone. And those who seem to be the most worrisome are the team's youngsters, but veteran d-man Stephane Robidas says he still has confidence in them and suggests why he thinks they have been a victim of defensive blunders.
"I think sometimes you want to do so well that you end up doing too much," said Robidas. "Trying to do too much is just like doing not enough. I think sometimes just to simplify your game and keep things simple and try to stay positive. It's not easy when things don't go your way, you want to do well, you want to make good things happen and sometimes you're pressing too much and that's how sometimes you put yourself in bad positions."
Jake Gardiner Feeling the Heat
Prior to Saturday's loss to the Philadelphia Flyers, Robidas also addressed Jake Gardiner who has been a lightning rod for hockey critics.
"I think he's made some good solid plays and obviously sometimes it's just a little bit of back luck too," said Robidas. "Sometimes the puck doesn't bounce your way all the time and it seems like when you get in a funk a little bit, everything that could go wrong does go wrong. He's a very good defenseman he's got lots of skill, lots of potential, he's a very good skater and he can skate the puck up the ice and he can defend to."
"He's a strong guy, he's a big guy, so he's got all the tools and I think he'll be ok."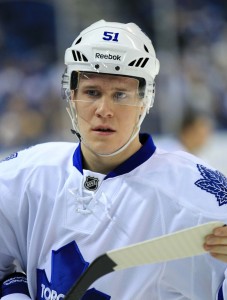 Being a veteran on the team, Robidas is also looked upon as a leader on the team and among the young defenseman. But he admits he doesn't give too much advice to Morgan Rielly or Gardiner, saying the two have had enough experiences during their young career to know how to play.
"Even though they're young they still have a lot of experiences and they've still played a lot, world juniors, they've played in big games. They know how to play the game. Obviously they don't know the league as much because they're just kind of starting they know now the players, they know who they're playing and the tendency of the team they're playing and if I can help them I will. Sometimes we talk about little stuff, but nothing too crazy."
Going Forward
Gardiner was made a healthy scratch Saturday, but was put back in the lineup Sunday after Robidas was out with a minor injury. Whether it's to an injury or simply performance based, Gardiner believes there is a lot of competition among the team and that it's a good thing.
"I think that's good it gives out team competition and every successful team needs that and it's good for our team," said Gardiner, adding he is always trying to improve. "Yea I think you're whole career you're learning it doesn't matter how old you are you're always trying to improve."
Well lately it looks like some improvements could be made to all members of the Leafs D-core. They will look to snap their losing streak Tuesday when they are in Dallas to face the stars. A team that is currently riding a four-game winning streak.
Craig is an intern at The Hockey News where he has written for both the website and the magazine. He is also a featured-blogger at http://www.hockeyforums.net/index.php/blog/46-its-a-canadian-game/. Craig has an Honours in Journalism from Wilfird Laurier University and is currently completing the Sports Journalism Program at Centennial College. Follow him on Twitter @Craig_Hagerman.