For quite some time now, Tampa Bay Lightning's Andrei Vasilevskiy has been regarded as the best puck stopper in the league. The 28-year-old is consistently great each and every regular season, but it's in the playoffs where he truly shines. He has often become unbeatable in the postseason, frustrating many teams and stealing his fair share of series over the years. To no surprise, he played a major part in the Lightning winning back-to-back Stanley Cups in 2020 and 2021, proven by his Conn Smythe Trophy win in 2021.
---
---
That all said, however, he has been far from his usual dominant self in this year's first-round series versus the Toronto Maple Leafs. While he isn't the sole reason the Lightning are trailing 3-1, his 4.33 goals-against average (GAA) along with his .856 save percentage (SV%) show that he hasn't been very good. As it turns out, there just may be a reason for his struggles, as it seems the Maple Leafs have exposed a weakness in the Russian netminder.
Leafs Exposing Vasilevskiy Up High
Though it didn't gain much recognition until the conclusion of Game 4, the Maple Leafs have been targeting Vasilevskiy up high all series long, particularly from far out. The results speak for themselves, as they have had a ton of success on shots from the point, some that have been deflected, others that have gone in clean. One example of this came in Game 3, where Morgan Rielly won the game in overtime on a high wrist shot from the point.
The initial reaction from most on this goal was that Vasilevsky simply had to deal with too much traffic in front of him and wasn't able to pick up the puck until it was too late. That is fair in a sense, as there was certainly a number of bodies in front. However, there is more to it from a technical standpoint than many may have realized.
Related: Lightning & Maple Leafs Benefitting From Strong Leadership
Rob Gherson posted a fantastic thread on Twitter Tuesday evening breaking down some fundamentals as to why Vasilevskiy has struggled on these point shots. While the whole thread can be found here, the main point he makes is how upright Vasilevskiy is in his stance when pucks are being shot from a distance. Essentially, this means that he isn't set at the time the shot is taken, and takes a split second longer to get his body into position. This isn't a laziness thing by any means, but something he believes helps him see past the traffic in front.
---
Latest News & Highlights
---
Gherson coined the term 'panic flopping', suggesting it also affects Vasilevskiy's ability to track the puck with his arms due to how quickly he has to react. That also makes it tougher to react to deflections, an area he has again been beaten on plenty in this series.
By no means is this a weak goal, but it is a clear area the Leafs have been targeting. As for Gherson, he spent a number of seasons playing the position at the American Hockey League level, so he certainly has credibility. If any doubt remains, however, Detroit Red Wings head coach and former Lightning assistant Derek Lalonde's comments during an intermission on Monday night only help solidify the point.
"We did a study back in the day, he was one of the lower percentage goalies in finding pucks from the point," Lalonde explained. "So we actually changed our entire d-zone and we improved our pass rush."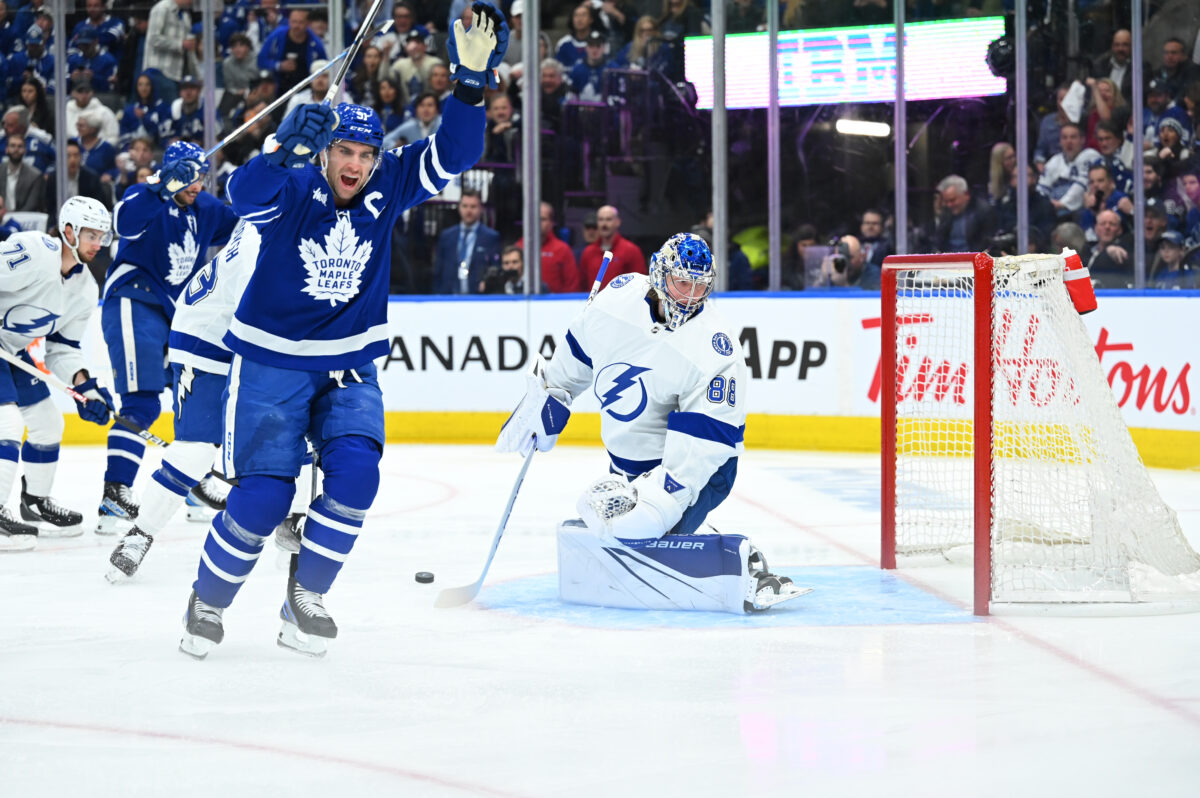 As his comments suggest, while others around the league may not have come to realize this particular weakness in Vasilevskiy's game until recently, it is something the Lightning as a coaching staff became aware of some time ago.
Vasilevskiy Will Make Necessary Adjustments
While the Maple Leafs have certainly exposed a flaw in Vasilevskiy's game, you can bet that the uber-talented veteran will make the proper adjustments to fix the issue moving forward. While it remains to be seen whether it's something he can fix in time to get his team back in this series, you can bet that either way he will be working on it in the offseason. The best in the game are always motivated to get better, and Vasilevskiy is no different.