Even though many problems for the Toronto Maple Leafs in their first-round series can be found on the blue line, not every forward necessarily performed well, either. There were surprises for better and for worse and there were a few key players who didn't perform.
This article will look at each forward on the Maple Leafs and whether they were a playoff performer, a playoff disappointment or somewhere in between. This list excludes Leo Komarov and Dominic Moore, who each only played two playoff games.
Tyler Bozak – Performer
Tyler Bozak isn't one of the players you count on to take over an important game like Toronto thought he was about five years ago. That being said, he was the type of secondary scoring the team needed and he did his part in the playoffs.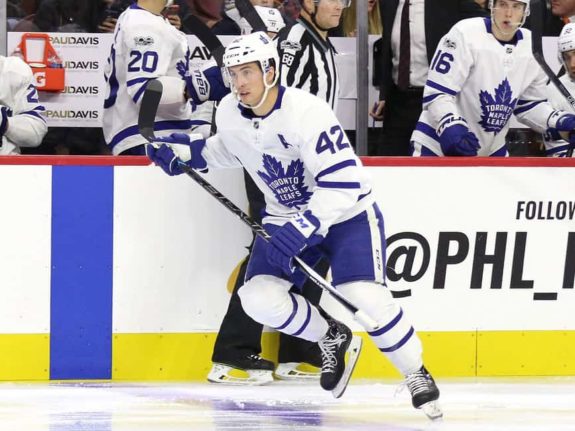 Everyone has a job to do and one of Bozak's was to win faceoffs. He was an eye-opening 57 percent in the faceoff circle, effective on the power play and even though he wasn't a star, he's performed well in the postseason the past two years.
Connor Brown – Performer
Connor Brown is someone who quietly does his job every shift, and the playoffs were no different. He wasn't flashy, but he was as hard-working as ever and was very reliable defensively throughout the series.
Brown is someone who could potentially add more of an offensive side to his game, but that wasn't what he was there for in the playoffs. He had three points in seven games, an even plus/minus rating and didn't take a single penalty throughout the series, which didn't give Boston's deadly power play any more chances to operate.
Zach Hyman – Performer
Especially in the first few games of the series, Hyman was one of the most effective Maple Leafs. When other forwards were completely invisible, he was retrieving pucks (to nobody's surprise) and driving more offence than we usually see from him.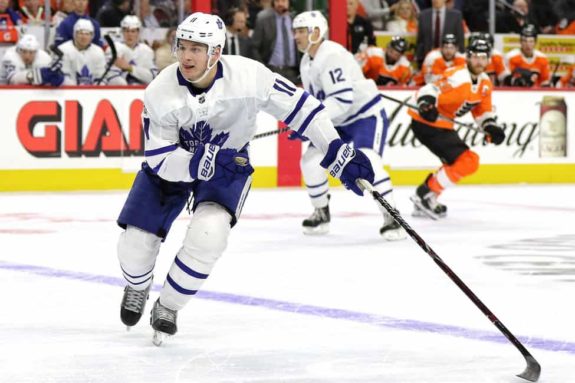 From the get-go of the series, Hyman was in the game and ready to play. Out of all the players on the team, apart from maybe only Mitch Marner, Hyman had the highest compete level of any Maple Leaf.
Andreas Johnsson – Performer
We really got to see what Johnsson was capable of when he was placed with Nazem Kadri and William Nylander. Since Johnsson was called up, he got the Kapanen treatment, essentially being placed on the fourth line where he couldn't drive a ton of offence with a defensive centre. But with his speed and skill, Johnsson fits well on the team.
He was one of only four players on the team with a positive plus/minus rating, and he gave Toronto's fourth line an edge over Boston's. His future in Toronto doesn't seem to be as a fourth-line player, but it was important to see that Johnsson can play on his own side of the puck as well.
Nazem Kadri – Disappointment
Nazem Kadri was a disappointment simply because he only played half the series as a result of his own doing. When he did play, he was decent and he helped to provide the ability to roll four lines that could all drive offence. He even showed some chemistry with Johnsson and Nylander.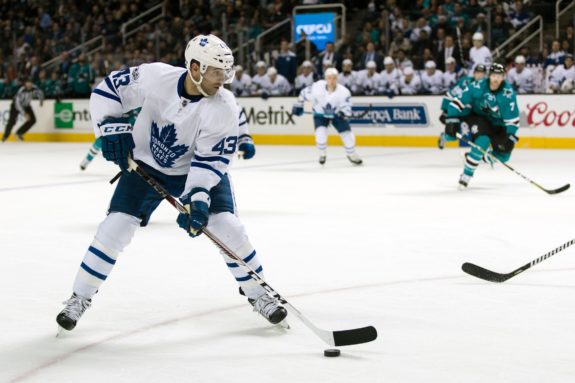 But the penalty that Kadri took in Game 1 was inexcusable. Say what you want about the hit on Marner before Kadri took his penalty, but Kadri deserved those three games, and his hit was blatant intent to injure. A second-line centre sitting out for half the series was a huge hit to the Maple Leafs, and you could notice the difference in depth when he wasn't playing.
Kasperi Kapanen – Somewhere in Between
Kapanen seemed to be all over the ice through the first three games of the series, but for the life of him just could not score. He was easily one of the most exciting players to watch at the beginning of the series. He became less noticeable as the games went on, but was still solid through the series in a limited role.
Kapanen's speed is on another level from most players, but he just needs to find a way to score on his chances in order to make a difference. He's right on the verge of a breakthrough, but unfortunately, his chances didn't result in any success and he didn't have a real impact, especially as the series wore on.
Patrick Marleau – Performer
The connection between Patrick Marleau and Marner benefitted the Maple Leafs tremendously throughout the back half of the season and continued into the playoffs. Marleau was creating scoring chances and was one of the most effective forwards through the course of the series for Toronto.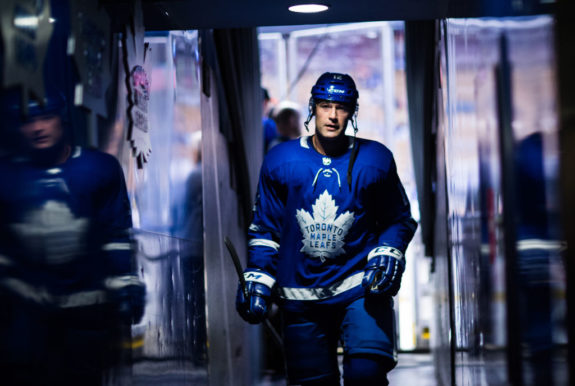 He's not the fastest player and usually wasn't the one carrying the puck into the zone, but Marleau was always in the right spot. Although he's not the star of the team, his consistency is matched by few others.
Mitch Marner – Performer
Mitch Marner in the 2018 playoffs was a whole new Mitch Marner. We knew he was very good, but in these playoffs he was exceptional. He was far and away Toronto's best player of the series and after being held pointless in game one, he had two goals and nine points in the final six games of the series.
If Marner can continue to perform on the level that he did finishing the season, he'll stray away from the constant linking with William Nylander and instead will be compared with the likes of Auston Matthews. Marner was nothing short of excellent in these playoffs.
Auston Matthews – Disappointment
Sometimes it's easy to forget that Auston Matthews is only 20 years old. He's been given the unfair task of putting the Maple Leafs on his back and being told to run with it. But come playoffs, your best players need to be your best players, and Matthews wasn't.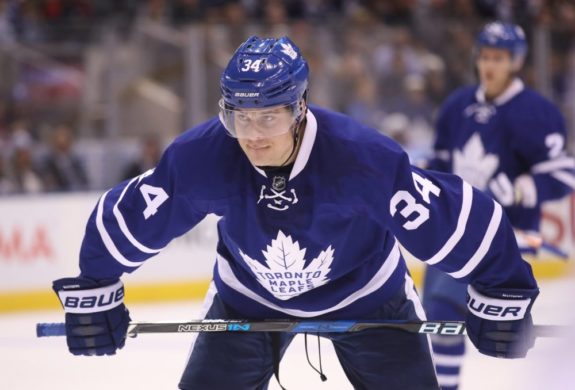 There's no arguing his talent, and any talk of him not being able to perform in the playoffs holds no weight to it. But Matthews didn't play up to what we expected from him. If he did, it really could have been a different series. Your franchise player can't end the series with a minus-4 rating and two points in seven games. He led the team in a landslide with a ridiculous 27 shots, but some of those shots just need to find their way in when it counts.
William Nylander – Disappointment
William Nylander may have disappointed more than any other player on the Maple Leafs in the first round. He turned it on in the last two games and looked great but it makes you wonder where on earth he was for the first five playoff games.
Nylander is a dynamic player, but was he ever out of it to start the series. He wasn't skating, wasn't passing well and wasn't carrying any of the play. He looked like he lacked confidence. This doesn't raise any doubts about Nylander's skill set, but his effort overall in the series was poor.
Tomas Plekanec – Performer
Tomas Plekanec underperformed since he came to Toronto. Fans were calling for him to be scratched—I was one of them. But from Game 3 onward, he played like a 2010 version of Tomas Plekanec and was extremely effective.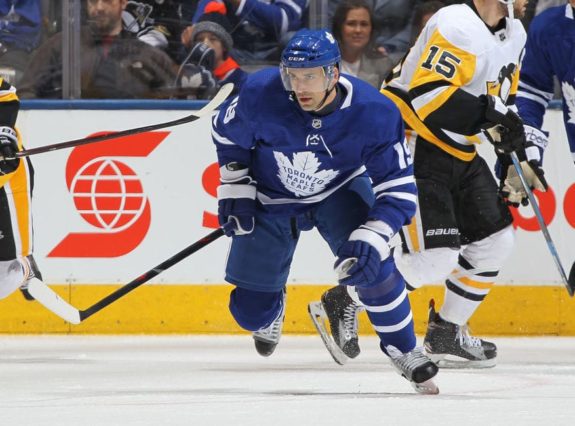 For sure, bumping him up to the second line to play with Marner, who was on a tear, and future Hall-of-Famer Patrick Marleau definitely helped. But nothing should be taken away from Plekanec. He had double the points in one playoff series with Toronto than he did in the regular season since coming to Toronto. He played well.
James van Riemsdyk – Somewhere in Between
James van Riemsdyk was a goal-scoring machine this season. But from someone who is expected to make a boatload of money in free agency, you kind of expect more. Sure, van Riemsdyk usually isn't the one to take the game over, but when he wants to play, he can really make an impact.
With van Riemsdyk, he didn't stand out from anyone else. He had his regular spot on the power play and scored three power-play goals. But at even strength, was he ever even noticeable? He has a reputation as a top player on Toronto, and even though they got the power play presence they expected, he wasn't a difference-maker.
Despite the early exit, many of Toronto's forwards did have a good series. The problem was that those who didn't have a good series happened to be many of the stars on the team. Matthews and Nylander didn't perform, Kadri made one very costly error and van Riemsdyk wasn't anything special either. This series served as a great experience for a young team, but if the Maple Leafs are going to have success in future, they'll need their best players to be their best players.