Yesterday, in my Toronto Maple Leafs' News edition column, I graded the Maple Leafs' playoff production and looked at three players who I felt showed up for the team. Those three were William Nylander, Jason Spezza, and goalie Jack Campbell. Today, I'd like to look at two players who I don't feel played as well as they should have.
Again, I don't want readers to be confused about where I'm coming from. I support the plans of the Maple Leafs' organization and I believe the Shanaplan is a logical and workable process for creating good organizational structure and a winning team. I also am a Kyle Dubas supporter and think head coach Sheldon Keefe is the right person to be the Maple Leafs' head coach.
Related: Maple Leafs' 2020-21 Are the Next Step in the Shanaplan
Still, the sad truth is that the Maple Leafs are out yet again during the 2020-21 playoffs. Yesterday, I offered notes about who I thought showed up on the ice for the Maple Leafs; today, I'll comment about who I thought wasn't there as powerfully as expected.
Auston Matthews: Playoff Grade C
Coming into the regular season, Austin Matthews did everything right. His new workout regime and diet turned him into nothing less than a lean, mean scoring machine. His preparation was faultless. In addition, throughout the regular season, he played with an injured wrist that limited his production – especially his ability to shoot the puck with power.
Still, he's grown into one of the elite NHL goal scorers in recent NHL history. He ran away with the Rocket Richard Trophy as the NHL's leading goal scorer, beating the Edmonton Oilers' Connor McDavid by eight goals (Matthews had 41 goals and McDavid had 33). Matthews looked unstoppable. At least during the regular season.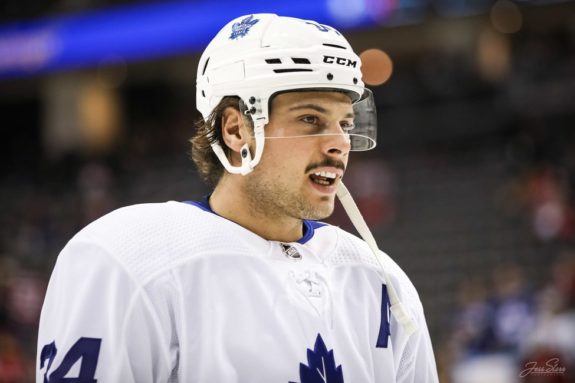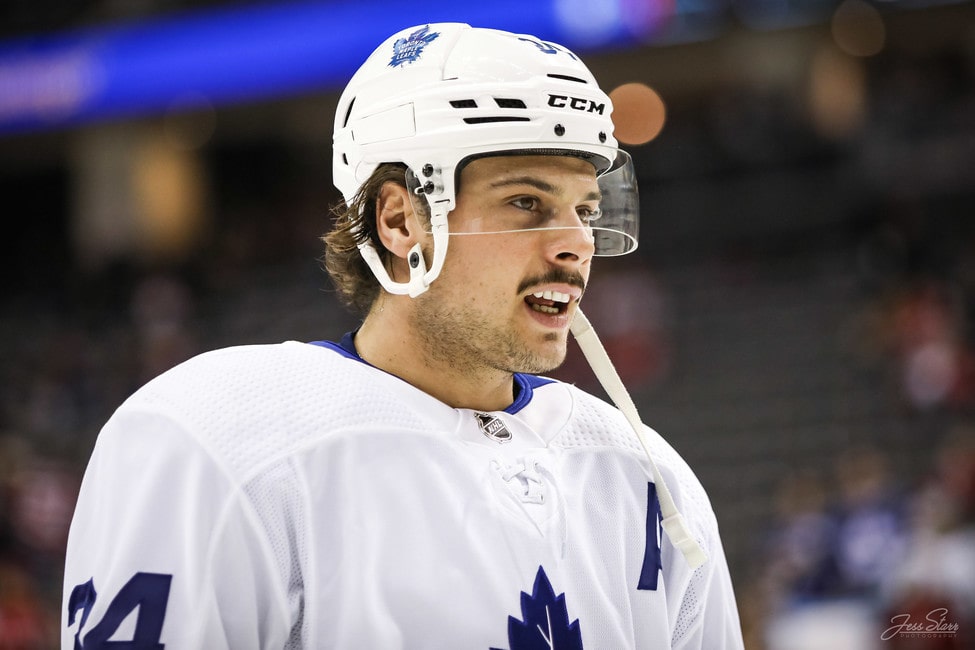 Then came the playoffs. Matthews worked diligently. During Game 2 he scored his only goal and for the seven-game series had also added four assists. The 23-year-old Matthews added 35 shots on net, racked up 25 hits, and ended with a plus-1 rating.
Still only one of his 35 shots passed the goal line, and he shot more times on goal than any other player on either team. However, the shots simply wouldn't go in; and, only lots of film study during the offseason will show why.
Related: Top 5 Greatest Stanley Cup Playoff Upsets
Certainly, part of the issue was that coach Keefe loaded both Matthews and his partner Mitch Marner with ice time. They played a lot; too much I believe. From what I read, playoff hockey is both physically and mentally exhausting. By the time it came to Game 7, Matthews looked tired. For how strong he was and how good his physical shape had become, he had nothing left.
You'll get no argument from me that Matthews is one of the top five NHL players currently playing. And, for as much of a team leader as he's becoming, he simply didn't perform to anyone's expectations during this playoff series. Any other Maple Leafs' player who ended with five points in seven games might have been credited as having a good playoff series; however, the expectations on Matthews – right or wrong – are much higher. Truthfully, I think he craves that role as a team leader. Now what he does is the question.
If the Maple Leafs are going to take the next step, and it will have to be next season now, it will be up to Matthews to lead the way. The bottom line in this playoff series is that he failed to find a way to do so.
Mitch Marner: Playoff Grade C-
On May 17, I wrote a post titled "Maple Leafs' 2020-21 Season Saw a Mitch Marner Transformation," and I described my belief that Marner had played his way back into the hearts of the Maple Leafs' fans this regular season after the protracted and contentious holdout his agent had engaged with the organization over salary and term. I might have written too quickly.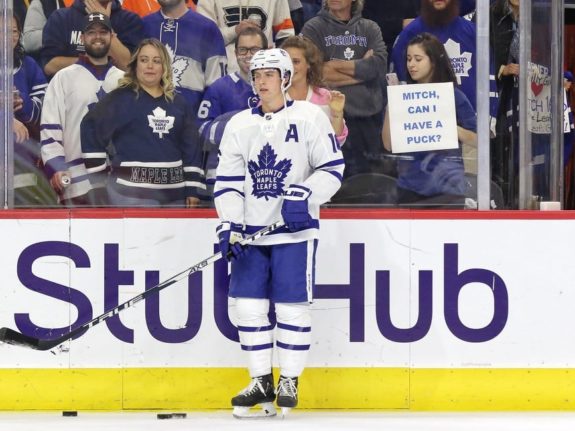 As I've been reading the various posts and especially the comments' sections of those posts, it's pretty clear Marner has become the number one focus of fans' ire after his unsuccessful playoff series. Of all the Maple Leafs' players, Marner was seen as the team's most disappointing player. Furthermore, fans remind us that it was for the second year in a row.
The truth is that his play didn't cut it – at least on offense; and, that's not good enough. He hasn't scored a goal in 18 playoff games. Never noted for having a great NHL shot, his partnership with Matthews flourished because it played to Marner's obvious strengths – his on-ice vision, his hockey IQ, and their great chemistry.
Related: Jets Need Solid Goaltending, Overtime Success & Elite Ehlers in Round 2
But to my eyes, Marner seemed to play small and scared. He lacked the creativity of the regular season, where he looked confident and skilled. He had too many turnovers and made way too many on-ice errors. Although Marner's job is not to score goals, that he couldn't score at least one during the playoffs when he had scored 20 during the regular season says something.
Add to that the fact that he didn't rack up many assists also says more. It obviously didn't help that Zach Hyman wasn't playing at 100%, but I thought Marner felt the pressure. He looked frustrated and confounded. That isn't the Marner I've come to know during the years I've covered the team. In the end, he hasn't proved his regular-season ability can translate into impactful playoff success.
All that said, I believe Marner's smart, skilled, and will succeed. He's only 24 years old. I also believe he has a great bonus other players don't have – Matthews. I believe their chemistry can translate into playoff success. I will not be among those calling for his head on the trade block.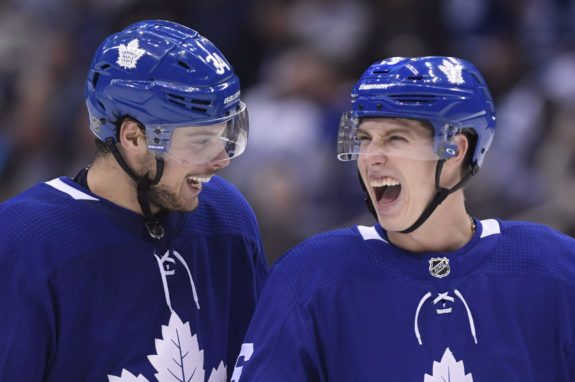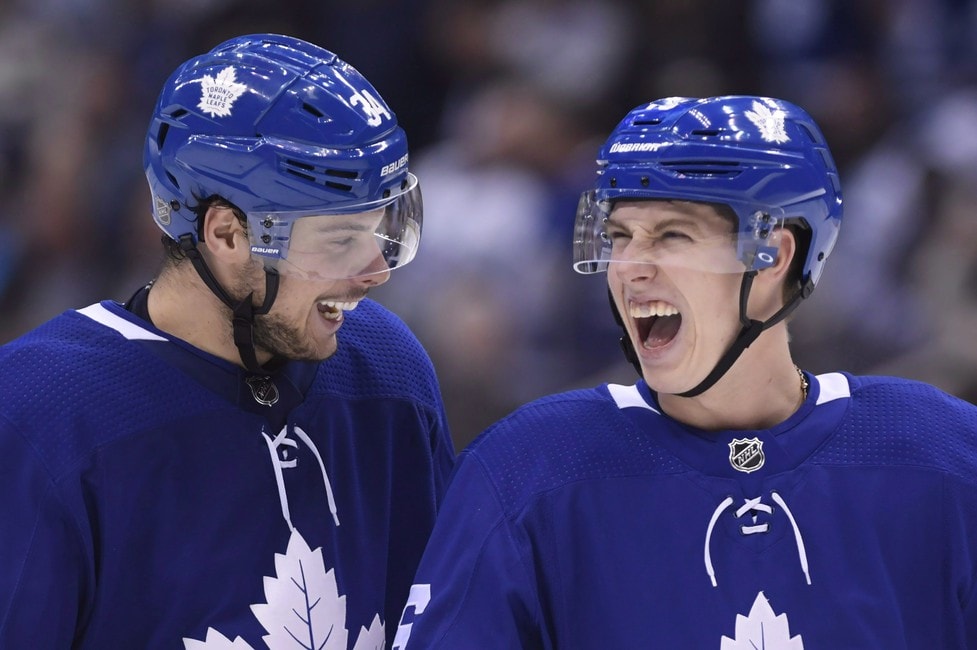 He might never become the heart and soul of this team, but he could become the brains. He can lead the breakout; he can control the power play; he can play great defense; and, he can help Matthews become an elite scoring machine over their next few seasons. But he needs to do that during the playoffs, and he hasn't.
What to Do with Matthews and Marner?
Really, no one is calling for Matthews to be moved. That isn't the same for Marner. What does the organization do with Marner? Fans are calling for his exit. Is he now only valuable as a cap-space bonanza?
So, forgive me Marner fans. To my mind, he didn't play as well as he needed to during these playoffs. Also, forgive me Marner haters. I don't think he should be traded. Finally, forgive me those who believe the line of Matthews and Marner should be split up.
Related: Toronto Maple Leafs Should Let Mitch Marner Sit for 2019-20 Season
Marner and Matthews should stay together. But now the work begins: both young players (Matthews 23 and Marner 24) need to spend considerable time together with the Maple Leafs' coaching staff watching film, planning strategies, and habituating mental attitudes and muscle memory of the ways they should play together on the ice both during the regular season and during the playoffs.
No doubt they work on these areas already; however, to be successful during the playoff's and to lead their team to the Stanley Cup, they need to do it more. And they need to start soon.