September has officially arrived and this means that the NHL hockey season is slowly inching closer. Before the season can officially begin in October, however, numerous changes still need to happen. Some teams are still in cap crunches and are waiting to sign key members to new contracts. Other players remain free agents who continue to seek a new team to play for.
The Toronto Maple Leafs, while not being in the news for anything recently, still have numerous questions that need to be answered before the season starts. In order to tap into those questions, I turned to the fans through social media to see what burning issues they had about the Blue and White.
Question 1: Do you think the Leafs need to assign a new captain or stick with Phaneuf? – Gagandeep Singh Sohi via Facebook
This is a question that Leaf fans have been asking for a long time. Dion Phaneuf has been a polarizing figure in Toronto for many years. There are two ways of looking at this scenario. Phaneuf sometimes makes mistakes while on the ice. Whether he steps up for a hit at an inopportune time or gets beat wide with speed, the mistakes are glaring and are not easily forgiven.
On the other hand, Phaneuf is a good NHL defenseman and currently is the best the Leafs have on the back end. You could easily make the argument that he is mismanaged in his role and would be more effective in a slightly lower pairing and with less minutes every night. Unfortunately, the Leafs don't have a player ready to step up and fill that void yet.
The Leafs should stick with Phaneuf as captain for this season for one important reason. Mike Babcock, the new head coach of the Buds, will get a chance to work and mould him into a better player. The former Flame needs a fresh start and a new coaching approach could light a fire and give him a much needed shot of confidence. It's an avenue worth exploring for the Leafs.
Question 2: What do you think of the goaltending situation? – Rich Booton via Facebook
This is an excellent question. The Maple Leafs have been riding between the goaltending of Jonathan Bernier and James Reimer in recent years. Bernier, the Leafs default number one netminder, didn't have the greatest season last year. That can also be attributed to him playing behind a porous Leafs defense.
Bernier was signed to a new contract this off-season that will see him earn $4.15 million for the next two years. He is the number one goalie for the Leafs for at least the next couple of years. There is also the addition of new goaltending coach Steve Briere. The idea is that a fresh face and perspective will get Reimer to add more consistency to his game while also trying to elevate Bernier back to his winning ways on his first season with the Buds.
Question 3:
@FuscoNation16 if everything goes according to plan, then realistically how long do you think until the Leafs are contenders again?

— Аlex Hobson (@HobsonA16) September 1, 2015
This is a question that many Leaf fans are eagerly awaiting an answer for. It's also one of the most difficult questions to answer at this point. Much like Brendan Shanahan, I'm going to avoid giving a hard number of years for the Leafs to be good again. Instead, I'm going to look at the organizational changes the team has made.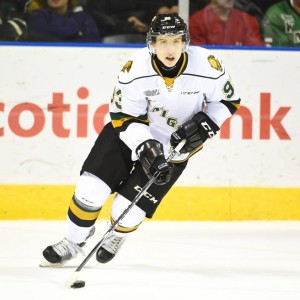 With the addition of Lou Lamoriello to a front office staff that already includes Mark Hunter, Kyle Dubas and Brendan Shanahan, the Maple Leafs have arguably one of the strongest management teams in the NHL today. Add in Babcock and the recently hired Jacques Lemaire, and the coaching staff looks pretty solid, as well.
The Buds are now drafting and developing skilled players. Gone are the days of intimidation and truculence. Now, it's all about speed and skill. The most recent draft proves exactly that with the key addition of Mitch Marner officially ushering in that era.
It finally looks like the Leafs are on the right track. They will no longer be rushing young players into the league, everyone will be held accountable for their actions on and off the ice, and the management and coaching staff are committed to seeing the bigger picture and creating a winning culture built on patience and smart decisions.
The Maple Leafs are trending in the right direction. I don't know exactly how long it will take them to be competitive again, but with all the changes they have recently, they are well on their way.
My name is Anthony Fusco. Through school, I completed a joint degree involving an Honours B.A. in Journalism from Wilfrid Laurier University and a Videography and Broadcasting degree through Conestoga College.
I currently work for the University of Toronto as a Varsity Sports Announcer and for the Toronto Maple Leafs as part of their game presentation squad.
I'm also the play by play voice of the Kelowna Falcons, a baseball team located in British Columbia.
My goal is to one day be a hockey broadcaster.