Let's start off with the good news. It's now September which means training camps are about to begin, and in just a few short weeks hockey will finally make its way back onto our televisions.
That's about it in terms of good hockey news in Vancouver. Expectations haven't been this low for Canuck fans in quite some time. On TSN 1040, Jason Botchford labelled this upcoming season as the least-anticipated in Vancouver since 1999. The offseason in Vancouver was filled with scrutiny and uncertainty, and all of the head-scratching has led to many pegging the Canucks to be one of the worst teams in the league.
An offseason full of questionable moves has fueled the negativity in Vancouver. It's hard to preach optimism when you trade your best goalie for far below market value, ship away three more young players (Nick Bonino, Adam Clendening, Zack Kassian) for a fourth-line grinder and a third-line centre.
Then, while you're starting to see the positivity in Benning's moves, he signs Brandon Sutter to a five-year extension, making him the fourth-highest paid forward on the Canucks roster before he even plays a game for the club. So much for the wait and see approach.
Of course it's only September and there are no guarantees at this time of year. Regardless, the Canucks are under pressure to compete against an improved division (and conference for that matter) to silence the critics. After Benning's moves, there are three Canucks who are going to face more pressure than the rest of the team once the puck drops in October.
Ryan Miller
October is nothing but a distant memory for fans once the season ends, which doesn't bode well for Ryan Miller. He played some great stretches for the Canucks last year, which included winning ten of his first 11 games with his new team last October. There was also his career best 200-minute shutout streak he posted during a road trip in January as well.
However consistency was an issue for Miller, and by the end of the season it was clear that Eddie Lack was the better goaltender. Lack posted a better goals-against-average and save percentage than Miller, and helped carry the team into the playoffs while Miller was injured. Miller must have a solid start to the season to help fans forget about fan-favourite Eddie Lack.
The Lack trade has put even more pressure on Miller to succeed this season. At 35 years-old, it is a stiff challenge for the native of East Lansing, Michigan, especially behind a Canucks defence that is far from intimidating. He also had Lack as a solid 1B option last year, but that cushion won't be there for Miller this season. He has to be ready to hold down the fort, since backup goalie Jacob Markstrom remains a question mark on the roster.
Yannick Weber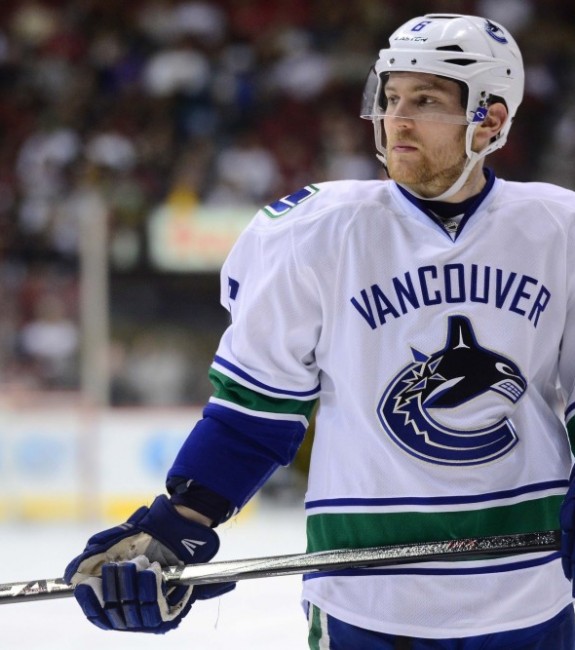 Yannick Weber was nothing but a depth option for the Canucks last season, but his role on the team will be much different this year. Weber enjoyed a breakout campaign where he led the Canucks defence in goals despite only suiting up in 65 games. It was a much better season for Weber compared to his first with the Canucks in 2013-14, where John Tortorella often put him on the fourth-line instead of on the back-end.
He was rewarded with a one-year, $1.5 million deal by Benning this offseason which looks like a "prove it" contract for Weber. Instead of being a depth option this year, Weber will likely be relied on as a top-four defender for the Canucks. As of now, it looks like Weber will end up on the second-pairing with defenceman Dan Hamhuis.
While his offensive prowess is needed on the Canucks back-end, his defensive game has some question marks. In the Canucks first round series against Calgary, Weber often looked lost, posting no points and a minus five on route to the Canucks defeat. He has a huge opportunity to succeed in Vancouver, but he still has a long ways to go to prove that he deserves a spot in the top-four.
Brandon Sutter
Brandon Sutter should be under more pressure than any Canuck despite the fact that he hasn't even played a game for the team yet. There aren't many people who share Benning's view of Sutter as a "foundation piece" for the organization, yet somehow he earned a five-year extension and is slotted in a top-six role for the organization.
Brandon Sutter is 26 and has never had positive possession numbers in any of his 7 years in the NHL – but sure, he's a 'foundation piece'

— Gregory Balloch (@GregBalloch) July 28, 2015
There are some who absolutely loved the trade for the Canucks, but it's a valid questions whether the Canucks overpaid for the 26 year-old. He did score more goals than Nick Bonino last year, but registered fewer points, had worse possession numbers and on top of that is earning more money than Bonino.
Many expected Bo Horvat to get a shot on the second line for the Canucks this upcoming season. While it will likely happen at some point this season, Benning's unfathomable faith in Sutter makes it likely that he will get the first opportunity there. It's comforting to have someone with more experience to ease the pressure on the 20 year-old Horvat, but it wouldn't be an overwhelming surprise if Horvat outperforms Sutter this season.
With an increased role comes increased responsibility, and there are still plenty of question marks surrounding Sutter and if he will be able to live up to Benning's praise. After he was acquired in a questionable trade followed by a puzzling extension, Sutter is under more pressure than any Canuck to succeed this season.
KPU Journalism Graduate. Trevor has been writing for The Hockey Writers since October 2014. He has contributed articles related to the Ottawa Senators, Vancouver Canucks, and other issues/stories regarding the game of hockey. Trevor currently lives in White Rock, B.C.