The 2014-15 NHL regular season was, in part, as much a race to the bottom as it was to the top. With Connor McDavid in the offing and Jack Eichel perhaps the best consultation prize in the history of the world, last year the Stanley Cup wasn't the only prize up for grabs in the NHL.
While there  is no player on that level available in next year's draft, the #1 overall pick is still something to look forward to if you happen to cheer for a team whose playoff chances seem remote, even in August. Next year's #1 pick, most likely to be American Auston Matthews, is already exciting people.
Matthews, born Sept. 17, 1997, missed the cut for the 2015 Draft by two days. If he was eligible, most scouts believe he'd be among the top five selections along with Erie Otters captain Connor McDavid and Eichel, in the first round on June 26 – NHL.Com
When you consider that there are studies that show that you have a much better chance of being drafted high if you're born early in the year, a kid who'd go top five when he's not even eligible is something to be pay attention to – especially when that means one of Mitch Marner, Dylan Strome or Noah Hanifin would have been pushed out to accommodate him.
So who has the inside shot at Auston Matthews?  Let's take a look and see if we can't give some  unfortunate fans something to cheer about.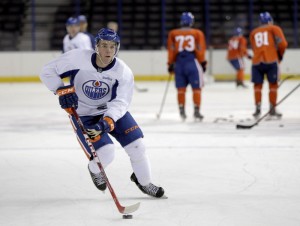 Edmonton Oilers and Buffalo Sabres
Not happening. The Oilers will be adding a legit goalie, a revamped defense and Connor McDavid to their lineup. While some people are hesitant,  I guarantee they'll make the playoffs.
That's a guarantee and it's in writing. 100% money back. Void in Tennessee.
As for the Sabres, I'm almost as bullish, but their defense relies on a (very good) second-year player in Rasmus Ristolainen, Zack Bogosian being better than he has been, the health of Carlos Colaiacovo and hopefully a couple of solid rookies.
Still, the fact that they can dress Ryan O'Reilly, Jack Eichel and Sam Reinhart down the middle (even if two of them are rookies) means they'll likely never finish in the basement again this decade. Can they make the Playoffs? Sure if they shore up that D, but they ain't finishing last again, that is for sure.
Toronto Maple Leafs
The Leafs made sure to avoid the suggestions of tanking by bringing a host of cheap, potentially tradable UFAs on one-year deals, but they are still going to be a very bad hockey team.
Barring a training camp explosion that forces them to dress Nylander or Marner, the team is going to have trouble winning games because as good as Winnik, Arcobello and Paranteau are at possessing the puck, the Leafs are going to have a terrible time without any high-end forward talent besides Kadri. (Who I might add is superior in every way at even-strength to JVR).
Their team just isn't different enough from last year's to be effective and their team defense – if they are still dressing Tyler Bozak, Polak and Robidas – isn't going to magically get better no matter what Babcock can do.
While they have the potential to dress a lineup that might be better than last year (Rielly as the #1, Gardiner as #2, Dion as #3, Hunwick and Marincin at 4/5 and Brennan/Percy/Harrington at the #6 and Kadri-Holland-Mattias down the middle) they are still holding to quite a few duds who will prevent them from even dressing their best lineup.
Good odds to finish last, sorry to say.
Arizona Coyotes 
Like the Leafs, the Coyotes have some decent parts but are (outside of Oliver Ekman-Larsson) deeply out-gunned in terms of high-end NHL players and the rest of the league. Nearly all their offensive talent will come from rookies (Domi, Strome, Duclair) or players who've so far been disappointments in their NHL careers (Hanzal, Boedker).
Much like they Leafs, they have some pieces to make them potentially surprisingly competitive. However, if your chance to be competitive is based on potential and surprise, you have to be at least even odds to finish in the basement.
Interesting aside: Auston Matthews is from Arizona.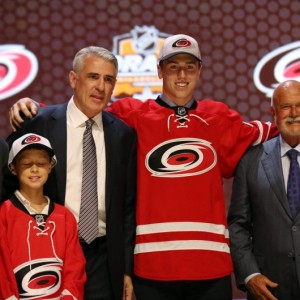 Carolina Hurricanes
A popular pick for last-place among the cats I know, the Hurricanes will, I predict, be better than anyone believes.
First of all, Eric Staal, Jordan Staal and Jeff Skinner offer more elite talent than any of the teams also in contention for the basement.
Secondly, a defense of Justin Faulk (23) Ryan Murphy (22) Noah Hanifin (18) and Haydn Fleury (19) is going to be scary-good one day. It's hard to say how many of them will be in the NHL this fall (outside the obvious inclusion of Faulk) but they also have James Wisniewski, and solid possession players J.M Liles and Ron Hainsey.  No matter how the roster shakes up, I think the Carolina Hurricanes will have too good of a defense to finish last.
Also, I like the addition of Eddie Lack and think that with healthy years from J.Staal and Skinner they might be a surprise Playoff team.
Vancouver Canucks
Their two best players will be 35 by the time the season starts. Their next best centres are Brandons Sutter and Prust. They lost the underrated and effective Mathias, Richardson and Bonino.
Edler is three years removed from his 49 point season, Dan Hamuis will turn 33 this season. Ryan Miller is 35.
Outside of Chris Tanev, Bo Horvat and Jake Virtanen, I don't see a whole lot to like about this team and they are – in my opinion – as good a bet for last place as Arizona or Toronto.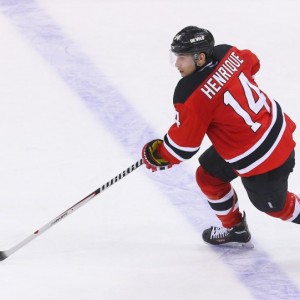 New Jersey Devils
They seem to me to be the worst team in the NHL on defense and forward, but the Devils are rocking by far the best goalie of anyone on this list, so I don't know if I can see them finishing in the basement.
To my mind, Corey Schneider seems like the next goalie to join the Price-Lundqvist-Luongo stratosphere of goalies who can perform well consistently, even on bad teams.
Conclusion:
The odds are good the team that finishes last isn't even on this list – you just never know what team will fall on their face or be unable to overcome an injury to a key player, but with the information at hand today, August 4th 2015, I predict the bottom of the league will look like this:
30. Vancouver Canucks
29. Toronto Maple Leafs
28. Arizona Coyotes
Making them the mostly likely winners of the grand prize of 2016 loserdom, American Phenom Auston Matthews.
Thanks for reading.