Every week, people take the time to write letters to the Toronto Star about the Leafs. I assume these are handwritten and sent in from people who follow the Leafs from their Y2K bunkers, but I don't really know. What I do know is that with the mandate of newspaper like the Star to reach as many people as possible, the questions are often even better than listening to a radio call-in show, and since no one writes me any letters, I like to steal Kevin McGran's mailbag and answer his questions – an idea I also stole (from my favorite Blue Jays writer, Andrew Stoeten).
Part of the fun of hijacking a mailbag is to get two perspectives from two different people on the same topics (McGran is probably a lot nicer) so don't forget to read the original here or check out the last volume here. 
On to it.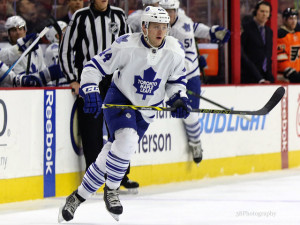 QUESTION:No doubt Mike Babcock is first on everyone's list, but he's a long shot. Who are the legit second choices out there? Who might be out of a job after the season and playoffs are over? Todd McLellan is an obvious choice but is his track record with the Sharks and the playoffs too much baggage. Not to mention a Ron Wilson redux.
ANSWER: I don't want anything to do with McLellan.  A coach who thinks Brent Burns should play at forward? A coach who coaches the only team in hockey more dysfunctional than the Leafs? I'll take a hard pass on that guy, thanks.  Look, if the Leafs can't get Babcock, how about developing their own Babcock? It has literally never worked when they hire all-star coaches from other teams. The team is going to be bad for the next two seasons, at least, and so does it really matter who the coach is?  I say give Peter Horacek the reigns full time.  Failing that, I'd hire Dallas Eakins.  Hockey teams just like to recycle the same ten guys all the time and the Leafs really need to resist the urge to hire some name-brand coach just to look good.  Young team, young coach.
QUESTION:Hi Kevin Jimmy. 
Just wondering if you know if the Leafs decision to draft Tyler Biggs and Brad Ross was made by Brian Burke against the advice of the scouting department. As you know they were both 1st and 2nd picks in their draft years. And they also cost us assets as a 2nd rounder was traded to move up to get Biggs,and Jimmy Hayes was traded to get Ross. And it looks like Hayes is developing into a decent NHL player. Meanwhile on the last review of Leaf Prospect report that I read these 2 were placed in the lowest section of the ratings. These 2 stand out for me because Burke praised Biggs as a guy who hits everything and Ross was on agitator. It seems that Burke overlooked the fact that they might not ever reach an acceptable NHL skill level. In their case maybe not even AHL level. This wasting of high level draft picks has to be one of their worst problems. I wonder about the scouts but I know if the boss overrules your advice you have to back his decision at the time. Any way just wondering. Oh by the way let me drop the name of another totally wasted 2nd round pick by the name of Kenny Ryan. Another one on Burke's record.
Answer:  I have no idea if picking those guys went against the scouts. If they did, who cares? It's not like scouting is an exact science. What I do know is that Brian Burke's time in Toronto was an unmitigated disaster, and that his successor, Dave Nonis, was  somehow worse.  I agree that drafting useless grinders with first round picks is one of the worst things you can do, draft-wise.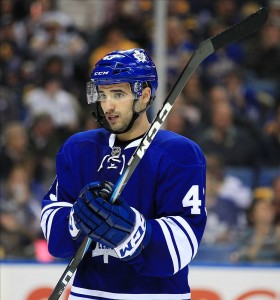 QUESTION: Kevin Jimmy, I enjoy your Kevin's column regularly.
My question is, based on your knowledge or the knowledge of your contacts, where would William Nylander likely be ranked in this year's draft ?
Top 10? Top 20? Out of the first round?
ANSWER: How could anyone possibly know the answer to this silly question? No one who watches enough NHL to write about it could possibly also watch enough Junior hockey to give a realistic answer. Personally, I think Nylander is going to be an awesome NHL player and I don't care how he'd do in this year's draft.  He was probably a steal at 8th last year though.
QUESTION: Ron here from St. John's NL. I do not remember 1967 so for 48 years now all I've ever seen is a losing team. How many times since 1970 have the Leafs missed the playoffs? My guess is 35. I have considered myself as the Leafs best fan with all the REASONS for missing. I got every reason in my book used up. I threw it in the woodstove the other day.
ANSWER: You're wasting my time Ron. I wish I could know if you wrote this letter in crayon. I guess I'll never know.
QUESTION: Hi Kevin Jimmy,
Enjoyed your Kevin's article today. Can you stand one more suggestion for the draft?
QUESTION: Hi Kevin Jimmy,
I love your Kevin's idea of a draft position playoff. Best solution I've heard yet regarding tanking. I wonder if I can ask a few minutes of you time for my proposal to eliminate the 2 or 3 point game.
Let's make every game worth six points. Win it in regulation, you get all 6. Win it OT, you get 5, loser gets 1. Win the shootout, 4 for you, 2 for them.
You'd still be able to make historical comparison by simply dividing point totals by 3. I know it will never happen, but I'd really love to see all games worth the same amount of points.
ANSWER: Dear Allan,
I am sure you're a nice guy, but six point games is the worst suggestion I have ever heard.  Eventually, the NHL will go to games that are all worth three points, but probably not anytime soon.  As for tanking, who cares? A playoff of loser teams to fight for a draft pick? Who would ever watch that, and why would players risk injury or play more games than they have to? I mean, they just suffered through an 82 game grind and now you want them to play exhibition games to find out who drafts where? I take it back Al, the six point game is a better idea than that.
If teams decide to try to get last rather than wasting their season to pick tenth and still miss the Playoffs, who cares? I don't see why anyone, ever, would care at all about whether or not a team is trying to lose on purpose. It has it's own drawbacks and I don't think one single thing needs to be done to try and prevent it.
The last question was brutal. It had something to do with skeletons, so I cut it. 
Thanks for reading.
Covering the Leafs for the Hockey Writers.