Toronto Maple Leafs winger Matt Martin was scratched late last week against the Carolina Hurricanes. It was the first time he's been out of the lineup when healthy (he missed one game last season due to injury) since he arrived in Toronto in the summer of 2016. In fact, it was his first time being scratched in the entirety of his 500-plus game National Hockey League career.
Even though he played the next game, and even though he's only in the second year of a four-year, $10 million contract, I can't help but think that this yo-yoing in and out of the lineup is the start of a trend for the 28-year-old Martin.
Matt Martin Stretching His Skillset
Martin made his name with the New York Islanders, playing alongside Cal Clutterbuck and Casey Cizikas on a crashing, banging, thoroughly annoying energy line. The trio made life absolutely miserable for their opponents, and could chip in on the scoresheet every now and again, too. It was a line that would probably still be together today, had Martin not looked north during free agency.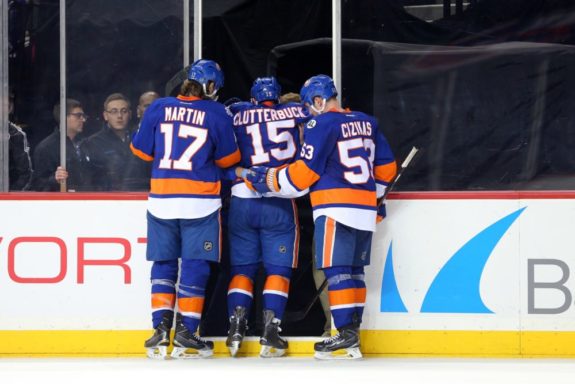 The Leafs have built their lineup on speed and skill, with the majority of parts – within the forward corps, at least – reasonably interchangeable. Sure, they can bring energy and annoyance with the best of them. But their more pestilent players, such as Leo Komarov, Nazem Kadri and Nikita Soshnikov, also bring a constant threat of offense, as well as the ability to play on special teams.
This versatility provides head coach Mike Babcock with near-infinite combinations for his forward group, allowing him to shuffle lines at will (Martin even found himself playing alongside Auston Matthews and Mitch Marner, something he says he enjoyed).
It's not necessarily that Martin's style doesn't fit the Leafs' forward corps; it's just that he simply isn't as versatile as their other options.
Martin's Contract Conditions
When Martin signed with the Leafs, his contract raised more than a few eyebrows. After all, four years is a long time to give to a player who makes his living crashing and banging, with an occasional sprinkling of fisticuffs.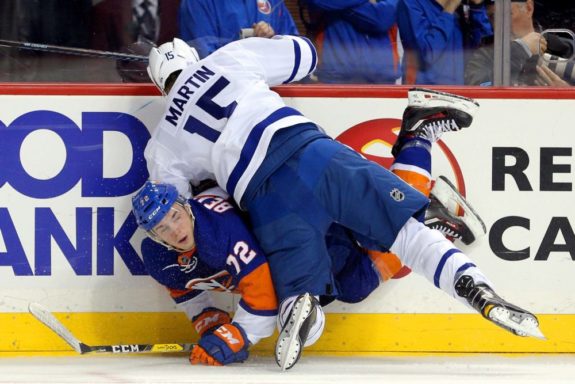 That said, Martin has been remarkably healthy in his seven-plus seasons, playing less than 78 games only once, in 2010-11 (he played all 48 in lockout-shortened 2012-13). Still, his style of play is one that tends to break down those who employ it.
And at an eye-watering $2.5 million per season? You can forgive fans for thinking the team's money could have been better spent. Plus, the team used a protection slot on Martin for this past offseason's expansion draft. Assuming his role either stays the same or begins to decrease, it's only natural for these complaints to be amplified.
Obviously, the Leafs felt they could benefit from what Martin brings to the table, not only with his play on the ice – causing a ruckus and sticking up for teammates, while generally not looking too out of place (check out his no-look, between-the-legs setup below) – but also his mentorship off it. I believe that's why Martin was given so much money and for so long.
I also believe it would have been clearly explained to Martin during negotiations what his role would be with the Leafs, both at the present time and moving forward. I don't think it's unreasonable to suggest, whether it was explicitly stated or merely implied (given the organisation's tremendous depth on the wing), that Martin knew this day might come.
Perhaps it came a bit sooner than expected – the Leafs far outperformed expectations last season and have an ever-growing cadre of talent in the American Hockey League, but expected it should have been, if not for Martin then surely to those advising him.
Future With the Leafs
Will Martin's contract ever seriously hamstring the Leafs? Probably not. The salary cap is predicted to go up significantly and, assuming the Leafs get their young talent locked in before wages inflate across the board, they should be in good shape in the years to come.
If NHL revenues are as robust as Bettman said today, the salary cap will go way up next summer. Plausibly $80- to $82-million. Pretty interesting.

— James Mirtle (@mirtle) November 18, 2017
As for Martin himself, this experience, though undoubtedly frustrating, might actually be beneficial to his career. Playing alongside such skilled players, he will have every opportunity to look good, and his leadership role and team-playerosity will boost his reputation. He also has a very good shot at winning the Stanley Cup.
And when his contract is over? He'll only be 31 and is almost sure to be snapped up by somebody else. Even as players of his ilk are becoming fewer in number, NHL teams will no doubt consider the entirety of his role with the Leafs, and be eager to sign such a dutiful and well-respected player.
And why wouldn't they be? Martin is a lot of fun to watch and his rough-and-tumble style would fit in nicely on a number of teams.
Martin's Revised Role
Martin might not be the most versatile on the ice, but the combination of his on-ice play and off-ice impact make him a valuable piece of his team. Plus, when his playing days are over, his work with young players should stand him in good stead if he wants a post-playing career job in hockey, à la Stephane Robidas.
As unfortunate as it is for him to be scratched every now and again – even more so if these scratches increase in frequency, one would have to imagine he knew this was a possibility and signed with the Leafs anyway.
Clearly, Matt Martin wants to be a Toronto Maple Leaf, no matter what it might entail. That's not always something that's been easy for the Leafs – or Babcock, for that matter. Whatever changes may come (or continue) with regards to his role, both he and the team are no doubt prepared for any eventuality.