In this edition of Toronto Maple Leafs News & Rumors, I take a look at Auston Matthews' support for Movember. As well, I'll look at some of the younger Maple Leafs players who are playing in Europe.
Related: Toronto Maple Leafs' Auston Matthews Is Undergoing a Transformation
Finally, I'll look at how the team's revamped group of forwards impacts both the Maple Leafs and the organization's AHL-affiliate Toronto Marlies.
Item One: Auston Matthews Will Shave off His Mustache for Movember
Liking Auston Matthews is one thing: liking his mustache is another. However, like his mustache or not, Matthews posted a video on the Movember Canada Twitter page and his Instagram account announcing that he would shave it off on one condition. The public has to help him raise $134,000 for Movember.
Matthews obviously knows how his facial hair is perceived and was winking inside when he said in the post: "Some of you love it, some of you hate it. I'm only willing to shave it off but only for a good cause."
He added, "Your donation will help Movember improve the lives of men. The fate of this incredible mustache is now in your very capable hands."
Good for Matthews. He'll obviously reach his goal. Almost $4,000 was raised for the Movember cause less than two hours after the announcement.
Item Two: Maple Leafs Prospect Rodion Amirov Scores Three Goals at the Karjala Cup
In last week's Karjala Cup, which turned out to be a very odd tournament held in Finland, Maple Leafs prospect Rodion Amirov led all goal scorers with three goals in the three games his team played. The Karjala Cup Tournament is an annual hockey event held in Finland and is sponsored by Karjala beer.
What made the tournament so odd in my opinion was that the Russians sent their Under-20 team to play older professionals from the other three countries who came – the Czech Republic, Finland, and Sweden. The young Russians easily won the tournament, and Amirov scored in each game as well as in a shootout win over Sweden.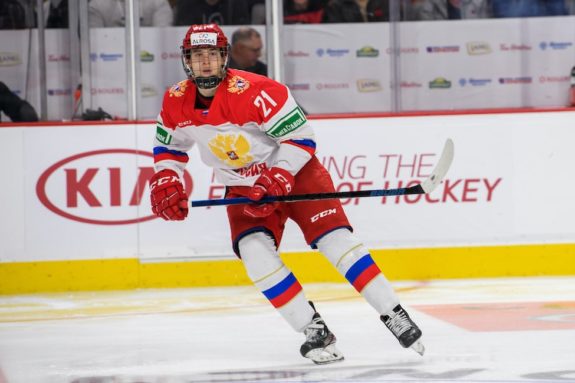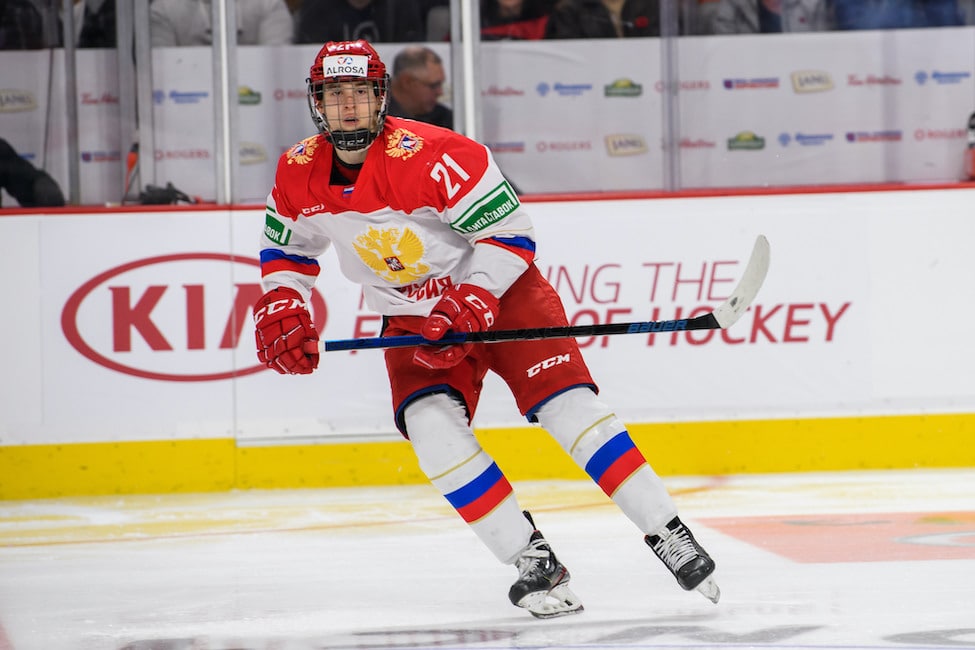 That's good news for Maple Leafs fans. At 6-foot and 165 pounds, the 19-year-old Amirov was probably the best skater on the ice during the Karjala Cup. He might be a young player to watch when he comes to North America.
Item Three: Denis Malgin Lighting It Up in Switzerland
Denis Malgin might not be able to score with the Maple Leafs but put him on his home ice in Switzerland and he shines. The 23-year-old Malgin played eight games for the Maple Leafs after coming from the Florida Panthers and didn't score a point. But, he's off to a great start in the Swiss National League. So far in eight games playing with Lausanne HC, he's racked up six goals and nine points.
Related: Bobby Orr Caps Off Hall-of-Fame Career
Malgin signed a one-year contract with the team in early October and might be one of a large number of bottom-six forwards who shuffle in and out of the lineup. That said, everything Malgin says suggests that he's willing to contest for a spot.
Recently, he told NHL.com that: "It's a good chance for me because I feel a year more mature. We'll see what comes out in the end, but I'm ready to fight for a place and I will do anything for it." (from "Amirov lights up Karjala Cup as Leafs first-rounder named best forward in tournament," Terry Koshan, Toronto Sun, 10/11/20).
Item Four: Filip Hallander Is also Scoring in Sweden
Filip Hallander is playing well with Lulea HF of the Swedish Hockey League. To date, he's totaled five points in nine games (a goal and four assists). The 20-year-old Hallander became a member of the Maple Leafs organization in the Kasperi Kapanen to the Pittsburgh Penguins trade more than a month ago.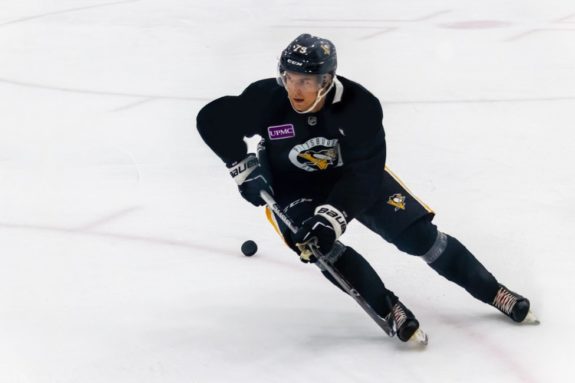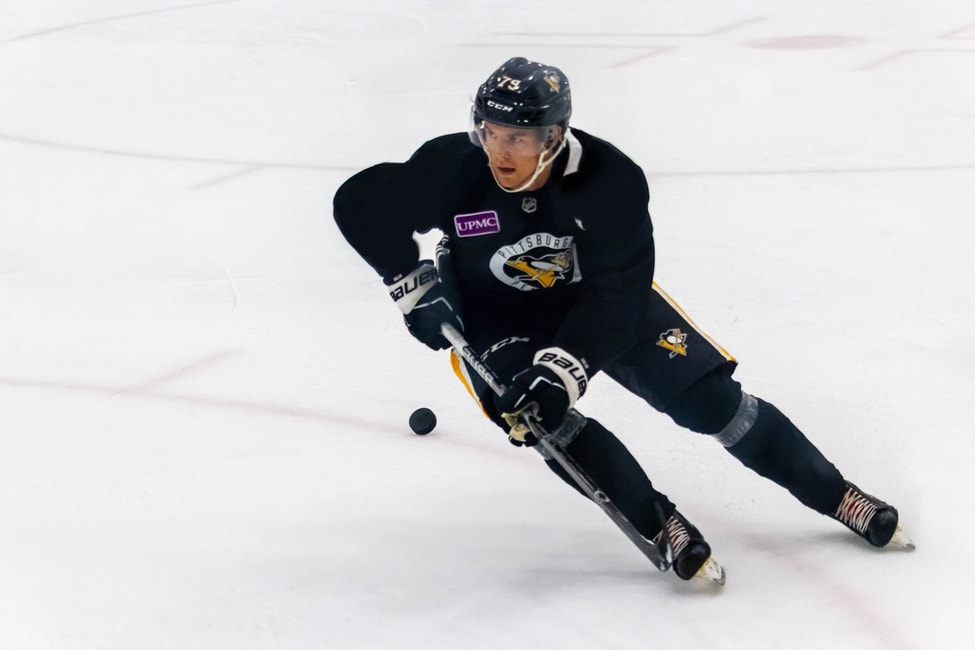 The organization is hopeful the young Swede can soon become a contributing member of the Maple Leafs roster. For this season, he's probably headed to the Marlies when he lands in North America prior to the 2020-21 season.
Item Five: Leftovers at the Maple Leafs Forward Position
In an article a few days ago, Sportsnet's Luke Fox took a look at the revamped set of forwards the Maple Leafs have brought into the organization and believes it's a  "refreshed roster" that "looks more balanced and certainly deeper than the Jekyll-and-Hyde outfit that ultimately bowed out before reaching official playoff status in 2020."
Related: Around the NWHL: Buie Heads Home, Whale Get New GM & More
His outline for forward lines includes the following:
Zach Hyman – Auston Matthews – Mitch Marner
Ilya Mikheyev – John Tavares – William Nylander
Alex Kerfoot – Joe Thornton – Jimmy Vesey
Alexander Barabanov – Jason Spezza – Wayne Simmonds
That leaves the following forwards: Kenny Agostino, Joey Anderson, Travis Boyd, Adam Brooks, Pierre Engvall, Filip Hallander, Egor Korshkov, Denis Malgin, Nic Petan, and Nick Robertson.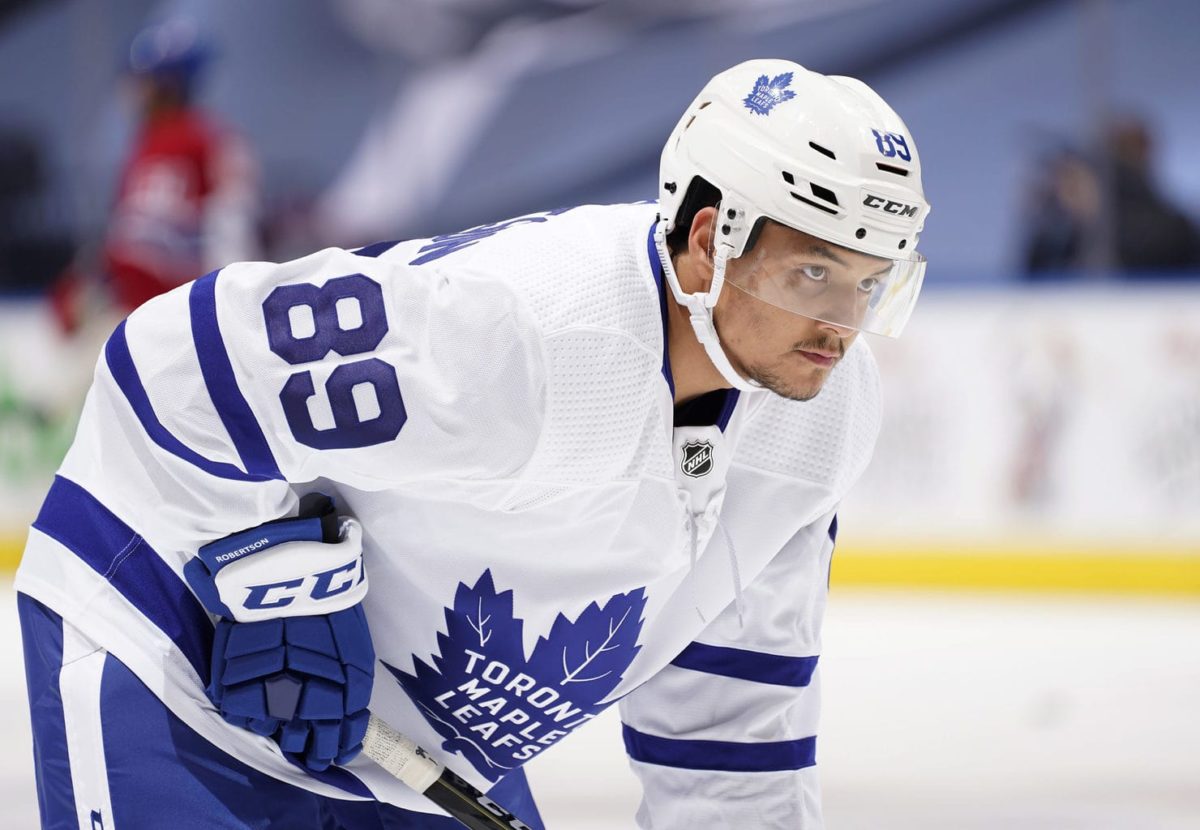 That's an interesting group of extras. Of that group, I'm particularly interested in what happens with Robertson and Engvall. Although he's exceedingly young and inexperienced, Robertson's such a strong prospect who, because he's too young to play with the Marlies, comes with interesting issues. Engvall can skate like the wind all game long (he was the team's fittest player during the 2019-20 training camp) and plays strong defense, so I can't imagine him remaining on the fringe.
What will head coach Sheldon Keefe do with this group? How they will fit into the top four lines throughout the season? Those are interesting questions. It should be a fun season, whenever it starts.
What's Next for the Maple Leafs?
It's going to be difficult to know how this roster – from forwards to defensemen – will all fit together. Really, I would guess that writing the bottom six into the lineup each game will be interesting. It should be a really competitive training camp and there are some good players among the "leftovers."
Related: Toronto Maple Leafs' 2020-21 Roster: Who's Staying, Going & Coming?
What seems an easier call is that the Marlies will be better than they were during the 2019-20 season. In addition to the fact that the Maple Leafs got dumped by the Columbus Blue Jackets during the qualifying series, it wasn't a good year for the Marlies either. That should change. The Marlies team should be really strong because the roster will contain strong forwards, better goalies, and probably the duo of young defensemen Rasmus Sandin and Timothy Liljegren, who will be made to earn a spot on the Maple Leafs roster.
Whenever the 2020-21 season begins, it should be interesting throughout the organization.
---
---