In this edition of Toronto Maple Leafs News & Rumors, I'll take a look at what head coach Sheldon Keefe has to say about three of his young stars – Auston Matthews, William Nylander, and Mitch Marner. I'll also speculate about a rumor emerging from Russia that the KHL team Rodion Amirov is playing for is making overtures to extend his contract for two more seasons.
Related: Toronto Maple Leafs: Revisiting the Nazem Kadri Trade
Finally, I look at the sad impact that the COVID-19 pandemic will have on the Maple Leafs ECHL affiliate – the Newfoundland Growlers, who have with other ECHL clubs canceled their 2020-21 season.
Item One: Sheldon Keefe Reviews His Young Stars
If you are a Maple Leafs fan and you think of the Core Four, there's probably not much to say about John Tavares as a player. You probably have just come to take for granted his 30+ goals and 70 points per season (345 goals and 424 assists in 11 seasons). For Maple Leafs head coach and his teammates, Tavares is money in the bank.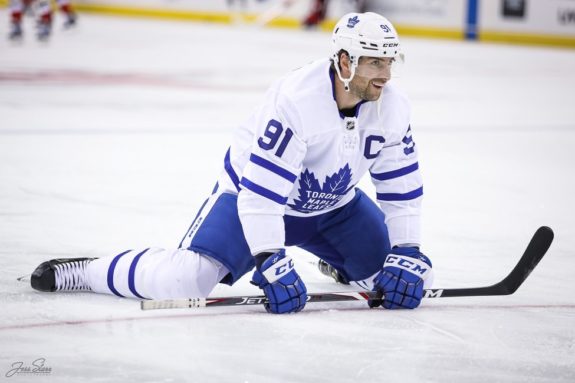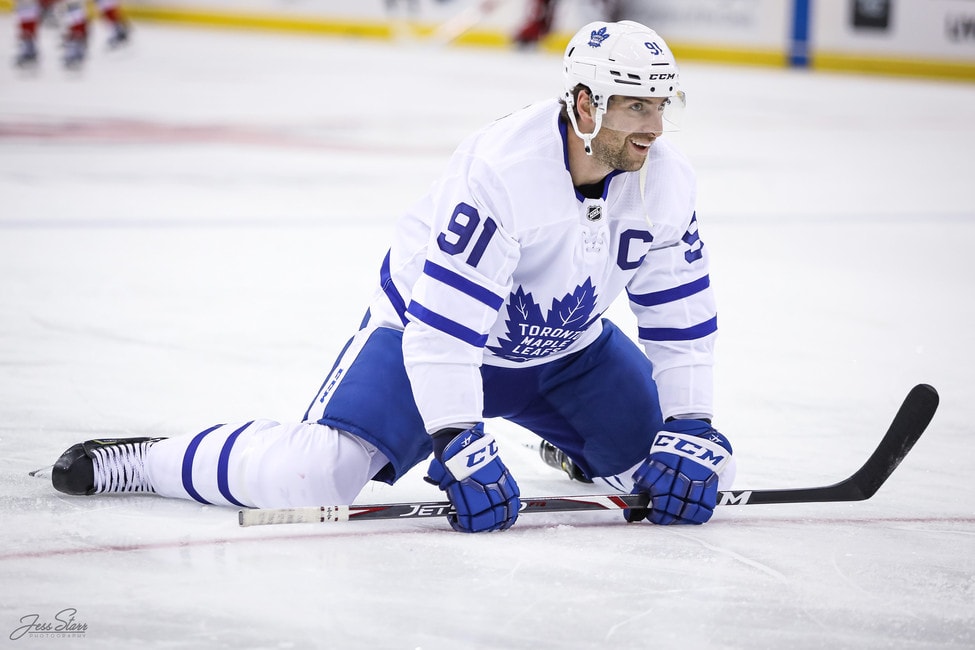 However, Keefe doesn't believe the other three members of his highly-skilled and highly-paid group have stopped growing and developing. Keefe believes there's more coming, and that's good news for the team. As reported by The Score late last week, the Maple Leafs head coach believes his three young stars Matthews, Marner, and Nylander still have lots of room to grow and will get even better.
Just over a year ago, Keefe was hired to take over Toronto's head coaching job from Mike Babcock. As he looked back over the first year he's spent coaching his team, his assessment is that there's more improvement on the horizon for these three youngsters and, by proxy, the entire team. They'll improve as they mature. 
Specifically, Keefe shared with TSN's Mark Masters: "They have a great deal to grow. I don't know where it shakes out in terms of their production. The production has been fairly good, of course, especially in the regular season as they've established themselves as premier players."
For Keefe, it's a team thing: "I think all of our players have room to grow in all the other areas of their game in terms of the consistency away from the puck and the competitiveness in terms of their ability to bring the best out of others around them and not just be at their best."
Item Two: Will Maple Leafs Prospect Rodion Amirov Sign a Two-Year KHL Extension?
According to a report that surfaced late last week by KHL Diaries, Ufa based writer Denis Taipov rumors that KHL's Salavat has begun to talk about a two-year contract extension with the Maple Leafs first-round pick of the 2020 NHL Entry Draft Rodion Amirov.
If he does sign such an extension, Amirov would be under contract until April of 2023. Although I haven't read anywhere what the Maple Leafs' plans are for Amirov, I can't think the organization would be entirely pleased if it couldn't control the movements of its young prospect. Should he be under contract with the KHL, what happens if they wanted him join their minor league system sooner that for the 2023-24 season?
Related: Oldest Players With 100-Point Seasons
As I noted, this report is just in the rumor stage so there's no word if such an extension is a sure thing. As well, there's no word if a specific clause has been added that would allow Amirov to join the Maple Leafs organization sooner if that works out better.
What likely does work out best for the organization is if Amirov gets as much game experience as possible. In that respect, the good news for both Amirov and the Maple Leafs organization is that the 19-year-old – along with fellow Maple Leafs prospects Mikhail Abramov and Artur Akhtyamov – will all attend Russia's world junior training camp that starts on Nov. 29. There's no doubt Amirov will get plenty of ice time and valuable experience during that tournament.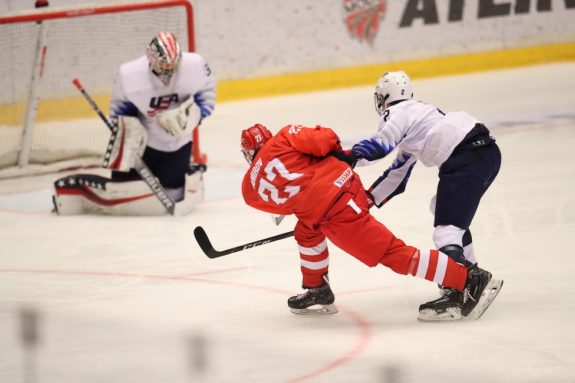 The Maple Leafs believe they have an extremely talented player on their hands; however, the organization will get a chance to see how Amirov and its other prospects are doing when the World Juniors are played in early January. The competition in that tournament gives all NHL teams a chance to see how far their prospects might be from joining NHL rosters in the future.
Item Three: Newfoundland Growlers Another Casualty of COVID-19
What a difference a year makes. Just over a year ago (actually in September 2019) the Newfoundland Growlers had just completed their inaugural 2018-19 season and the Maple Leafs opened its 2019-20 training camp in St. John's and played a pre-season game at Mile One Centre.
Related: Riveters Acquire Babstock From Toronto
Sadly, however, on Wednesday last week, the 2020-21 Growlers ECHL season was canceled when six ECHL clubs decided they simply couldn't play the season – another victim of the pernicious COVID-19 virus. The leagues entire North Division of Adirondack (New Jersey Devils affiliate), Brampton (Ottawa Senators), Maine (New York Rangers), Reading (Philadelphia Flyers), and Worcester (New York Islanders) also elected to use the ECHL's COVID-19 Voluntary Suspension Policy for the 2020-21 season.

It simply didn't seem wise in the wake of a disease that was so threatening to try to keep everyone safe while playing hockey. Now that the Growlers have shut operations for the season, the Maple Leafs will need a place for players on AHL contracts to play regularly. Newfoundland had been that place.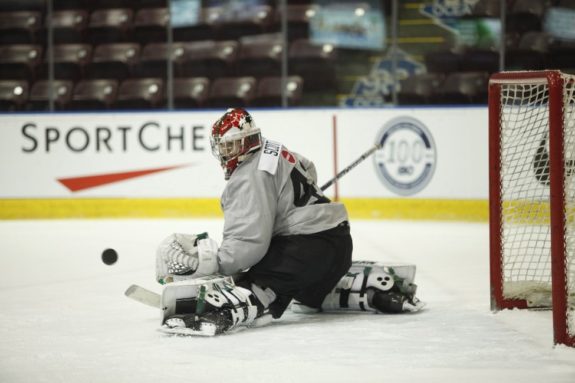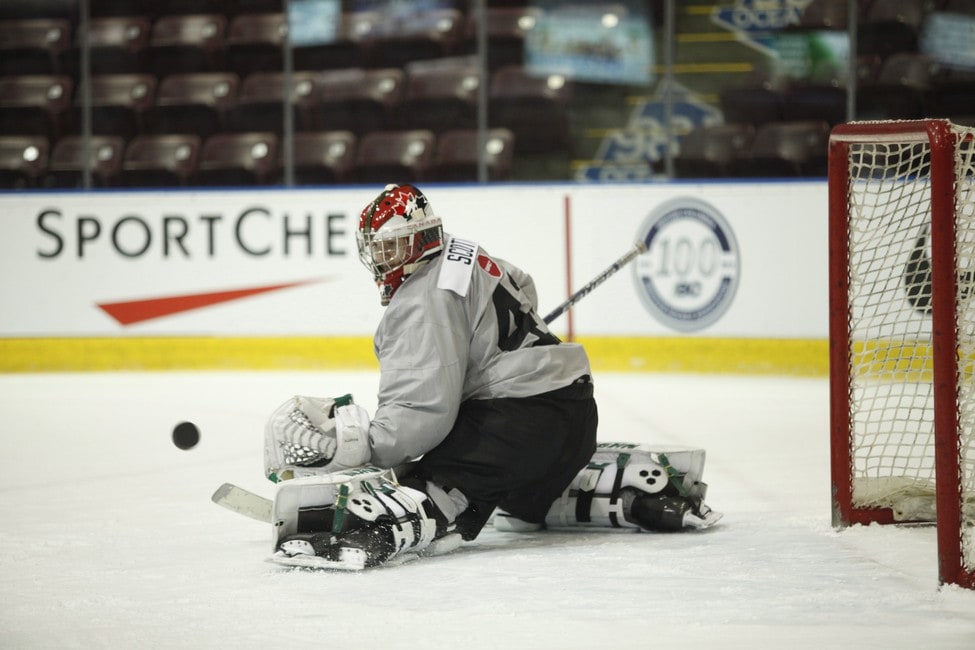 The Maple Leafs goalies might be especially in jeopardy of losing a season of development. Currently, the organization has four goaltenders who have signed minor league contracts next season (Aaron Dell, Michael Hutchinson, Ian Scott, and Joseph Woll). One of the youngsters – either Scott or Woll – was expected to play regularly with the Growlers.
What's Next for the Maple Leafs?
Already I've been seeing tons of speculation about line combinations for the 2020-21 season. Maple Leafs fans and hockey pundits alike have plenty of questions. For example, can Matthews carry his own line without another big scorer? If he can, and the team can put together a really stacked third line, can the team balance time on ice for nine forwards?
Related: Maple Leafs News & Rumors: What Now with Frederik Andersen?
How will the defense play? Is T.J. Brodie the best partner Morgan Rielly has ever had? Can Wayne Simmonds add that tough-to-play aspect that the organization has needed?
There are so many questions that only a regular season of NHL hockey can answer. I'm anxious to see this team in action.
---
---