As the Toronto Maple Leafs prepare for the Chicago Blackhawks tomorrow, the team made a number of roster changes and moves. In this edition of Maple Leafs News & Rumors, I'll share some of these.
The really good news is that Auston Matthews looks to be ready to play again. The team missed him during their last home loss to the Columbus Blue Jackets. He makes a difference both offensively and defensively.
Item One: Auston Matthews Practices in Regular Jersey
Drawing upon that old saying that former New York Yankees slugger Reggie Jackson used to describe himself, Matthews is the straw that stirs the drink for the Maple Leafs. It's good news then that he appears to be on track to return to the lineup Wednesday against the Blackhawks. He participated in today's practice in a regular jersey, which indicates that he could be cleared to play.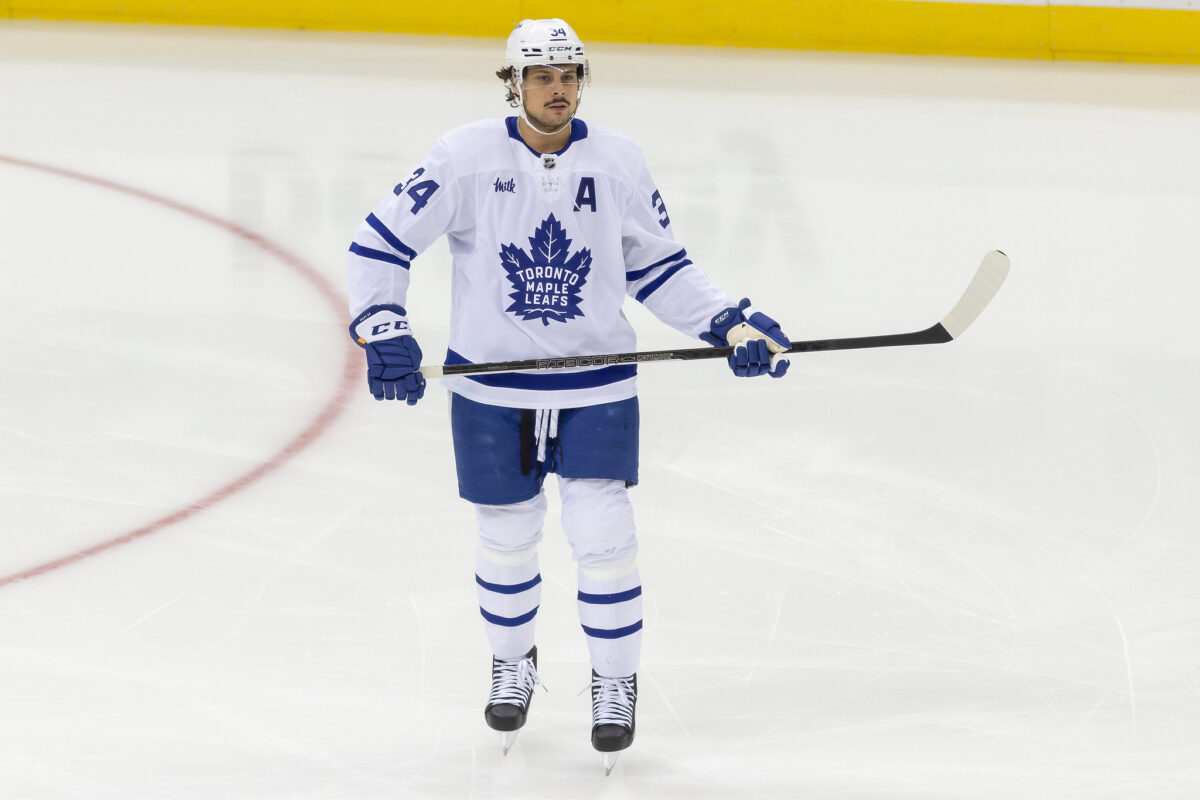 Matthews has been out since Jan. 25 with a sprained knee. Wednesday's game would mark three weeks since the injury. Although he's probably not going to hit the 60-goal mark again, he's been impressive this season. His defense is getting better each season and, on offense, he has scored 25 goals and added 28 assists (for 53 points) in 47 games. 
Related: Auston Matthews' Future Is Filled With Options & Possibilities
Last week, Matthews reported that his recovery was going well when he first skated with his teammates. At that time, he was wearing a red no-contact sweater. Obviously, his return isn't a for-sure thing, His game status will be confirmed just prior to the puck drop tomorrow.
Item Two: Switching Backup Goalies: Woll or Kallgren
Goalie Erik Kallgren was recalled from the American Hockey League's (AHL) Toronto Marlies yesterday, but was then reassigned to the AHL today. In a corresponding move, Joseph Woll flip-flopped and was promoted to the Maple Leafs. 
Woll had been sent down to the AHL yesterday but was recalled by the team today. He made his NHL season debut on Saturday, Feb. 11. Although he surrendered four goals on 40 shots in a 4-3 loss to the Blue Jackets, his teammates gave him little support in that game. 
---
Latest News & Highlight
---
Woll has been impressive at the AHL level this season. There he's compiled a record of 13-1-0, with a 2.36 goals-against average (GAA), and a .930 save percentage (SV%) in 14 starts with the Marlies. Because it looks like there will be no injury movement with goalie Matt Murray, look for Woll to back up Ilya Samsonov in Wednesday's game. 
Related: Joseph Woll Could Be Key to Maple Leafs' Future
Given the flip-flopping of the two young goalies, it isn't clear if Woll will stick with the big club during the time Murray is on the shelf. However, it seems as if the Maple Leafs are looking to give Woll a chance to show his stuff with the big club. Kallgren has played in 10 NHL games this season, going 3-2-4 with a 2.67 GAA and an .898 SV%.
Item Three: Alex Steeves Called Up, But Might Not Play
The goalies are not the only players flipping around between the AHL and the NHL rosters. Yesterday, Alex Steeves was loaned to the Marlies but was then recalled from the minors today. It wasn't unexpected. The Marlies played Manitoba last night and the organization wanted Steeves to play in that game.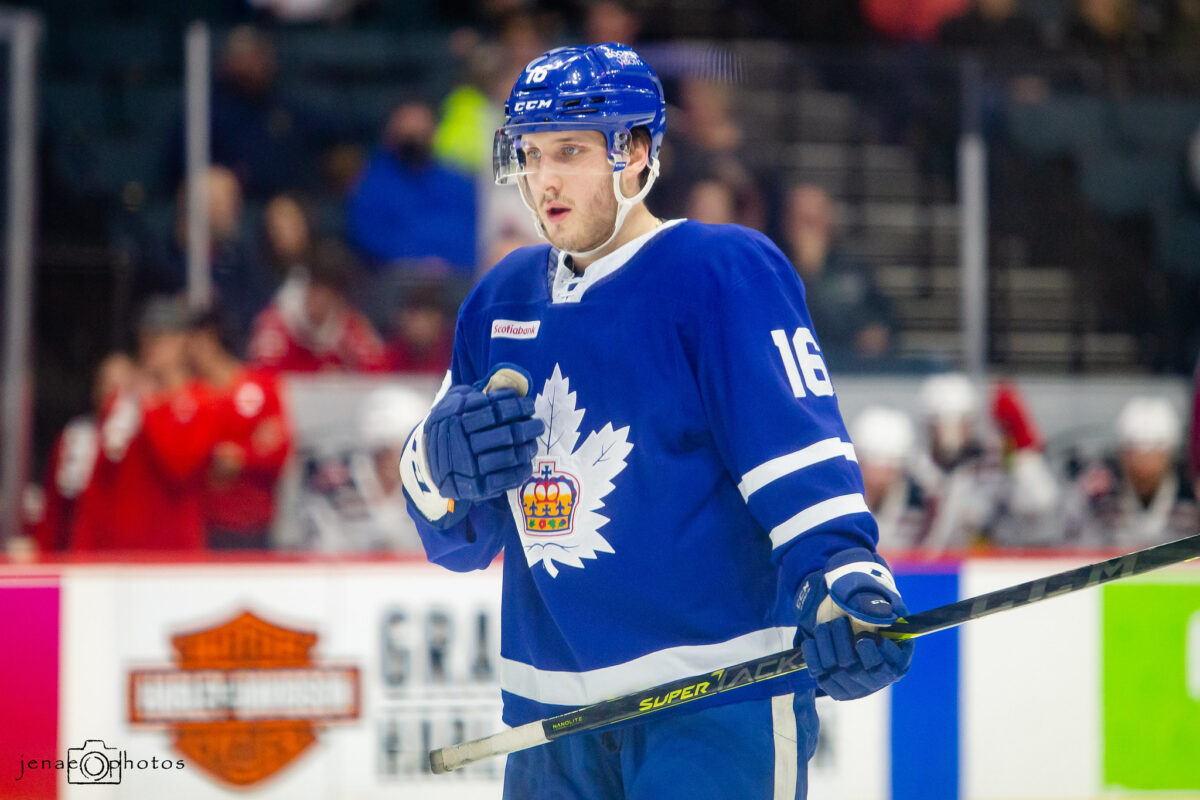 In his two NHL games last week, although Steeves didn't score, he played well and had three shots on goal and three hits. He has been especially productive in the AHL this campaign, with 16 goals and 22 assists (for 38 points) in 44 games. 
Even with the callup, Steeves might not play Wednesday's game against the Blackhawks. During practice today, it was reported that he was wearing a gray scratch sweater. If he does play, he'll join the team's fourth line.
Item Four: Holmberg Also Moves Down and Up
The Maple Leafs keep moving its youngsters around. Pontus Holmberg was loaned to AHL Toronto on Monday, but, like Steeves, he was also recalled by the Maple Leafs today. 
Related: 7 Worst Trades in Boston Bruins History
In his time with the Maple Leafs this season, Holmberg has registered 13 points in 35 games. He's expected to suit up with the big team in a bottom-six role against the Blackhawks tomorrow. He's more or less become a regular on the big team.
What's Next for the Maple Leafs?
Interestingly, it seems as if Matthews might play with new linemates tomorrow (if he does play). At practice today, he skated with Michael Bunting and William Nylander. That leaves John Tavares with Mitch Marner and probably Calle Jarnkrok.
Also interesting to me is the skill of the medical staff. When he was first injured, it was reported that Matthews' recovery time would be three weeks and Wednesday's game is exactly that. I look for him to come out flying.