I had suggested in yesterday's post that NHL hockey was a funny game and last night might be one of those games that ended up being a surprise. I was wrong. Instead, a rested and well-practiced Toronto Maple Leafs' team met a road-weary Vancouver Canucks' team and the results were probably as they should have been. It was a 7-3 blowout in favor of the Maple Leafs.
Related: Toronto Maple Leafs' Auston Matthews Is Undergoing a Transformation
That said, not everything about the victory was predictable. Probably every Toronto hockey writer's headline for the game centered on the blast from the past orchestrated by Jason Spezza, who scored the eighth hat trick of his career but his first in five seasons. Perhaps more than the hat trick itself, what caught my eye was the level of praise bestowed upon the 37-year-old veteran by his much-younger teammates. In a word, they appreciate him.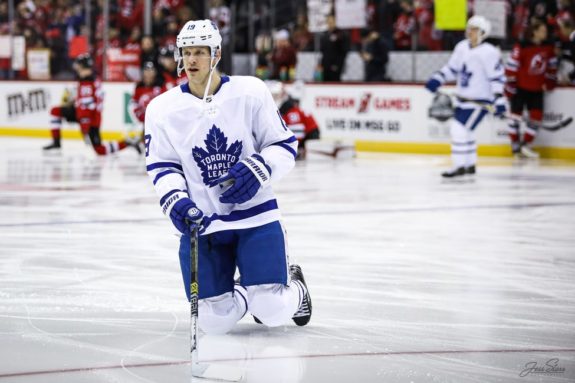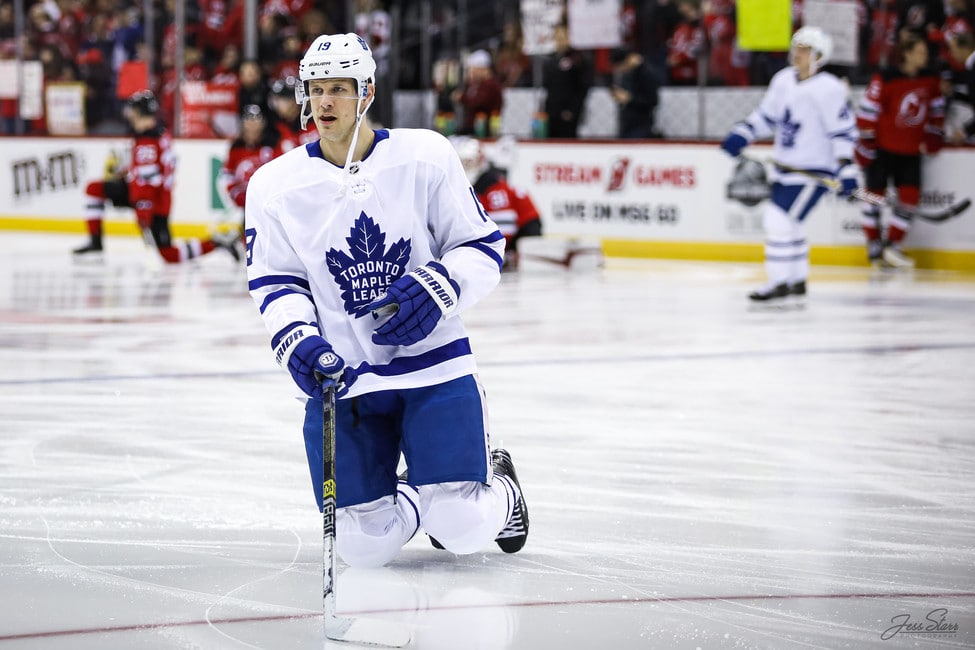 As emerging superstar Auston Matthews noted about the aging, but still-driven former center who was the second overall choice in the 2001 NHL Entry Draft (Ottawa Senators), "He means a lot to this team, I think more than anybody knows."
Matthews added how fun it was to watch. "That was vintage Jason Spezza. He put on a show. He deserves it. He works so hard. At this stage in his career, the dedication that he pours into his own game, into the team … to see a guy like him get rewarded and put on a show like he did, that was pretty incredible."
Such comments suggest how valued Spezza is by the Maple Leafs' younger players.  
In this edition of Maple Leafs News & Rumors, I'll take a look at some of the news from the game by noting Spezza's surprising heroics, some other notes about two other depth players – Nic Petan and Travis Boyd, and then highlight the play of the team's Core Four – John Tavares, William Nylander, Auston Matthews, and Mitch Marner.  
To be transparent, my choice in adopting this approach is to suggest that – at least for the moment – the organization's plan to build a team around the four highly-paid stars that stayed under the NHL's salary-cap's upper limit is working.
Item One: Jason Spezza Turned Back the Clock
I've already spoken about Spezza in this post, but it's interesting to me that, although Spezza ended the game with a hat trick, he wasn't even on the team's active roster until just before the game. In fact, Spezza had been designated to the taxi squad by the team on Monday.
Related: Maple Leafs' Forgotten Ones: Vincent Damphousse
In the nine previous games the veteran's played this season, he'd scored five points in limited ice time. He's been playing both fourth-line and some power-play minutes. Also interesting was that Spezza only had nine shots through his first nine games, but had five shots in this game alone. By the way, he also was 7-3 in the faceoff circle, where he's been a beast all season.
After last night's game, Spezza now has four goals and four assists in his 10 games – all that only averaging 9:42 minutes a game. The 12:17 minutes he played last night were his highest total of the season. Spezza's on a roll recently: he only scored a single assist in his first five games of the season, but during his last five games he's scored four goals and three assists.
He's not the dominating center he was when he was younger, but he sure was on his game Thursday. His last hat trick was on April 9, 2016, when he played with the Dallas Stars.
Item Two: John Tavares Finally Gets a Goal after Five Games
John Tavares scored a goal in Thursday's 7-3 win over the Canucks. It was his fifth goal of the season, and he used his great hand-eye coordination to re-direct Nylander's shot home late in the second period. That goal extended the Maple Leafs lead to 5-2.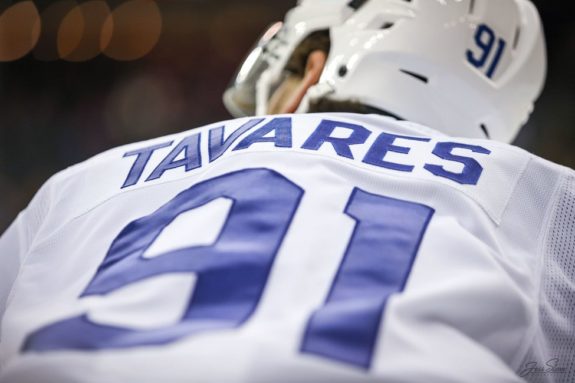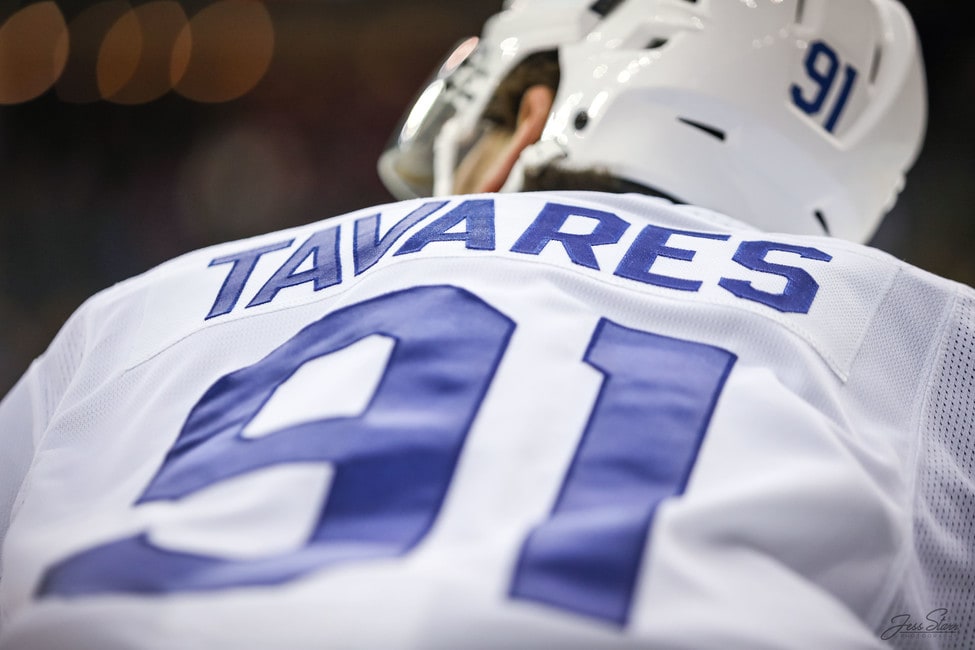 Although Tavares had gone four previous games without a goal; still, he's hitting the score sheet. The goal gave him four points in his last three games.
Item Three: William Nylander Scores Three Assists
In a recent post, I talked about Nylander's enthusiasm about an energetic and fearless Wayne Simmonds joining the team's second line. A number of Maple Leafs fans had noted to me that Nylander might be excited about that possibility because it meant he could avoid a physical game and just hang around further from the rough stuff trying to pick up goals and assists.
I'm not discounting those comments. But they did make me wonder whether perhaps Maple Leafs' head coach Sheldon Keefe shared those thoughts but might see this as a viable strategy. Perhaps not, but during the first game on the new second line of Tavares, Nylander, and Simmonds, Nylander picked up three assists and was plus-2.
Related: Val James: The Forgotten Trailblazer
Those three assists were Nylander's first since Jan. 22. Two came on Spezza's three goals and one on Tavares' goal. Like him or not, Nylander's getting hot. He scored five points during his last three games.
Item Four: Auston Matthews Is Really Starting to Score
Auston Matthews scored twice against Vancouver and now has eight goals and four assists in 10 games this season. His first goal was highlight-reel material, and he mimicked the goal that the Edmonton Oilers' Connor McDavid scored against the Maple Leafs a few days ago by skating almost the entire length of the ice before beating Cancuks' goalie Thatcher Demko five-hole. It was the game's first goal, and it came about three minutes in.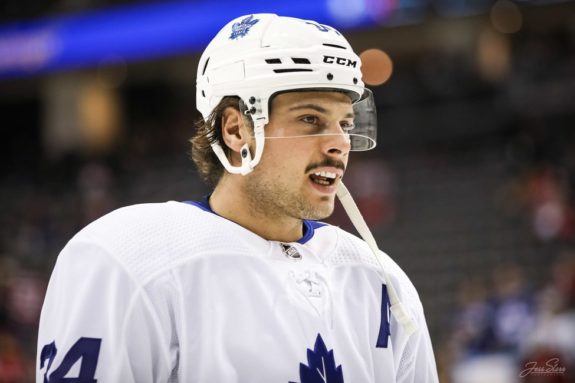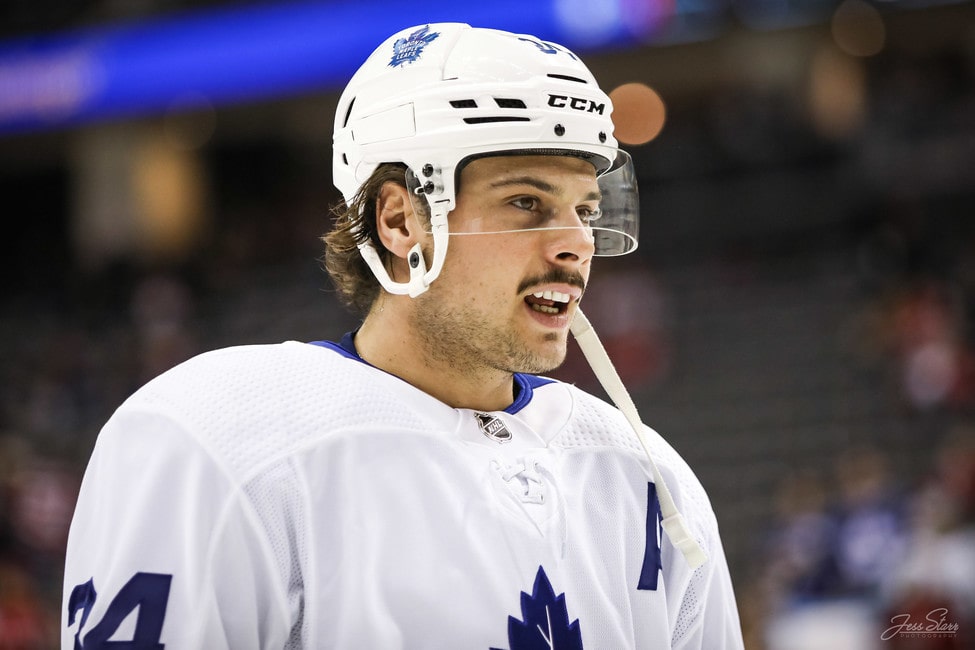 Matthews' second goal came about three minutes into the second period (what's this about three-minutes in?) and also was assisted by partner Mitch Marner. Marner had picked up a secondary assist on Matthews' first goal. This time, Marner sent a nice backdoor pass to Matthews from a crazy angle. These two are starting to work together quite nicely.
Item Five: Mitch Marner Hits the Score Sheet Game after Game
Marner has been productive all season. Last night, he added a third-period goal and two assists to reach 17 points in 11 games. That ranks him third in the NHL scoring race. The 23-year-old Marner is on a five-game point point-scoring streak (with two goals, six assists).
What's Next for the Maple Leafs?
It might be obvious, but when I'm writing Maple Leafs posts, I follow a general word limit that writers are expected to stay within. Unfortunately for my readers, my posts are often twice as long as they might be. For those who regularly read my posts, I thank you for your persistence in hanging in there. As I have said often in the comments, I learn a great deal from you about the Maple Leafs.
I also try to be transparent about why I choose to write about the topics I do. In this post, I was a bit ambivalent. On one hand, who doesn't love a feel-good story about a class-act guy like Spezza bringing back the old days? However, I had to ignore a couple of other depth players who I believe are solid players struggling to get quality minutes, including last night's game.
So, here I'm going to engage in a brief shout out to two of them. Nic Petan threw a great pass to Spezza to set up his second-period goal – a really great pass. It was the 25-year-old's first game of the season and he played on the fourth line with Travis Boyd and Spezza. That line delivered. Petan's a good player; but, others are better.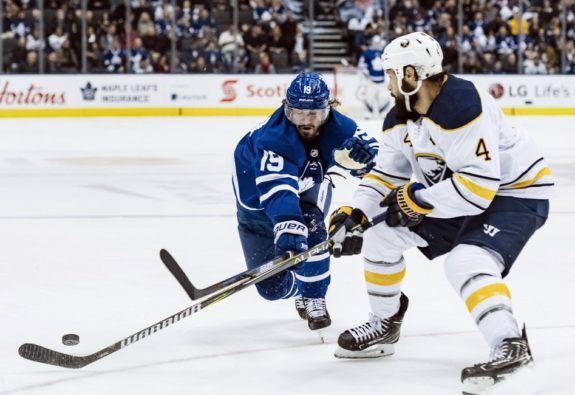 Boyd has a limited role with the team, but he too is producing. He had two assists last night – one on Spezza's second goal and one on Marner's final goal of the game. Boyd's in his first season with the Maple Leafs, but has scored points in all three games he's played with the team – more than a point-a-game average – with a goal and three assists. The 27-year-old Boyd's in a bottom-six role and is averaging only 9:06 minutes per game. Congratulations to him.
General manager Kyle Dubas – or someone in the organization – has scouted and found quality depth players at affordable prices. At least, so far this season, the organization has put together a team that fits under a difficult salary cap and is successful on the ice.
Related: Tkachuk Shows His Ignorance Discussing Maple Leafs' Campbell Injury
Many hockey pundits believed there was no way the team's expensive core could be kept together and a quality team built around that core. The jury might still be out; however, so far this season, the plan is working well. We'll see if it can continue as the season moves closer to halfway through.
---
---
The Old Prof (Jim Parsons, Sr.) taught for more than 40 years in the Faculty of Education at the University of Alberta. He's a Canadian boy, who has two degrees from the University of Kentucky and a doctorate from the University of Texas. He is now retired on Vancouver Island, where he lives with his family. His hobbies include playing with his hockey cards and simply being a sports fan – hockey, the Toronto Raptors, and CFL football (thinks Ricky Ray personifies how a professional athlete should act).
If you wonder why he doesn't use his real name, it's because his son – who's also Jim Parsons – wrote for The Hockey Writers first and asked Jim Sr. to use another name so readers wouldn't confuse their work.
Because Jim Sr. had worked in China, he adopted the Mandarin word for teacher (老師). The first character lǎo (老) means "old," and the second character shī (師) means "teacher." The literal translation of lǎoshī is "old teacher." That became his pen name. Today, other than writing for The Hockey Writers, he teaches graduate students research design at several Canadian universities.
He looks forward to sharing his insights about the Toronto Maple Leafs and about how sports engages life more fully. His Twitter address is https://twitter.com/TheOldProf