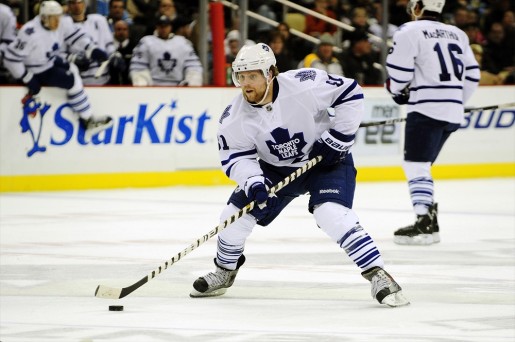 Maple Leafs Panel is a weekly feature that will be published every Monday here on The Hockey Writers. It is a feature where THW Toronto Maple Leafs correspondents Lukas Hardonk, Mark Ascione, Raihan Hussain and Alex Mamalis answer a few questions that concern the Maple Leafs each week. This is the debut edition of Maple Leafs Panel.
Question: Philippe Dupuis has been struggling mightily this season. With no points and a minus rating in 29 games this season, many people are wondering if he should even be with the Maple Leafs right now. So, what should be done with Dupuis?
Lukas Hardonk: It should be clear by now that Dupuis is struggling. Many would say that he is a fourth line player, so production doesn't really matter all that much, while other would tell you that he is a staple on the penalty kill. While both of those are true in their own way, it's almost impossible to justify zero points in more than a third of a season.
If Dupuis is such a staple on the penalty kill, how do you explain a league-worst 73.2 percent success rate? It's hard to blame special teams on one person, so I won't, but all signs appear to point towards a call-up. Is this not the perfect opportunity to give someone else a chance? Say, Joe Colborne, Nazem Kadri or Darryl Boyce? Even better, how about PK wizard Mike Zigomanis?
Mark Ascione: Looking at his numbers last season, he was a decent third/fourth line option (6 G, 17 P, -4, 9 min/G). I would not say he's snakebit here, because he hasn't created offensive chances really at all. To be sitting with zeros, playing 11 minutes, and not really helping the PK, though, I don't think he deserves the ice he gets. That said, I don't know the Leafs have better options.
Now that Armstrong is back, he likely gets more time. I think if Mike Brown is healthy, he's in there and pushes Dupuis to the press box. Same with Lombardi; he'd push Dupuis out of a regular job. I can't see replacing Dupuis with Colborne or Kadri, because those guys don't develop properly playing Dupuis' minutes. I wonder if Darryl Boyce or Ryan Hamilton might be better options, and I'm still not sure exactly why Zigomanis is consistently passed over for call-ups.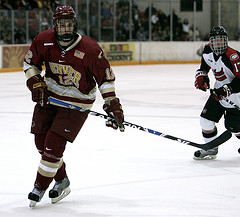 Alex Mamalis: Despite Dupuis' underwhelming stat line, he should be left in his current role until Matthew Lombardi returns. Personally, I believe Steckel should be the one getting the boot off the PK and getting no points out of one fourth liner isn't worrisome because your other two fourth line players (Steckel and Joey Crabb) have a combined 10 goals, while not being consistently in the lineup all season.
Of course, in the long run, you would like to see 15-25 points out of Dupuis for him to really solidify his spot with this team, however – on a penalty kill that keeps you shaking every time they're out, he's the best Toronto has. He rushes the puck holder well and knows how to use his stick effectively. The only gripe I may have with him on the PK is that he is on the wrong side of six feet tall, so he can get easily out-muscled down low in ensuing battles for the puck.
Raihan Hussain: Simply put, Dupuis should be replaced. The man who should replace him is obvious: Darryl Boyce. Boyce flourished in Toronto during the back half of last season and deserves another chance at continuing his success, just like Joey Crabb. I believe Dupuis has been rather steady on defense, but is obviously nowhere to be seen on the offensive stat sheet. Boyce is good defensively, can play both the wing and centre, and has the ability to jam a puck behind the goal here and there.
Question: It's obvious that Phil Kessel has been scoring at a much faster pace than any of his previous seasons thus far. With 39 points in 32 games, he is tied for the league lead in points and second in goals, and he's on pace to fall just two short of 50 goals. Does this put him on 'superstar' level?
Lukas Hardonk: Even though Kessel is scoring at such a rabid pace this season (although not so much lately), it's tough to call him a superstar. I generally look at superstars as being players who can put in a tremendous effort year in and year out, whether it be defensively or offensively. See: Nicklas Lidstrom, Sidney Crosby and Corey Perry.
Kessel hasn't yet shown that he can do this. Perhaps it is because he has never had the chance to play with a true play making centre since his days in Boston when he was a member of the Bruins, or maybe it's just because of his confidence level. So no, I do not believe that we can call Kessel a superstar quite yet, although he is only 24 and should have plenty of hockey left in him.
Mark Ascione: I want to go historical here for some context. I don't think Kessel is ever going to be on a level with Dave Keon, Darryl Sittler, Lanny McDonald, Wendel Clark, Doug Gilmour or Mats Sundin. Even Mats at times had a physical edge to his game that Leaf fans appreciated and all those guys had a certain mix of offence, defense, toughness and leadership; I don't think I see that in Phil.
Kessel is a gifted offensive player who deserves a lot of credit for the work he's done to improve his defensive game and his play away from the puck in general. I am not sure he'll really ever be considered a top-five league-wide; if you asked general managers for a goalie, defender and forward they would start a team with, I doubt you would find three who would name him the forward.
Alex Mamalis: He's arguably the best in the league. 18 goals in 29 games is no hot streak, it's who I think he's become: a game changer. He's shown time and time again this season he has the ability to put the team on his back and sprint, not run. I'm sure all of you have noticed it yourselves, but it's Kessel's defensive play that has been a huge factor in making him who he's been today.
A great post at MLHS recently said it best: Kessel used to be a player who hated to lose, now he's a player who loves to win. That mentality has helped develop some grit, heart, and hustle. The big statement to me here is: It's when the Leafs get stuck in that inevitable rough stretch of games, we'll see if Kessel has really matured into a superstar and a team leader.
Raihan Hussain: Kessel is not a superstar yet and I doubt he ever will be. He just doesn't have that personality, the overall juggernaut that a true NHL superstar is equipped with. He is not able to speak for his team when it comes to the locker room and is the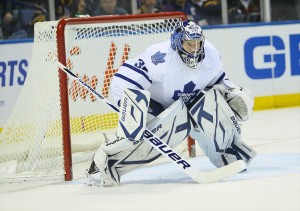 type of player who needs other players to make him excel.
Question: The Maple Leafs fell to 2-4-1 in the month of December with a 5-3 loss to the Vancouver Canucks. During that stretch, the Leafs have struggled in many facets of the game, most notably while down a man. Out of everything that they have struggled with lately, what has been their biggest problem?
Lukas Hardonk: The penalty kill is the most glaring problem for me. Over the last six years, the Maple Leafs have had serious problems while shorthanded. Whether it be coaching strategy or the wrong personnel, something has gone wrong to cause such problems.
It was believed that the Leafs' penalty killing unit was going to receive a boost with the return of Colby Armstrong earlier this month, but that doesn't appear to have happened. The Leafs are falling in the standings again, and the PK must get straightened out in order to fix that.
Mark Ascione: Defensive play in general, but I really have a problem with the penalty kill. You just can't win if you're allowing three goals on every 10 chances─it's about an extra goal a game. Again, it leads to a large debate about who is at fault here. The PK has not been over 80 percent since Pat Quinn and Ron Wilson has had it over 75 percent only once. Last month's success on the PK seemed to be related to being more aggressive. I think Armstrong's return will help, but they have to find a way to fix it. It's not only that it's an extra goal per game.
I think it's affecting the team psychologically also. You know you're going to get called for penalties, you know one (or more) in four or so is going to result in a goal. So, you squeeze the stick a little tighter, try to pop one early to at least get a lead.
Alex Mamalis: A good defense makes a great defense, and I'm sure any logistical person would tell you that they would rather have the worst power play efficiency and the best penalty kill rather than vice versa. When I watch the Leafs' PK go to work, I see them go to where the puck is rather than reading the play and anticipating their opponent's next play.
Another major issue is the players who are being utilized when down a man. Dupuis is Toronto's best option right now on the wing, but I feel Steckel is being miscast as a defensive specialist. Personally, I think he lacks that drive and determination to be a successful penalty killer. He has one of the most inactive sticks on the ice, and I often catch him trying to half-heartedly block shots.
Raihan Hussain: The biggest problem for the Maple Leafs is something that has been dragging on for the last couple years at the least. Defensive zone coverage without the puck. Players seem to be lost and often leave their targets open. This can be blamed on coaching for the most part, as the strategies being used are not working.
Follow the panel on Twitter: Lukas Hardonk, Mark Ascione, Raihan Hussain and Alex Mamalis.