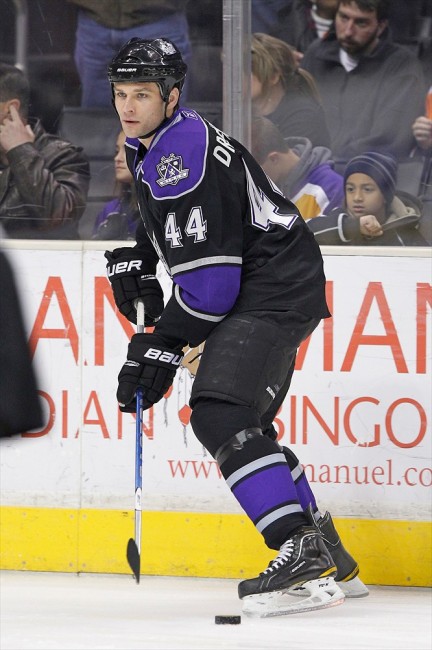 Davis Drewiske has been making himself visible to Los Angeles Kings fans lately, dropping two pucks into the net in two games.  So just who is Davis Drewiske?
Hailing from the state of Wisconsin in the U.S., Drewiske played four years of collegiate hockey for the Badgers at the University of Wisconsin, winning the NCAA Championship in 2006.  Drewiske progressively improved on the ice each season, increasing his goal total in each of the four campaigns.  He was not selected in the NHL draft, but would catch on with Los Angeles, signing an entry-level contract with the Kings in 2008.
The big defenseman who some call "Whiskey", was assigned to the Manchester Monarchs of the American Hockey League towards the end of their 2007-08 season, playing briefly, in five regular season games.
In his first full AHL season, 2008-09, with the Monarchs, he would score one goal.  He would assist his teammates on 13 goals, however.   It was enough to get him called up to Los Angeles that same season.
Playing in 17 contests with the Kings in his first NHL season, Drewiske tallied three assists with a plus one on-ice, without finding the back of the net himself.  The next two seasons would see him spend time sparingly with the Kings, playing in 80 games, scoring once and assisting on 12 more.
In 2011-12, Drewiske has played six games for the Kings to-date.  He has made the most of those six games however, netting two goals in two consecutive contests, one of them contributing to the Kings win over the Blue Jackets.
Scott is a published writer and editor in the sports, fitness and business fields. He currently covers the Washington Capitals for The Hockey Writers. Based in the New York metro area, he is a Villanova University alumnus.