Ryan Rupert admits it; he's changed his game.
"All the suspensions they've laid out, you've got to just take a step back and control yourself", said the 19 year-old winger, who's in his fourth season with the OHL's London Knights. "[Coaches] definitely said you've got to stay out of the penalty box."
And the stats this season show that he has. Two seasons ago, he had 120 PIM in 63 games. Last season he had just 75 and this season he's down to just 33. The kicker? He's on pace for his best offensive season yet with with 43 points in 44 games, just five shy of his career high of 48 back in 2011-12. He has a chance to break a point-per-game for the first time in his career.
#Leafs prospect Ryan Rupert had three points (1G, 2A) tonight. After a slow start he's back to nearly PPG (42 in 43).

— Scott Wheeler (@scottcwheeler) January 17, 2014
"I think it's just coincidence, the penalties going down, points going up," said Rupert, "but I have noticed it for sure. If you want to beat the good teams [you] just gotta stay out of the box."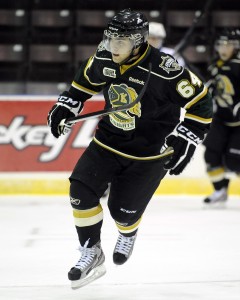 It was during his 120 PIM season that Ryan Rupert was drafted by the Toronto Maple Leafs in the sixth round of the NHL Entry Draft. His twin brother Matt, who also plays for the London Knights, and plays a similar game, went undrafted, but the two of them both were fortunate enough to attend not one, but two Maple Leaf prospect camps. Matt, who is the elder Rupert (by ten minutes), was extended an invite by Leafs management two seasons in a row, despite not being picked in the draft. But Ryan notes he too is still without an NHL contract, so the brothers are essentially in the same boat.
"Getting drafted by them and then going to the camps was definitely surreal", said Ryan, "but at the same time when you go in there you realize how big and strong and fast they are so you have a lot of work to do."
Rupert does admit that that he enjoyed his experience. "Growing up in Canada, Toronto was the team we watched, [so] being on the same ice as a few of the guys in the show right now, it's pretty cool to look at."
Still a London Knight
For now, both Ruperts are focused on winning games for the Knights. They're both doing what they can on offense, as Ryan has 24 points in his last 17 games, while Matt has 19 points in his last 11 games.
"The biggest thing is playing well with linemates; chemistry," said Ryan. "Last night getting put back with Matt certainly helped us [but] I don't think about points right now. Just focus on winning the hockey game as a London Knight."
The Knights are one of the top teams in the OHL this season, with a 29-10-1-4 record. But, as back-to-back OHL champions, this season has actually been a bit of a disappointment. They currently sit fourth of 10 teams in the OHL's Western Conference. They are the team everyone wants to beat.
Road to the Memorial Cup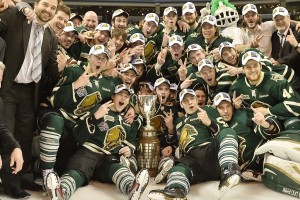 London and its fans expect nothing but winning, so it's a good thing they've already been named host of this years Memorial Cup, meaning they are automatically competing in the tournament, which will run from May 16-25. The annual tournament hosts the best in Canadian major junior hockey, with the winners of the OHL, QMJHL and WHL joining the host to battle it out in a 4-team round robin. As back-to-back OHL champions, the Knights have been to the last two tournaments, but haven't been able to come through.
"[Being in a third memorial cup], it's an unreal feeling but at the same time I think everyone in there feels a lot of pressure ; 0-2 so far," Rupert points out. "[This time], getting home ice, we definitely want to come through here."
And this Knights team isn't the same team that made the past two Memorial Cups. Scott Harrington, last season's captain, is now in the AHL and London still hasn't named a captain for the season. Seth Griffith, who had back-to-back 80-point seasons for the Knights, and Alex Broadhurst, who was third in OHL playoff scoring in 2013 with 28 points, are also both in the AHL. And Olli Maatta, a 2012 1st-round Pittsburgh Penguins draft pick, made that team and has stuck with ever since. So who will step up to help them win it all this time?
"It could be anyone," Rupert says with confidence. "We have three solid lines and a fourth that can play every once in a while. Our defense are going to be our unsung heroes and Stolly [goalie Anthony Stolarz] has been great for us."
If the Knights are going to have success in the OHL playoffs and then the Memorial Cup, it's likely they will lean on both Rupert brothers. Both know what it takes to win, and both are piling up points at the highest pace of their respective careers. They've been to two NHL camps and they know what they have to work on to get to the next level.
If London does end up winning it all, NHL contracts for both Rupert's are likely to follow. They can do more than just be pests. "I want to show that I'm a good player and not just a role player," said Ryan, if he gets another shot at Leafs camp.
Just remember, the change in their game doesn't mean they can't still pack a punch: