Tyler Bozak will suit up for an NHL game for the first time in over a month. The two-way centre was sidelined with a concussion that kept him out of action for 21 games. He is now stepping into a very different Maple Leafs lineup, one that is populated with kids vying to show their future with the team.
Tyler Bozak returns after missing 21 games with 1st concussion of career against Ducks tonight. #Leafs

— Tony Ambrogio (@Tony_Ambrogio) March 24, 2016
The names Bozak played with most of the season are gone. There's no James Reimer, Roman Polak or Daniel Winnik anymore. Instead, there is William Nylander, Connor Carrick and Zach Hyman. Those three, plus a plethora of other prospects, are currently up with the Maple Leafs to showcase to the team and its fans that there is hope for the once proud franchise.
With so many young kids populating the roster, it's only natural to start looking towards next year. It's been made incredibly clear that the franchise still plans to undergo significant changes in the summer, mainly dealing with the roster. Youth is king in this scenario, so where do players like Bozak, who recently turned 30, truly fit in? My colleague Devin Slawson also recently wrote a piece predicting the Leafs lineup for the 2016-17 season. That piece can be found here.  Let's take a closer look into the older generation of Maple Leafs.
Tyler Bozak
Bozak is a versatile centre who is also currently the longest tenured Maple Leaf. He's productive when he's healthy and can play in a variety of roles. The dilemma becomes his positioning. Bozak is a centre, and will now need to compete for ice time with Nazem Kadri, Brooks Laich, Ben Smith and the aforementioned Nylander.
It's a tough position for the former Denver Pioneer to be in. He's signed through the 2017-18 season, which affords him some measure of stability. But if the right trade comes along, Lou Lamoriello won't hesitate to pull the trigger and ship him off. Bozak has value in both situations.
He can be a good player and better mentor to the young guns currently on the roster. He could also fetch a pick or prospect and potentially be part of a draft day deal.
James van Riemsdyk
One of the biggest catalysts of the Maple Leafs offense, James van Riemsdyk has been on mend from a non-displaced fracture in his left foot. He would later have a setback in his recovery and would be placed on the shelf for the rest of the year.
The New Jersey native should certainly fit into the Maple Leafs plans going forward. The Buds need scoring help and van Riemsdyk will certainly provide that when he's healthy. He's lightning fast, knows how to finish, and should be a nice compliment alongside a young pivot like Nylander.
https://twitter.com/TareTappura/status/712519295784263680
He's also signed through the 2017-18 season at a very reasonable $4.25 million, which is great for the Leafs in terms of value. If they do decide to go another way, trading the speedy winger could net them a substantial return.
Joffrey Lupul
Joffrey Lupul is an interesting case. He's productive when he's healthy and and also plays a strong game at all ends of the ice. The only problem is that he's always injured. Lupul has yet to play a full season in the NHL. He came close with Anaheim in 2005-06 and with Edmonton the year after, playing in 81 games both seasons.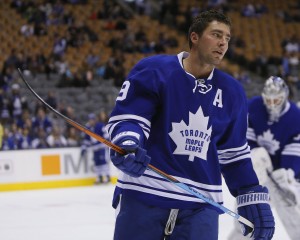 The Maple Leafs would desperately love to trade the oft-injured winger, but they will be facing two uphill battles. The first will be his health problems, which are extremely well documented. The second will be his contract. Lupul makes $5.25 million, which is a huge sum for a player who can't stay off the injured reserve list.
The Maple Leafs would most likely have to eat a large portion of his contract just to get another party interested, and even with that there is no guarantee a team would be willing to make a deal. For the time, the Lupul will remain on the IR until the team can figure out a way to deal with his situation.
It's a safe bet to say that the former Oiler, Flyer and Duck will not be with the Leafs when the team becomes competitive again.
My name is Anthony Fusco. Through school, I completed a joint degree involving an Honours B.A. in Journalism from Wilfrid Laurier University and a Videography and Broadcasting degree through Conestoga College.
I currently work for the University of Toronto as a Varsity Sports Announcer and for the Toronto Maple Leafs as part of their game presentation squad.
I'm also the play by play voice of the Kelowna Falcons, a baseball team located in British Columbia.
My goal is to one day be a hockey broadcaster.